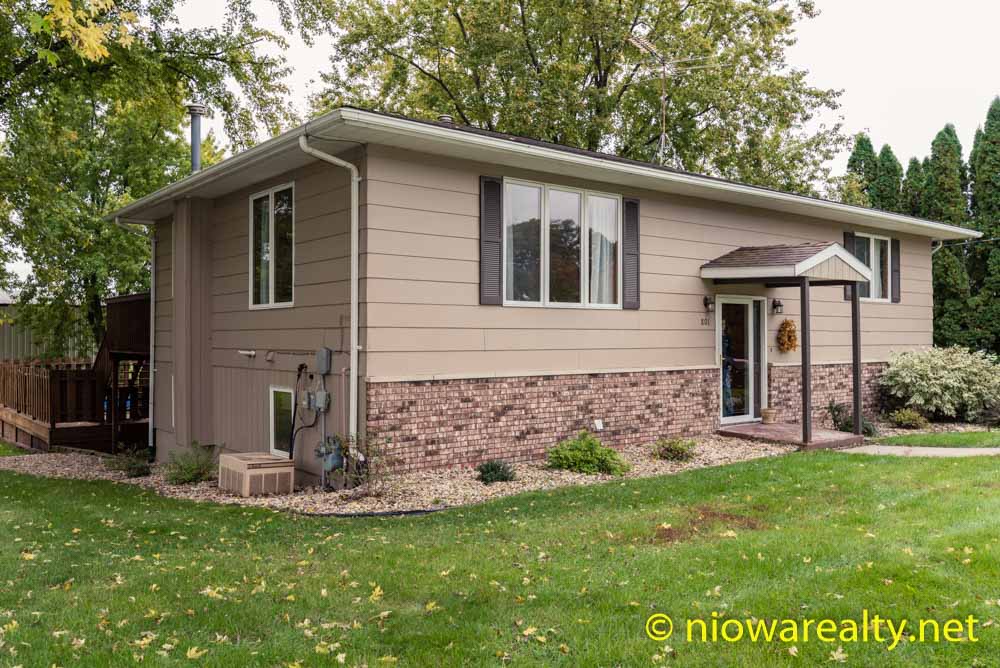 Once in a great while there comes a time in real estate sales when either a buyer or a seller has "just one more thing" to throw into the mix.  Well, yours truly is dealing with just that situation.  The other Realtor is about ready to throw in the towel, but hopefully we'll get it put together.  I've dealt with those "just one more thing" situations enough times where you just stay calm and work thru them.  The "just one more thing" mentality is born out of the greatest evil–fear.  The fear of loosing attention, the fear of failure, the fear of being taken advantage, the fear of making the wrong choice, and the list goes on.  I'm of the belief too many people waste more time and energy worrying about their, "just one more thing", to where real opportunities for advancement are lost.
Today must've been one where many of the "forgotten others" of our community were out and about.  After seeing the stream of people today walking down the sidewalks of our Historic Downtown, I'd say there are greater numbers of those "forgotten others" who appear to be on the lower rungs of socio-economic development than ever believed.
As I've said before, this Renaissance Mason City proposal cannot possibly fix the real problems affecting our community's future growth and development.  It's no wonder the  numbers are growing of Mason City's upper class who can afford to relocate out of the City, are doing it slowly and quietly.  Acreages that are within a 20 minute drive of Downtown are selling at an all-time high and I'm not so sure when they'll level off.  Short supplies and big demands create market price, and those prices are going to be going up as long as those who have money continue to find Mason City's "texture" unappealing.
While doing some research on the in-town acreage I just listed in Fertile, I happened across a recent sale in another County which was yet another confirmation of this quiet exodus of our extra-wealthy homeowners.  That particular family is what I'd consider being of  "shadow wealth".  They appear to be just a bit ahead of the rest of the pack, but in reality they're light years ahead with their trunks full of "old money".  The next time I see the husband I'll have to say, "Oh, I didn't realize you not only moved out of our City, but out of our County as well."   I'm sure he'll be blushing a little before he acknowledges my statement.
Tonight I present to you my new listing which is an in-town acreage located at 801 W. Main St. in Fertile.  Oh Mercy!  It's got everything going for it including being within a 20 minute drive to Mason City.  After clicking on its link, you'll see why I consider it highly desirable.  Aside from the wonderful improvements they've made, that 2.6 acre site has views to die for.  Looking to the south from the deck, you'd swear you were out in the middle of a nature preserve.  Another bonus is that it has natural gas along with city sewer and water, so there'll be no worries about a well or septic tank.
I said to the sellers today, "I hope you have a place to go should this sell as quickly as I believe it will."  They assured me they've got it covered. I'm branding 801 W. Main in Fertile to be the acreage offering city lights with country views.  Be sure to tell friends and relatives.