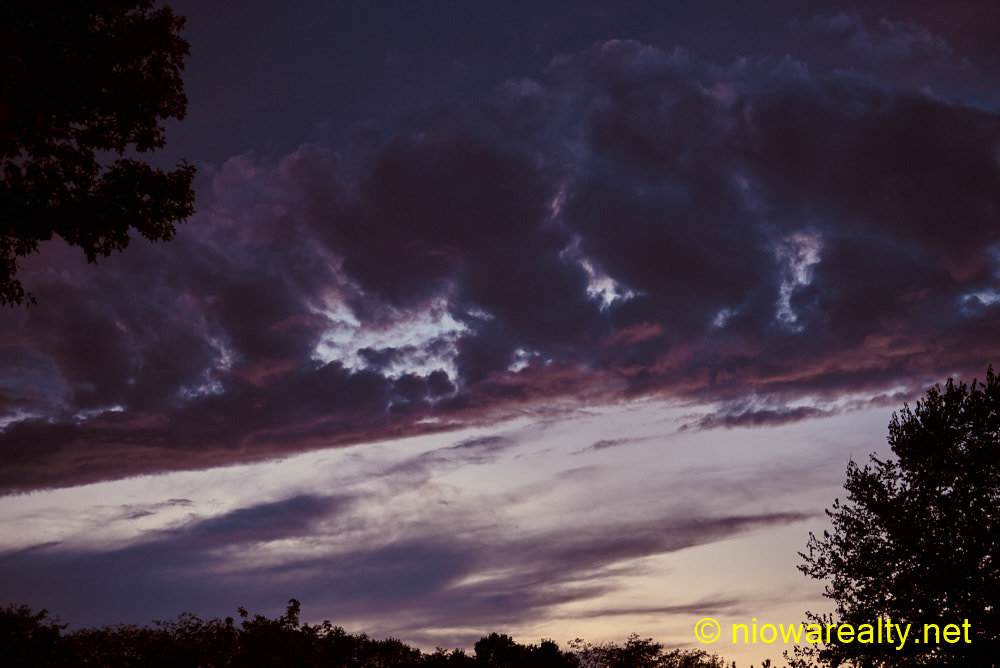 Oh what a dark and rainy day we had today.  I was hoping the clouds would clear off before sunset and give us at least a few minutes of sunshine, but it didn't happen.  I'm of the belief these past several months of unusual weather are by-products of those hurricanes and tropical storms the South and Southeast recently experienced.  I just heard today there's yet another growing storm that's making its way towards the Gulf.  The statistics thus far have shown that last month's storms broke 30 year records.  Some are still convinced it's all part of a great cycle, while others like me have no doubt it's due to global warming.
While visiting with a client today, I was keen to mention how my office inventory is getting reduced due to the number of recent sales along with loudly saying, "We need listings!" It's funny how some offices are top-heavy with un-sold properties, while others like mine seem to get most of them moved more sooner than later.  So please tell friends and relatives, "Holtz Realty needs listings!"
Another one of the units at Prairie Place on 1st closed today without a hitch.  I'm getting very much up to speed with all the benefits being offered by its association.  While visiting with the buyers, I made sure to mention how absolutely wonderful all the residents are that live there, along with being confident they'll fit right in with all of them.  I did go back over and re-take interior photos of Unit 101 which is an absolute knock-out.  Each time I'm in that unit, I get a great feeling of being in a comfortable "sanctuary".  Since it's a ground floor unit, I'm of the belief it'll be the next one to get sold.
With it still being close to the 1st of the month, I was busy with the normal end of, and beginning of, another month of real estate office accounting.  Pretty much everything is caught up so I'm ready to rock-n-roll with October listings and sales, but "We need listings!"  Please don't forget about my public open house located at 103 – 28th St. SW tomorrow that'll be open from 1 – 3 pm.  I'm really hoping it's not going to be raining as much as it was today.  As many times as I was in and out of the office, I was starting to look like a I'd been out in it all day.
I'm starting to see those blue vote "yes" signs planted around town.  While visiting with a fellow native of Mason City today, we both agreed that Southbridge Mall along with Music Man Square were brainstorms of special interest groups who didn't step back far enough and look at the whole picture of our City's needs.  Just think how many times that failing Mall has been in trouble and our City having to foot its bills.  Then I still wonder why any City would fund a non-profit like Music Man Square.  Aren't non-profits supposed to sustain themselves?  Seems like history continues to repeat itself over and over again when it comes to that darned old mall. Carl Miller's "vision" of Music Man Square didn't include foresight.  As old as I am and when young,  I considered the movie "The Music Man" an annoying re-run which failed to impress me the first time I viewed it, and please forgive me, I'm yet another hatchling from a morphic-resonant musical family that goes back more generations than I want to count.
Yesterday, while seated in a meeting, I found myself becoming all the more annoyed by one of the speakers who had to be in love with the word "awesome".  Nearly every comment about something being said by another was answered by a knee-jerk response "Awesome".   Too many people have created dirty little habits of using that word as a "catch all" response.  I'm sure if I would've said, "Oh, I forgot to mention I accidentally stepped on your pussy's tail this morning."  I'd wager there would've been another knee-jerk "Awesome" response.
Now, I want you all to de-awesome yourselves and find a few more appropriate "fill" words that'll be more fitting when in general conversation with others. Have good night.