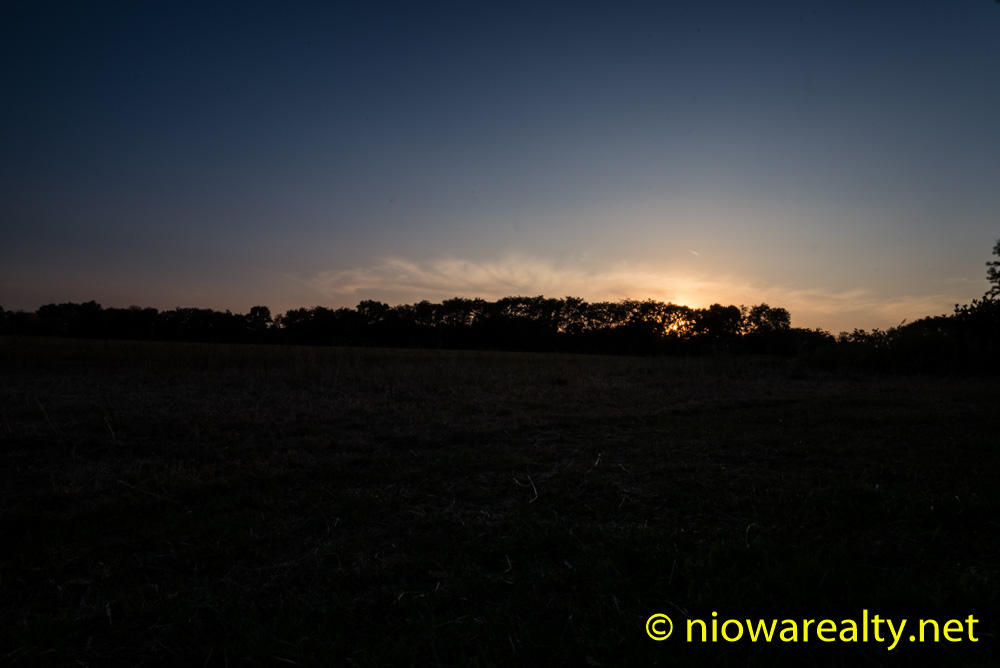 This is certainly going to be a September to remember with these endless days of heat.  Hopefully we will get the rain that's been forecasted.  North Iowa is exceptionally dry to where I'm sure the reason our trees are shedding their leaves so early is because of the lack of moisture.  The oak trees around town appear to be in very sad shape.  I did take about three hours off this morning to get some menial outside labor done ahead of the projected rain along with me being booked solid with appointments tomorrow.
I was out in the countryside showing an acreage late this afternoon, and while driving there I could see how quickly the corn and bean plants are drying.  The acreage was a possibility for the buyers, but there's going to be some necessary updates they'll be making more sooner than later if they should purchase it.  When looking at the overall square footage, I knew it was going to be tight.  It sort of reminded me of something you'd find on a river or lake which was originally built as a weekend get-away.
Speaking of acreages, I'm having 305 N. 1st Street in Fertile open to the public tomorrow afternoon from 1:00 – 3:00 pm.  Now that the price is so low, any ambitious young person would be crazy not to jump on it.  I've been on many acreages over the years, but this one's setting is about as good as it gets.  The 5 acres of timber protecting the building site from the north is a real plus most don't consider.  By just painting the exterior cedar siding would make a world of difference.  The home has great bones and will work for the new buyer for many years to come.  I only hope whomever purchases it will bring it back to its original glory.
The public open house I'm having tomorrow morning from 10:00 a.m. till Noon is located at 2831 – 4th St. NW here in Mason City which is now reduced to $295,500.  This is yet another home that's way under priced for the amount of dollars that have been recently spent on it.  I don't even want to mention how many thousands were invested.  It's just like walking into a brand new home.  And don't forget, the garage is so big, it'll easily hold four cars.  This is another home that whose new buyers will be ever thankful in time for purchasing it.
Since most of the general public in Mason City know that Philip Chodur is my brother and being the one our "powers that be" decided to dismiss in favor of this new proposed plan being overly-promoted by a group of our "special interest" citizens.  I've held my tongue for a very long time concerning what's been reported by the media to the general public, as well as truths that've not been shared which have created skewed impressions by our Citizenry from the very beginning.  Irregardless Philip being my brother or not, anyone knowing the rest of the story would walk away like I did and say, "This changing of horses in the middle of the stream is craziness especially when his loan for the hotel did get approved!"
The reason I'm speaking now, is that there've been four different times this past week where people from the general public have stepped forward and asked for my opinion on this business.  I said to each one of them, "If you want to hear the rest of the story, I'll tell you, but keep in mind, I have nothing to loose or gain by telling the facts."  I told each one of them, and they all said something to the effect, "Why wasn't that in the newspaper?"  I quickly replied, "Because we have reporters who are bias in their reporting which is why I rarely ever read articles written my one person in particular."
In the game of life, how can we ever make sound decisions for ourselves and our community when we're playing with stacked decks in favor of our special interest groups?  I'm growing all the more tired of half truths and skewed impressions put forward by people who've never owned their own businesses where they had to be on the front lines every day of the week.  Ignorance is not bliss.  Everyone wonders what's wrong with Mason City to where they can't get it right.  My take on it is there've always been a handful of special interest people who think they're the power brokers in our City along with knowing they can feed spoonfuls of questionable information to our uneducated public and make them run with the hook in belief.  "Shame on them!" I say.