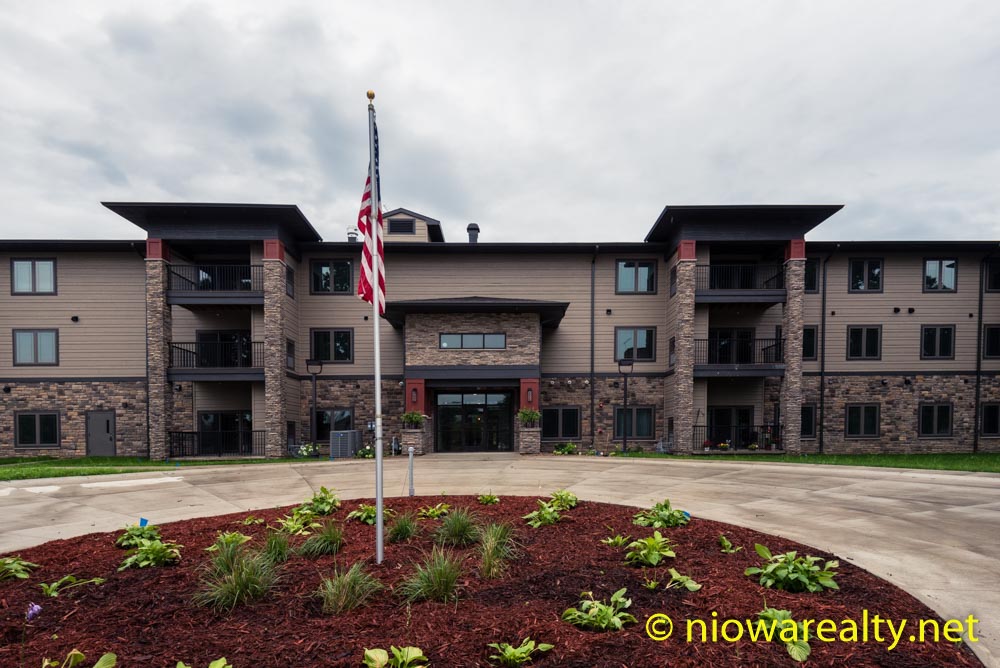 Don't ask me where the hours of this day went because when I happened to look at the clock and see it was 6 p.m. and well past my time to go home, I shook my head and quietly said to myself, "I know you did much today, but how did you manage to not even notice the time?" As cool as it was this morning, I was surprised to find it turning so hot this afternoon.  Due to my early real estate appointments, I didn't get out and at my normal menial Sunday labors until after mid-afternoon, and when finally finished, I was sweating like a butcher.
One of my showings this morning was at 2831 – 4th St. NW to a couple from out of town who've been eying it for some time.  What surprised them was its size and all the recent big ticket improvements that have been made.  The husband made me smile as they were leaving by saying, "We've looked at a number of homes in Mason City, but there's always something major that we didn't like, but with this home, I can't seem to find a thing."  My answer was, "I see you possess a dying ability."  "What's that?" he said.  "You and your wife have good taste and know quality when you see it."  What they were even all the more happier about was my informing them the home is not in a subdivision with all those crazy restrictions.
While going from one laborious site to another this afternoon, I noticed that a well known of mine was home so I went to her door and announced my intention to perform some much needed manicuring of her yard. After about an hour, I drove off all the happier knowing that I'm helping to keep her neighborhood sparkling.  Her home is in an older district which as we all know, can quickly turn south if the owners don't work at maintaining their homes' value.  There are always those rental barons peeking around corners and circling blocks looking for an injured home they can quickly snap up on the cheap.  After what I've seen these long years, I'm convinced it's a jungle out there to where it's now become a profession of some to prey upon weak or injured homes.
Early this afternoon, I spent nearly two hours at Prairie Place on 1st with several groups of interested buyers.  Everyone seemed to be pleased with the prices, the floor plans, the quality of construction, the location, and all the common area extras that are available to the resident owners.  Now tell me. How often can you live somewhere that's a new construction which offers underground parking, an elevator, and always be able to walk just about anywhere in our Historic Downtown and find nearly every basic service?
In knowing how many units have already been sold these past three weeks, I'm all the more convinced the word is out and people are paying attention.  Prairie Place on 1st is a hot item these days, and rightly so.  Don't hesitate to give Holtz Realty a call for a private showing.  I'm sure there's a floor plan available that'll suit your needs just fine.  You'll be as snug as a bug when old man Winter arrives.  Click on the following link.