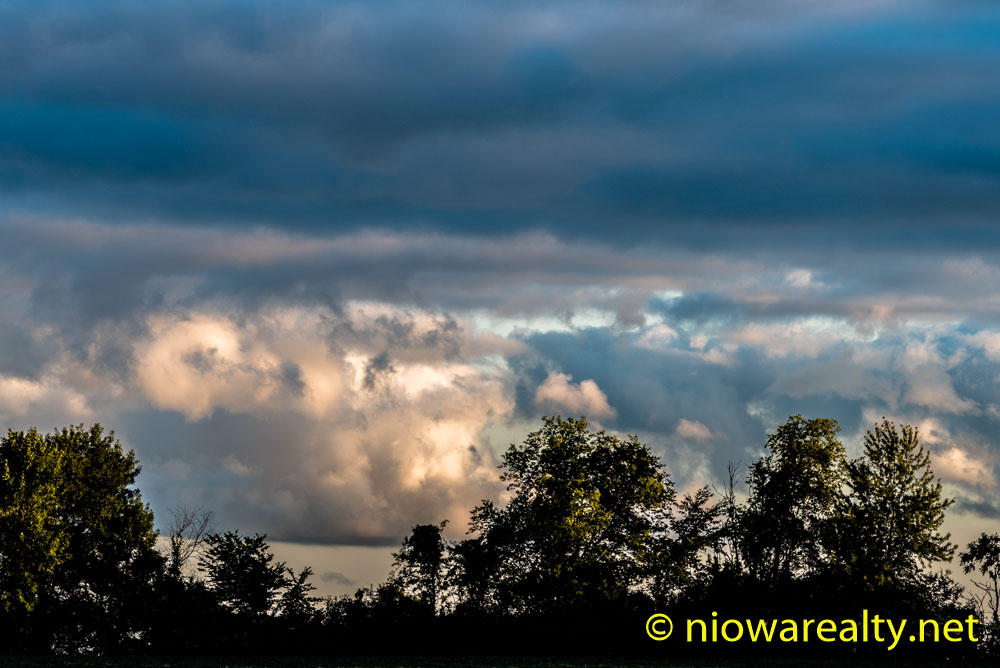 After many months of endlessly searching, and near the point of giving up, a buyer of mine managed to close on a home that exceeds every expectation.  I'm just glad I was able to be part of it all, along with having no bumps in the road during the whole loan process.  If the buyer makes the improvements I've recommended, it'll be a sound investment that will work as a near maintenance-free home for many years to come.  It's just another example of how sometimes good things do happen for good people.
After looking at my weekend schedule before leaving the office today, I can see I'll be busy from the time I hit the ground in the morning.  Since I'm having two open houses tomorrow, I had to squeeze several appointments in early in the morning before my first public open house.
That first open house tomorrow will be at 2831 – 4th St. NW here in Mason City.  I just received a price reduction on it today which brought it down to $299,500.  There's no question in my mind that if I were looking for a well built home on the edge of the City, 2831 – 4th St. NW would be my first and only choice.  It is exceptionally well built, and just recently had well over $200K worth of improvements made.  The garage alone must've cost upwards of $60K to build.  The floor plan is very open and the room sizes are much larger than one would expect.  There's someone interested in it, but they have to sell their home first, and we cannot wait because it must be sold more sooner than later.  Stop by tomorrow between 10:00 and Noon and have a look.
The second open house will be at 1031 – 10th St. NE.  It's another home that's on the edge of the City where across the street there's a green area.  It's a one-owner home that's been meticulously cared for along with some attractive updates.  My favorite room is the  den off the kitchen with its free-standing gas stove.  I can imagine how cozy that room is  on cold winter nights.  There are 3 bedrooms, oak floors, a finished basement, and a huge 2 car attached garage.  It's comfortably priced at $92,500.  You can own this home cheaper than what you'd pay for rent in a comparable home.  Make a note to stop by and I'm sure you'll agree it's well worth the money.
Realizing I had a few groceries to pick up for a dear old home-bound friend, I stopped late this afternoon at Fareway to pick up a few things she wanted.  Of course her favorite is chocolate ice cream and has to be purchased in the gallon tubs so it lasts longer.  Yes, she does like her ice cream.  Since the freezer is near the express check-out, there was a young man standing in the longer line.  He didn't realize I was trying to get into that freezer, so I tapped him on the shoulder and said, "I'm not trying to cut into your line, I just need to get into that freezer."  He blushed and stepped aside.  I went to grab a tub of chocolate and when I pulled it out, another gallon fell out and went rolling on the floor.  The young man reached over and picked it up and put it back in the freezer for me.  I thanked him along with saying, "All this ice cream isn't for me."  He smiled again.  While standing there waiting, I noticed he had only one item which was a package of instant Rice-A-Roni.  By the looks of him, he must've just left work because he looked as if he put in a long hard day's labor.
I couldn't help myself by saying, "Is that all you're having for supper?"  He blushed again and nodded.  I then said, "You really should have more of a balanced meal."  After I said that I was suddenly struck with a very sad thought.  He likely didn't have any more money that what that package cost.  It made me all the more sad seeing him pull out of his pocket a fistful of change and counted out the exact amount needed, and then sadly glanced back at me while walking out.
As I was driving out of the parking lot, I couldn't help but think of how many struggling young people there are living in the shadows of our so-called robust economy who're simply trying to stay alive. Seems those who have so much have become blind to those who have so little that sometimes it's nothing more than a fistful of change at the end of a hard work week.