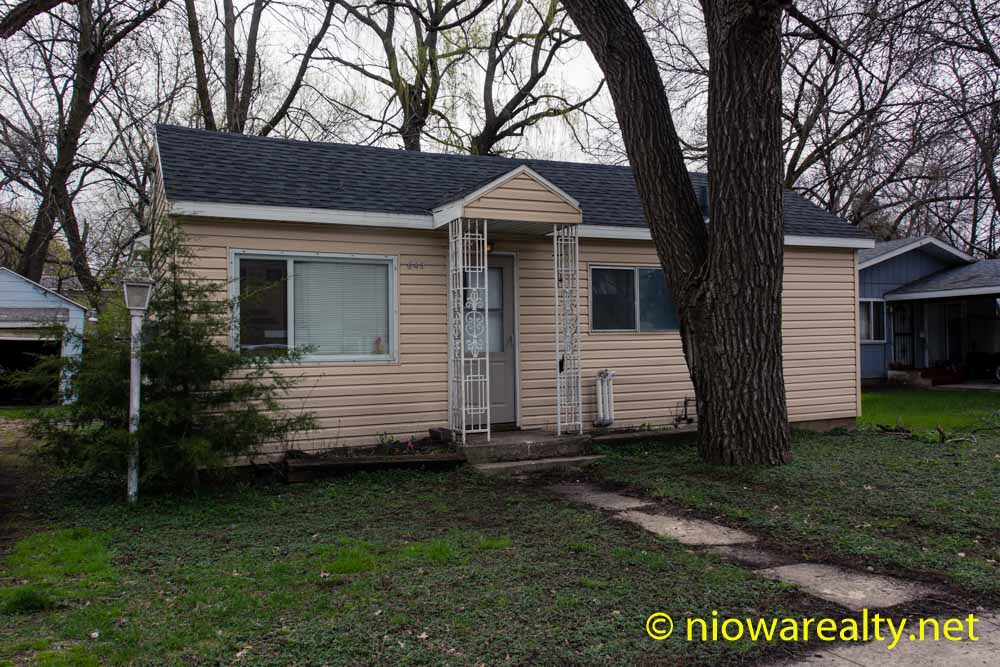 I was glad to finally get off my "rocking horse" of a day.  From the time I arrived early at the office this morning, I found much of my first hours had to be consumed by the requests of another agent's email that was sent to me at a quarter to one this morning.  I can understand dedication, but really?   I don't even want to think about being immersed in real estate that late because everyone knows humans must have their "down time" to function properly.  I did get my day back to normal after fulfilling those requests and then moved on with my already scheduled appointments.
Fortunately I did get another gnawing project finished to where all the doc were signed and everyone happy.  We have new residents to our City which I consider to be a much needed addition.  Their two teenage sons couldn't have been more charming to where I almost asked their mother where they managed to acquire such good manners. What surprised me the most, was they weren't playing with any electronic gadgets while quietly seated for well over a half hour.  After they left I thought to myself, "Please don't allow yourselves to be pulled into the bad habits of many of our resident teens." I have a "feeling" I'll be crossing paths with that family again, and in a very good way.
One of my clients dropped off an abstract of title for a home I sold of theirs which contained two parts.  The first 21 entries were on a separate 100+ year old sheet of paper and exhibited the most beautiful cursive handwriting.  Before I deliver it to the abstract company for continuation, I'm going to take a photo of it and post it on a future article.  Since those entries were made in various years way back when, the styles are different due to the entries being made by more than one man.  Keep in mind, back in the 1800's, nearly all abstract of title entries were made by male clerks.  I'd sure like to see a young man from our times being able to freely write like that.  He would certainly be in great demand, don't you think?  Oh, and remember, those entries were made with pens dipped into ink wells, so all the more care had to be taken against making a mistake.
Since I just received full loan approval on three of my sold listings, I spent some time driving around and placing "sold" riders atop my for sale signs.  I have to make sure the general public continues to see that Holtz Realty does sell homes.  It looks like August's market is picking up earlier in the month than normal which makes me happy.
I just received a price reduction on a home I've had listed for about three months.  It's in an estate, and must be sold to get it settled.  We've had a few offers on it before the Executor was able to get more of the personal property out which I believe affected those buyers' perception of value.   After I walked thru it yesterday, I'm convinced it's the best buy in Mason City under $30K.  I do hope an industrious and hard working young person buys it before it gets snatched up by one of our local "rental barons".  It's got good bones, a newer furnace, siding, and shingles.  As far as I'm concerned, all it needs is a good cosmetic face-lift.  The size of the lot alone would make me as a buyer want to pull the trigger immediately.  Click on the link and see opportunity written all over it.
Once you get it beautified, you'll be filled with pride at 645 S. Pierce.  Do not wait because it's gonna sell!