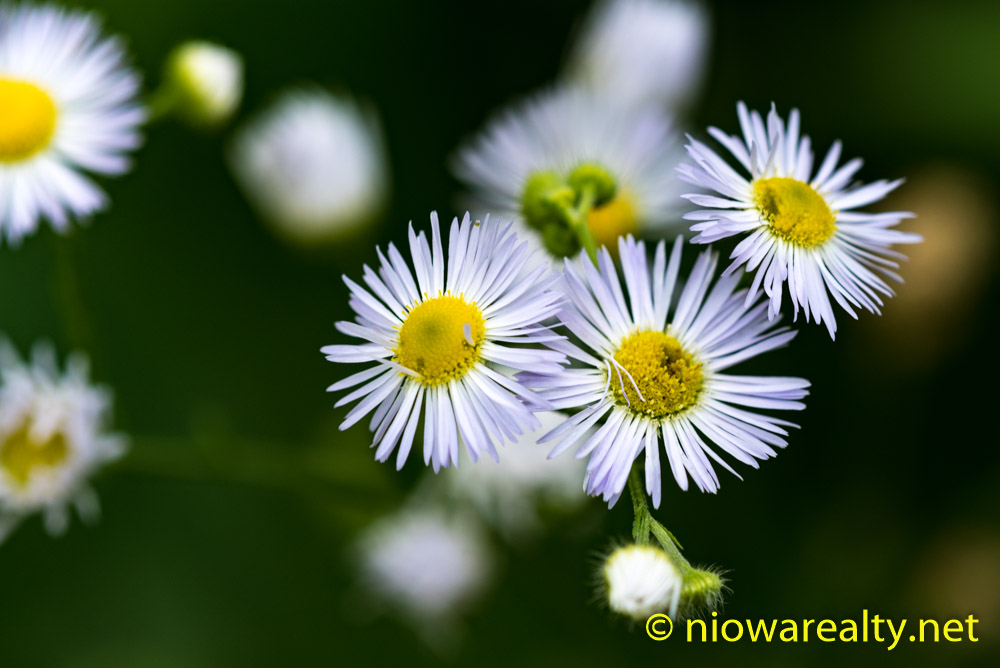 This was again one of the most beautiful August days to where even the couple from out-of-State I've been showing homes to these past several days were in agreement.  Having pleasant weather while showing homes adds Nature's extra touch of comfort.
Having had several conversations with retirees today, I'm convinced the un-spoken reason we're getting more elderly people locating here, is because of the rat race they want to get away from–especially the traffic congestion.  The nearly unimaginable daily trials people have to endure just driving to and from work is hard for me to fathom.  Imagining a two hour commute in the morning and two hours in the evening five days a week makes me shiver even thinking about it.  It's no wonder there are so many health problems with people living such lives of quiet desperation.  Mental stress can trigger an array of health issues.
Speaking of health issues, I was in near disbelief reading about a week ago the percentages of people in the United States that are taking opioids on a regular basis.  If my memory serves me it's 35 – 40% of our general population.  It's no wonder there are so many off the wall and dazed-eye people running around.  I also heard that some of our States are now filing suit against many of the drug companies that are manufacturing and promoting the sale of them.  I hope Iowa is one of them because those percentages in our State need to go way down.
Please don't forget about my two public open houses tomorrow.  My first one which is in the morning from 10:00 am till Noon which is the 8 acre homesite located at 305 N. 1st Street in Fertile.  Every time I'm there, I envision myself creating a real working mini-farm and living happily ever after.  The second one which will be from 1:00 – 3:00 pm is located at 323 – 6th St. NW here in Mason City which exhibits the epitome of a master craftsman's labors.  It's worthy of being the cover story of "This Old House".  Try to make it to one or both of them–especially 323 – 6th St. NW.
The experiment I've been personally conducting since March and ended several days ago has given me a real understanding of how nearly all of us have become so accustomed to society's ways where any thoughts of change would be considered near impossible.
My personal test which I passed with flying colors was "pretending" my driver's side window was permanently sealed forever and thus being forced to change my daily habits accordingly.  I discovered there's absolutely no way to order and pick up food at a drive-thru, no drive-up banking, no drive-up cash machine, and no waving or hollering at someone while driving.
Since March I've learned that drive-thru eateries are not that important because most of them aren't healthy anyway.  I learned to be more social at the banks by having to walk in for deposits and check cashing, and above all, I learned that anything having to do with a drive-thru creates a greater distance between companies and customers. After my "experiment" ended, forevermore I'll consider a drive-thru nothing greater than a cattle stall where you must wait until you're finished being milked.
Now that my personal test is over, there'll continue to be some good lessons learned and positive changes made. I'm glad I was my own Guinea pig.