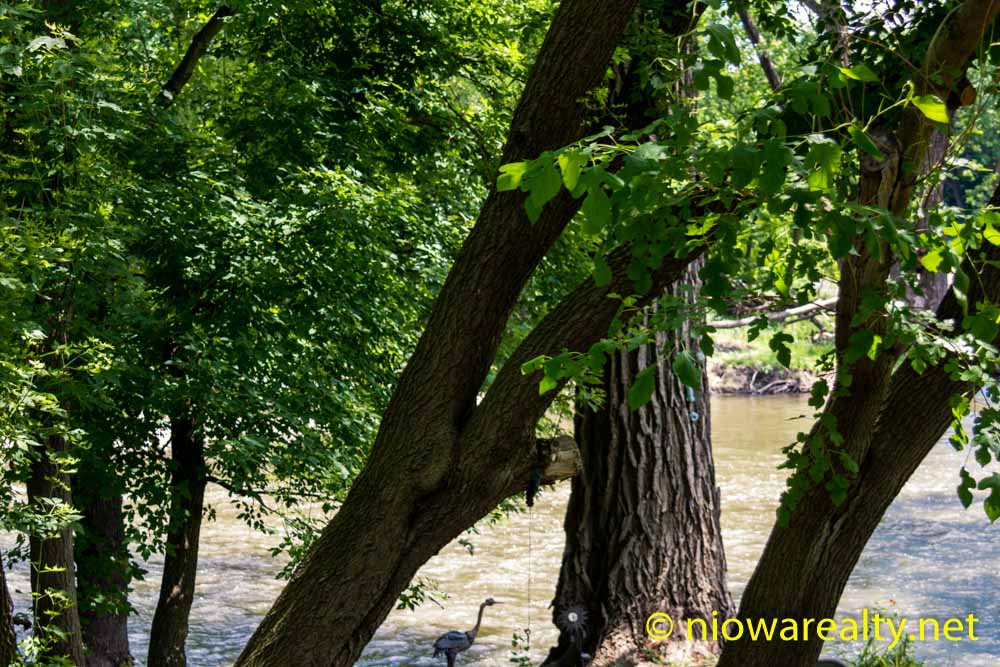 The public open house I had at 721 N. Delaware had more visitors than I'd expected on such a glorious Sunday afternoon.  I have a "feeling" it's going to be selling soon.  With all the homes recently sold around Mason City and North Iowa, there's bound to be a buyer who'll understand its real value as well as realizing the price is far below market.  I took a book with me and I didn't even have time to read but a single page. It's always a good thing to have prospective buyers coming and going. I really don't like having time heavy on my hands for two hours.
Prior to going to my public open, I spent about four hours back at my on-going project.  Seems I'm getting closer to being at the crest of the hump, and when that happens, it'll be all downhill from there.  Someone was visiting with me several days ago about how much work he's doing on a home he recently purchased.  From the sounds of it, he's spending more time talking about it than he's working on it.  The improvements he's making should have been done months ago.  I internally smile to myself when people make small projects look like elephant eating ordeals.  I'm convinced far too many people simply loose interest to where their well-intentioned projects remain unfinished eyesores.
This coming week will be another busy one for me, but I'm not complaining.  As they used to say, "You gotta make hay while the sun's shining."  My closing tomorrow is with one of the sweetest elderly ladies who is moving out of town.  She's been an absolute joy to work with, and I only wish I'd been lucky enough to have know her years earlier.  There'll be yet another one of our angels leaving Mason City, and I do hope the powers that be is replacing her after she leaves.  We have an over-supply of naughty monkeys in North Iowa who need to be counter-balanced by real-life angels.
Several days ago I promised to share in sections, a short story one of my clients dropped off for me to read and share if they seemed worthy enough. I read both of them and they're good reads.  The name of the following first story is:  String of Prayers.
There were many old-fashioned farms circling the small Ohio town of Marion to where they seemed magically positioned on the horizon creating balance between earth and sky.  The white clapboard houses contained over-sized windows which created never-ending stares at their vast horizons of farms and fields.  One couldn't help but notice all those giant red barns with their shiny tin roofs which appeared like mirrors being held up to the sun.  Mr. and Mrs.Thaddeus Windsom were the parents of fourteen who just happened to live on one of those picturesque farms.
Thick rows of tall white pines created a green barrier against those biting winter winds just north of the farmhouse.  There was also a buffer of ancient oaks at the southerly end of the barn which provided enough shade for the animals when summer's blistering heat arrived.  Beyond the barnyard, lay 150 acres of tabletop flat fields.  The farmland in the region was so level that when it rained, the water was evenly dispersed across its black soil, and whenever the rains were particularly heavy, the soil turned into a thick mud, and remained that way for nearly a day.  To be contd.
Yesterday I made sure to get to my open house at 1202 – 2nd St. NE early enough so to take a few photos of the Winnebago River that's just a stone's throw from my listing.  I do hope you like it, because that iron blue heron looked quite real.  Don't you think?