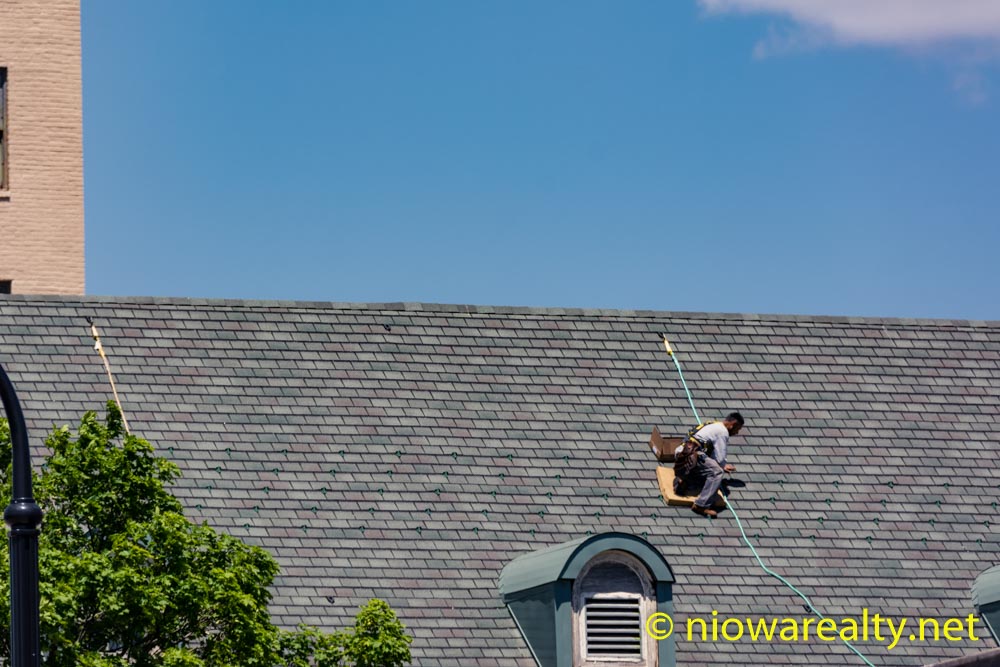 Several people who happened to bring up the subject of our weather today both agreed that we've had quite the unusual month of May where the rains seemed to never cease, the winds were at gale force several times, and the temperatures lower than normal.  I can certainly see how the "hot" weather flowers and vegetables are just treading water with their growth cycles while waiting for it to warm up.  I'll be very sad if we have a shorter than normal summer.  Can you believe the longest day of the year is only 22 days from now?  We'll be on a downhill slide after we get past June 21st.
Most of my morning was spent doing my final little "to do's" on several closings coming up as well as attending the closing of one of my listings.  I'm exceptionally happy for the buyers who'll certainly make it their cozily comfortable cottage style home.  The next on my list was to open up a home that I'd recently shown potential buyers, but today they had visiting relatives from whom they also wanted their opinions on the idea of purchasing it.  Of course I really didn't mind doing it because sometimes it helps with the decision making process when getting opinions from other close family members.
Tomorrow I'll have my last closing for the month.  I can say it's been a busy 31 days and it appears next month will be a mirroring of May.  I'm still not sure where this buyer activity is going to take us.  If we don't get more listings signed up in our critically short of inventory price ranges, we'll be seeing all the more bottlenecking taking place.  Sellers can't bump up to their next levels unless they have something to step up to.  I'm already hearing about all the more people deciding to have additions added to their existing homes.
An unexpected phone call today came from a client who sold his home here some months ago.  I was delighted to hear all is well with his life out in Eastern Iowa.  I was going to ask him not to drive past his old digs should he ever be back in Mason City because of some major changes that've taken place, but it was too late.  He'd been back some weeks ago and got a shocking look for himself.   But as we all know, change is inevitable–especially when new owners with different tastes take up residence.
There are a number of reasons people shouldn't return to their old homes.  As I see it, the biggest one is when seeing a home that used to be yours, but now occupied by others, permanently distorts memories–especially the fond ones.  So who in their right minds want to pollute the dearest of memories that've been so closely held?
Over the weekend, I happened to have my camera with me when spotting some men working on the roof of our old City Hall.  Seeing them up that high and its roof being so sharp of pitch, made me squeamish just watching them while snapping the above photo.