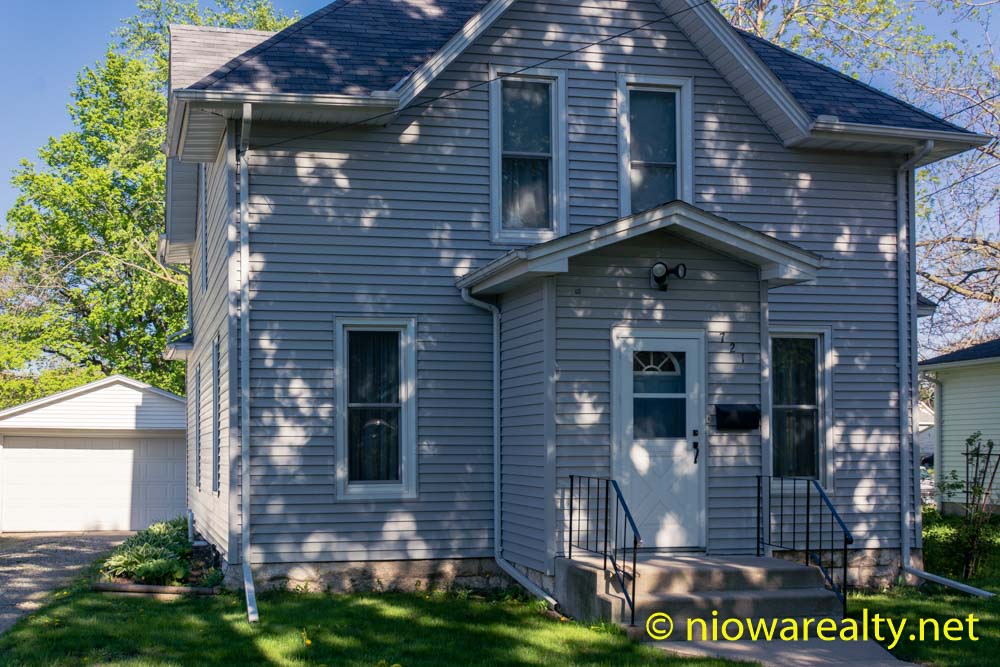 This rain has got to stop!  I don't even want to talk about how many times I got wet just going from my car to each appointment I had today.  Someone said it was supposed to be overcast with rain most of the weekend.  Seeing how the creeks and rivers are rising, I hope we're not going to be looking at flood conditions in our City.  Maybe we'll have a long enough reprieve overnight for their water levels to drop.  I'm not bragging or complaining, but I'd say this was quite the productive day for me to have had three closings and one sale.  So, I guess having three transactions close and another one started, would be considered a fruitful day.
My first closing started at 9:00 a.m. out at one of the west-side banks.  I went over to the property earlier and removed the lock box and pick up my sold sign.  When I met the buyers for the first time, I said, "You're probably going to think me completely crazy when I share something with you."  My first question to the husband was if he was standing outside his apartment while I was driving to the last public open house I had at the home.  He answered "Yes."  I then asked, "Did you look at me while I was driving by?"  All he could remember was seeing my white car driving past him.  I then said, "Well, after I saw you, as I was pulling up to the house, I looked back at you and quietly said something to myself."  "What was that?" he asked.  I looked at him with a smile and shared what I whispered to myself. "You're the one that should be buying this home."
Both he and his wife thought it to be a bit creepy cool just as I did, but as I've mentioned in the past, "Some homes pick their new owners."  The Realtor who sold it then piped up and said, "I wish you would have told me sooner so I didn't have to show them so many homes!"  Sometimes things happen that are unexplainable–especially knowing how that thought at the time just popped into my head for no logical reason.  When trying to make any sense of the why and whyfor of a happening of such I speak, one might just as well leave it remain yet another mystery.
The other two closings I had today were with buyers I'd been working with whom are some of the nicest young people living in our community.  If ever there's a time I truly feel blessed, it's when I'm given the opportunity to work with people who are pure and simply darned nice.  They certainly help take the edge off the grit we have to endure with others who get their jollies out of being difficult.
In spite of tomorrow looking to be another cold and wet one, I'm having real hopes that one of the visitors at my public open house located at 721 N. Delaware will like it enough to get it purchased.  The sellers made a drastic price reduction on it, and I do believe it will do the trick.  Sometimes, when all else fails in marketing, you reduce the price enough to where a home's price is so low, it would be crazy for a buyer to pass it up.