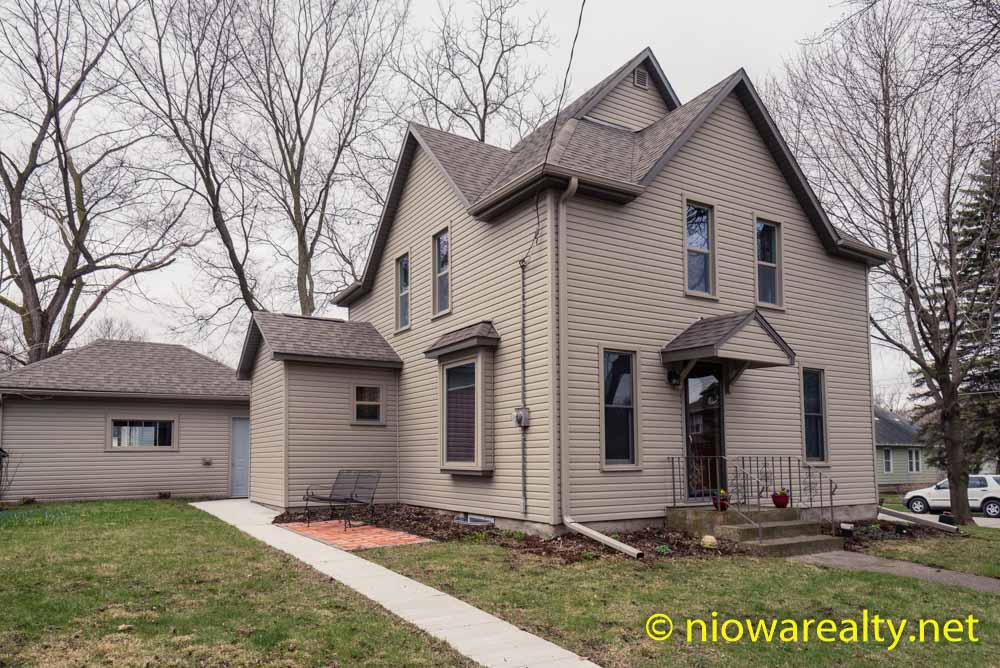 I wasn't surprised to see so many broken branches and trees down this morning considering the rain and strong winds we had last night.  Thinking it would be over for a few days, it was back at it this morning, and then again this evening.  I'm beginning to wonder if those storm clouds are moving in a see-saw pattern back and forth across North Iowa.  I understand Plymouth got hit again with strong winds. A client told me a large tree fell on someone's house.  I hope no one was injured.
With all this moisture, the grass and weeds are having a heyday to where if you mow once a week, it still appears to be not enough.  I showed a home this afternoon that was just mowed less than an week ago and yet today, it looked like it's been weeks since it was clipped.  I still have a few things to plant in my garden but I'll be forced to wait until it dries up a little.
Now that I'm pretty much caught up on files, I spent a few hours getting my work area back to normal to where clients and customers won't think I enjoy working in the midst of chaos. I personally don't like having a great deal of clutter around me while performing my Realtor duties.  It always seems to be more distracting than productive.   I blame it on my naturally acquired Germanic predisposition that's leaning towards regimentation.  As physicists will tell you, "In all chaos there is a cosmos."
Speaking of chaos, I've found there to be a few farmers in North Iowa who are old machinery hoarders.  I don't know if it's me becoming hyper-observant, or if there are more of them being created these past years.  One particular "field of chaos" is located just off I35 heading west at the Sheffield exit.  The first time I saw that mess I thought to be seeing things.  If you're looking for a real sorry sight, drive down there sometime and have a look for yourself.  It has created a huge blemish on the countryside.
Another eyesore is all that junky machinery sitting practically right at the ditch-line over at Duncan.  That could be a charming little hamlet if whomever owns that would clean it up.  Since it's been there for decades on end, one's left to believe it's all frozen in time.  I have no doubt many of the people living around it have said something to the owner, but he or she is leaving it to look like that just to be making some sort of defiant statement to the world.
I just received a price reduction on the home I have listed at 323 – 6th St. NW here in Mason City.  It's now down to $128,500 and certainly worth it because of all the fine materials and craftsmanship that went into its restoration.  Every time I show it, I get a very warm and "homey" feeling.  If I were going to purchase it, I'd erect a privacy fence at the side yard to where a delightful English garden would be created.  Gardens that are kept in private enclosures are alway healthier because of their protection from the wind and those naughty varmints. Click on the link below to view this beauty.
Whenever you have time, do some research on the different types of small "British style" gardens which are surrounded by enclosures.  Don't be surprised if you're quite taken with one of them to where you'll be designing your very own.