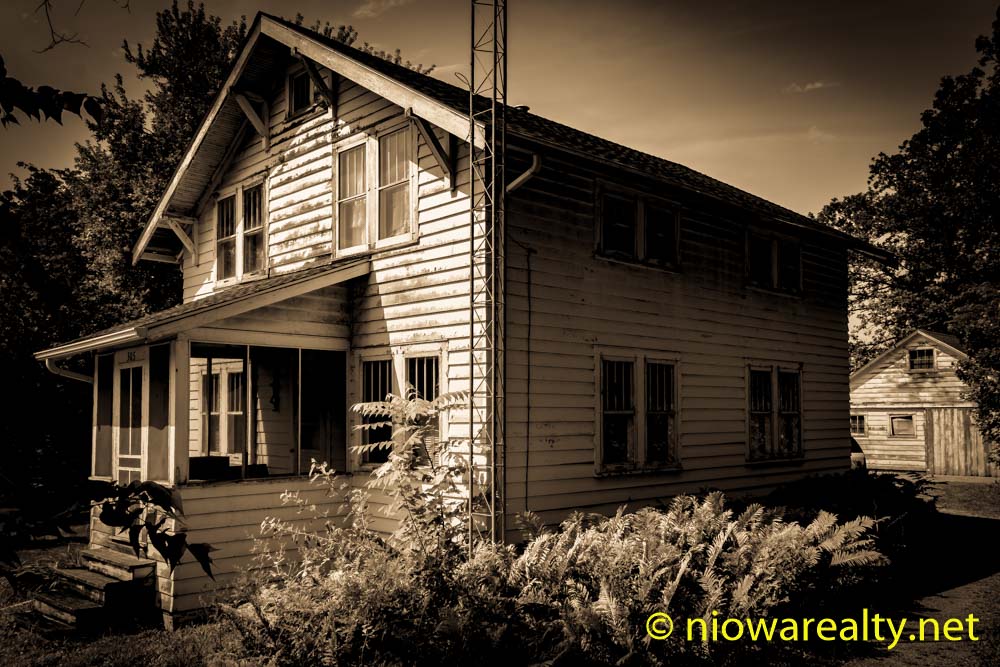 It was a beautiful early Mother's Day morning to be enjoyed as I headed off to Fertile to place my public open house signs out at intersections.  As I was driving up there I began thinking of the many past Mother's Days I spent with my mother over the years, and now that she's passed, there's yet another day of the year that gets a "fly-over".
Thinking about those pleasant memories of our being together, I was reminded again how precious each day is and how much we must work at living every one to its fullest.  Irregardless of what anyone thinks, there's only one real constant in life, and that's change.  When realizing change is inevitable, we must work at moving with change in an upward direction rather than a downward spiral.  There are several people whom I've know for a very long time who're certainly spiraling down and they don't even realize it.  So sad.
Since my morning was free, I decided to change into my grubby work clothes and go do some power mowing and weeding.  Some months ago one of my dear clients offered the use of his beater pickup truck if needed so I took advantage of its free use again today.  As it was getting closer to lunchtime, I thought I might as well go thru the drive-up at Taco John's.  I wasn't paying much attention to the car ahead of me other than it was a blue minivan with Floyd County plates with what appeared to be a younger couple in the front and several children in the back.  When I finally got to the ordering station, I asked for a bean burrito.  She told me how much it would be so I pulled forward to the payment window.  Just as I was reaching to give her the money, she said, "The people in front of you paid for your order."  I was nearly speechless!  I finally said, "Why did they do that?"  She then answered, "I guess they just wanted to."  I then retorted, "There isn't anyone behind me so I can pay for theirs, so please take this money."  Of course she wouldn't so I then said, "Please go now and thank them for me."  She did and so there I was left with some stranger buying my lunch.  I can't imagine what impression I made with that family.
I have a feeling they must've felt sorry for me because of the old pickup I was driving as well as how much of a yard worker I looked like.  I should've been the one buying lunch for their family instead of them footing the bill for me.  That happening certainly solidified my belief that looks can be deceiving when encountering strangers.  I'm going to see if I can find out the names of those people and do something very nice for them, and for sure I'll let them know that it was from the man in the old truck at Taco John's.  I'll be sure to let you know if I do find them and what I've done for them.  It'll be fun!
The open house I had at the Fertile acreage was a fabulous success.  There were people there nearly the entire time.  I have a "feeling" one of the couples that was there are going to be its new owners.  They are of the rare breed that can look past cosmetic deficiencies.  Even with homes and acreages, looks can be deceiving.