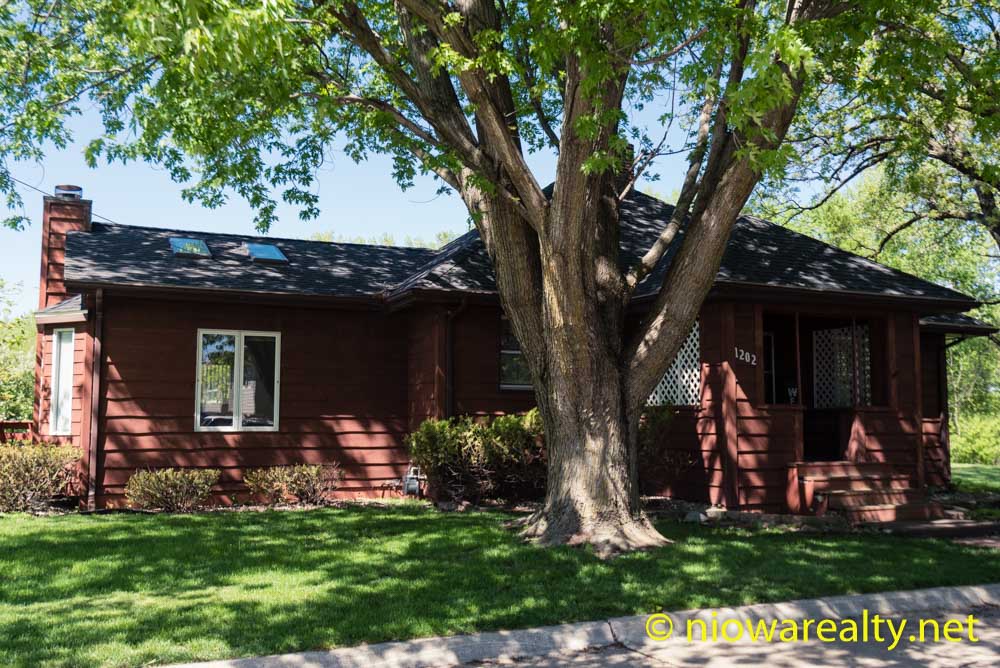 As high summer is approaching, it seems there are even more buyers out and about.  From the time I left home, I was in near non-stop motion with real estate work.  At least I've been productive, and certainly thankful for it.   The amount of gasoline I've put in my car already this month has been the real indicator of how busy I've been.
While driving to an appointment out of town this afternoon, I noticed our area farmers out in full force with their field work.  I'm glad most of their machinery was down wind from me because I hate smelling that stuff they're spraying on their fields. I do wish more of our farmers would go organic and stop using all those chemicals. It makes one wonder how many of those chemicals get into our aquifers and ends up in our tap water.  Nobody wants to talk about it, but I believe humanity is slowly killing itself off with all the chemicals we're being exposed to on a daily basis.
The public open house I hosted today at 2040 Hunters Ridge Drive was a great success to where there were people coming and going nearly the entire time.  I even had someone coming back for a second look.  I wish I had my camera with me because there are two glorious lilac bushes blooming at the rear of the unit.  One was more of a vibrant light blue, and the other one of a deep purplish. They must've been planted in the perfect spot due to how healthy they looked.  I think the recent noticeable price reduction we had the unit had something to do with the increased interest.  All I can say is that it's far bigger on the inside than it appears from the street.
One of my appointments today took me to a home where the owner is working at getting it ready for the market.  She and her daughter are doing a bang-up job with their improvements.  Somehow we got on the subject of the elderly.  I think it was because I told them the new owner would likely be a retiree.  The daughter who worked for Hospice for a number of years spoke about her having noticed how the fiber of a family unit begins to unravel after the last parent it dead because the surviving parent usually steps up to the plate and shuts down any brewing discord.   She went on to say that when the last parent passes, that's usually when all hell breaks loose if there's even the slightest amount of hidden hatreds within a given family unit.  She made me smile when she so strongly said, "Unless you're in it on a daily basis, you'll never fully understand how disastrous family frictions can be."
The highlight of my day was getting the most charming acreage-like home listed that's only steps from the Winnebago River.  The above photo is just one of several I took of the exterior. The home is located at 1202 – 2nd St. NE which is near the ball diamonds and East Park. It is an absolutely charming home that'll certainly sell more sooner than later. If anyone likes nature, this is for sure the place to be.  Click on the link below to view this charming home and everything it has to offer.