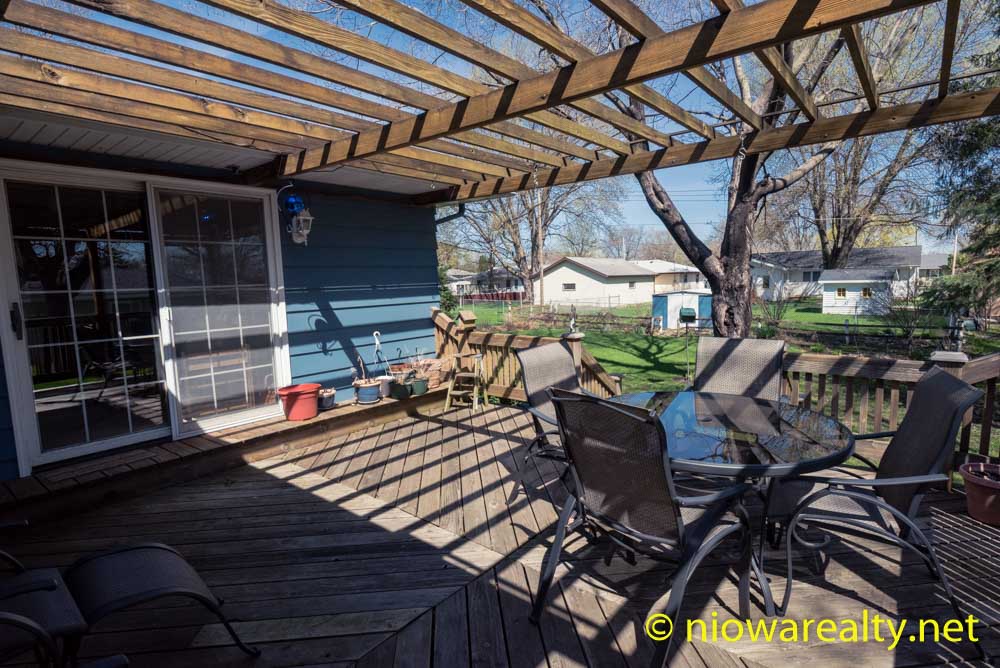 Alas the sun was shining nearly all day today.  It may sound a bit corny, but nearly all of us would rather have Little Mary Sunshine days than all those colorless gray days that have come and gone thus far this month.
In spite of having just two appointments today, I was exceptionally busy playing catch-up with unfinished business from yesterday.   I was even helping a needy client find a tree surgeon to remove a very large branch that had snapped almost completely off from that strong wind we had several nights ago.  Hopefully it'll be completely removed before the weekend is over.
Like I've mentioned before, there've been a number of articles published these past years speaking of how much more violent storms have become, and how many of the experts believe it is a by-product of global warming.  In these recent years I've heard from people who live in Florida, Arizona, and California who've said how much more intense the heat has been.  One of my clients who moved to Florida to teach spoke about how there've been days during the Summer where her students couldn't even be out on the playground because of the exceptionally high heat index.  Pretty scary don't you think?
I'm hoping for a very good turnout of prospective buyers at my public open house tomorrow which is located at 650 S. Rhode Island.  It's one of those you have to see the inside to really appreciate.  The abundance of windows facing east are sure to brighten anyone's morning.  The owner used to tell me how she loved reading in front of her living room window because she felt like it was her "special" window to the world. There are an abundance of built-in bookshelves at one end of the living room for those few leaders/readers that are left amongst us.
A tad bit of wickedness crawled into me when speaking to a client of mine about some of the mentalities we have living in our midst.  The end result of a mind that's not been challenged with a broad education is nothing more than a shallow stagnant pond to where in Nature it becomes much like Dead Man's Lake up near Pilot Knob. I've always disliked even walking past that mirky green pool the few times I've been up there.
With absolute pleasure, I bring to you today's new listing which is located at 920 – 14th St. SE here in Mason City.  It's beyond being the cat's meow.  I told the seller I wish I could snap my fingers and place it on a bare lot that I own.  Driving past it will leave most believing it to be just your run of the mill mid-century ranch, but once inside one's perception takes a 180 degree turn.  There are so many extra features offered that I'd be left writing another full page of descriptions.  It didn't surprise me when the owner told me she spent many days going over floor plans to where she finally ended up creating her own, and believe me it shows.  Click on the link below to view a one-owner beauty.