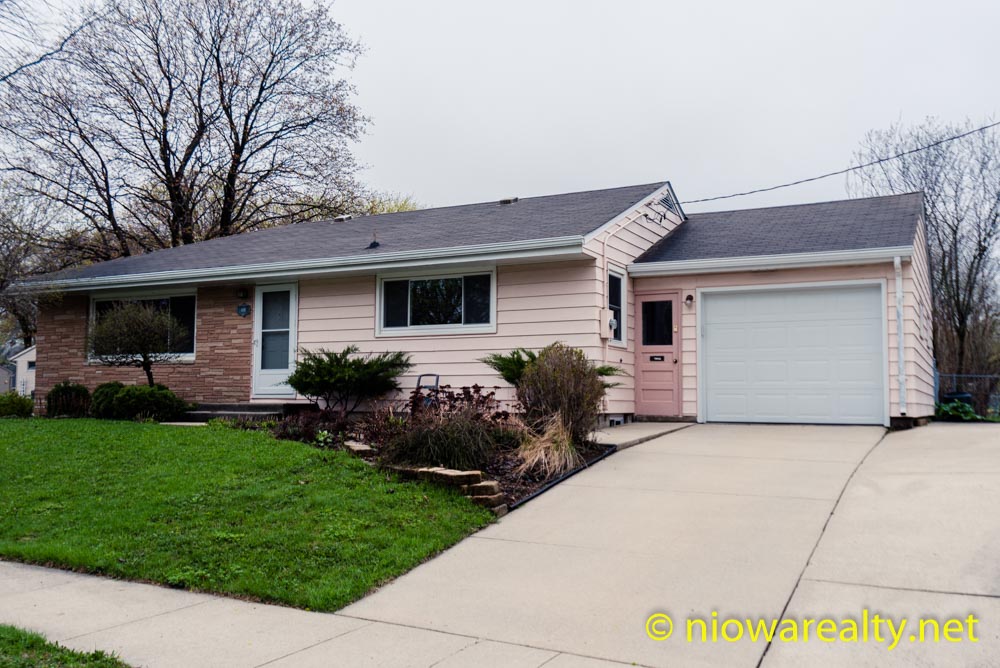 It was a bit frightening when looking at the clouds later this afternoon.  They looked so much like snow clouds, I feared the temperature was going to quickly drop and start snowing.  We all remember that eight inches of snow we received in early May of 2015 and the havoc it created.  I'll never forget the daunting task I had getting it all shoveled off of my mother's driveway and sidewalk. It was so heavy, I had to go back to the store room and get a smaller coal shovel to lift it.  I felt like a midget in a snow cone cooler.
I happened to have a nice visit with one of my dear friends today between all the phone calls and appointments.  We somehow got on the subject of people who retire and turn into meta-physical puddles.  Of course we couldn't help but make each other laugh when sharing our own stories of some of the pathetic lives of people we know who're past 65 and have their entire days filled with almost nothing including watching television and driving aimlessly around town looking for someone or something to talk about.
Since we both have a similar dis-like of television, we compared the lives of people we know who should be out doing something in their yards or performing some sort of charity work instead of having their noses glued to those televisions.   And we wonder why so many are overweight and becoming mindless to the point they can't even carry on normal conversations.  Half finished sentences, subject bouncing, and repetitive questions and answers are certainly the signs of self-imposed societal isolation. Sad isn't it, but remember they've been the masters of their own destinies since sliding down their little chutes.
Believe it or not, I actually listed two homes today, and have another to list tomorrow.
The first one I placed on the market is an absolute jewel that's located at 650 S. Rhode Island Ave. here in Mason City.  First and foremost, it's located in one of ourCity's most sought after neighborhoods.  It offers gorgeous hardwood floors, newer thermal windows, both kitchen and bath have been recently updated, the siding is permanent, the basement has a stool and shower along with a big rec room, and there are hundreds of costly perennials getting ready to bloom outside.  This home is well worth the price tag we placed on it of $119,500.00.  I've scheduled a public open house for it this Saturday afternoon, and for sure there'll be a crowd.  Click on the following link to view.
650 S. Rhode Island Ave Mason City
The second home I listed today is located at 645 S. Pierce Ave. here in Mason City.  It's a small home in a good area that's had nearly all the major updates, but in great need of cosmetics.  Our City Assessor claims there's no basement, but there is a partial that measures about 10′ x 12′ which is where the furnace and hot water heater is.  When writing my remarks about it, I mentioned that this is the type of home that would appeal to a buyer who has the mindset of, "I wanna do it myself."  Click the link below to view.