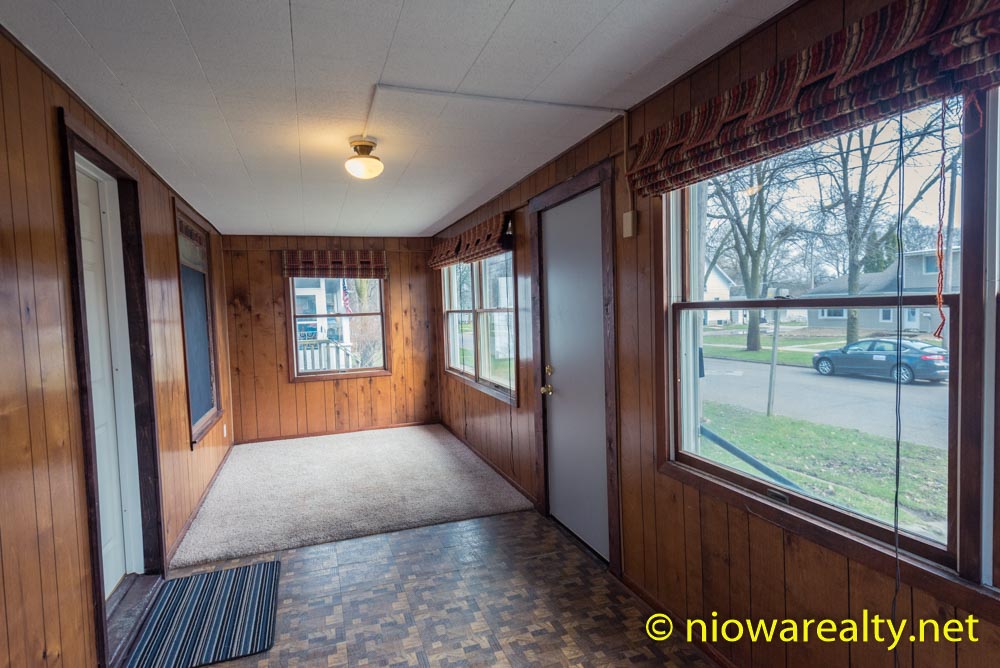 The clouds sure don't want to give up to the sun these days.  I thought the morning rays were going to stay, but once again the clouds returned.  I hope this isn't going to be one of those nasty wet Springs we had some years past.  I was just thinking the other day about that year when the ground was so wet, many farmers had to plant cover crops.  Let's hope for some drier days and lots of sun.
It was quite the day for me with stacked appointments along with trips to the bank and attorney's office.  I'm happy to announce that two of my listings sold today.  I'm terribly pleased that both sets of buyers got the homes they were hoping for without any dramas or hidden agendas.  I mentioned to one of the loan officers how much I enjoy drama-free transactions, and it looks like both of these will fit that my criteria of being drama-less.
I was certainly pleased to hear that Cargill is expanding their factory again to where they'll be adding 44 more employees.  Now these types of jobs are what Mason City needs instead of all the near minimum wage jobs people in our area have which keeps them near penniless between paychecks.  My heart goes out to those who are honestly struggling to make ends meet without taking any "freebies" from our Government.  I bristle sometimes when I see people in the checkout lines at grocery stores buying far more expensive/novelty foodstuffs with food stamp cards.  When the struggling working person has to continually watch for sales along with clipping coupons, while food stamp recipients freely buy without resign, there's something wrong with our Government.
You couldn't find anyone more concerned than me about making sure people, especially children,  have wholesome food on their tables, but when a system is so mis-managed to where those card holders can buy soda and junk food at convenience stores, that's where I draw the line.  No one can tell me they can't do something with those cards to where only certain items can be purchased along with a price cap being placed on each item.  With our cloud computing and the sophistication of today's micro-chips, there's likely infinite ways to curb food card abuses. Has anyone considered victory gardens?
I'm happy to present my new listing which is located at 628 S. Carolina Ave. here in Mason City.  Believe it or not, it actually has six bedrooms!  Anyone looking for bedroom space, or even rooms for a home office, here it is.  It's spotlessly clean and maintenance free.  It offers permanent siding which can be painted, newer thermal windows, a gorgeous bathroom with modern tile, an open living/dining room, and one heck of a monster 3 car garage.
I teasingly told an associate today to go out and find a large family with many drivers. In reality, it would make a perfect home for an extended family because there are 2 bedrooms and bath of the main floor.  Don't be late for 628 S. Carolina–it'll sell soon.