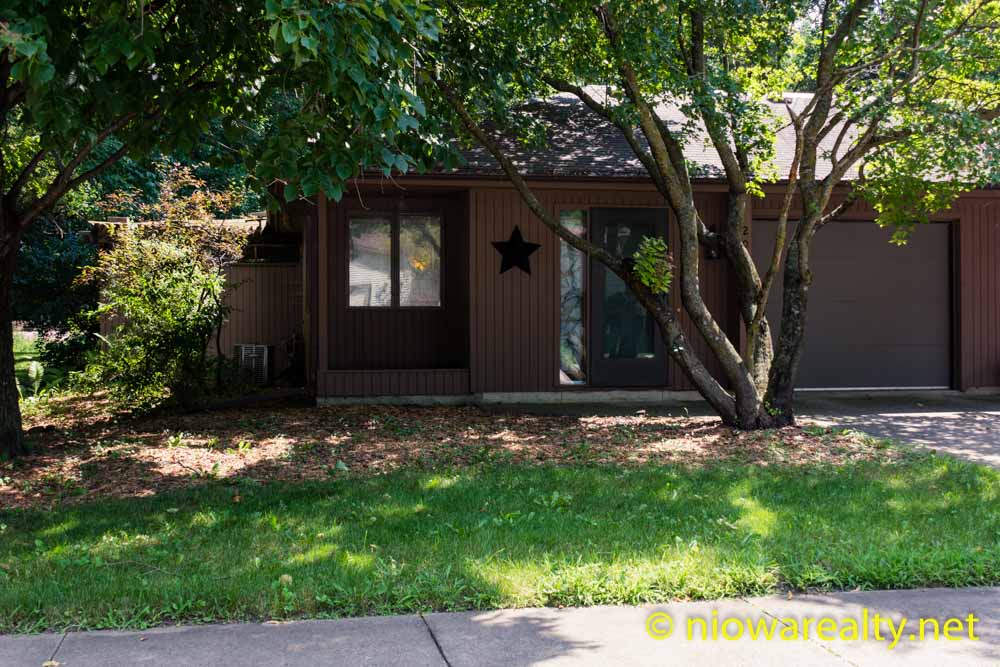 Today was one of those days when I thought there'd be no activity on any of my listings, and to my surprise, by the time the day was over, one of them got sold.  Once again I was reminded how random and unpredictable each day in the business of real estate sales can be.  It looks like I'm going to have a very busy weekend lined up with buyers and sellers.  I thought I'd be able to get some work done on one of my personal projects, but I don't think that's going to happen.
After receiving all the phone calls and emails on my acreage listing in Thornton that sold right out of the gates, I'd say if I had 10 more of the very same properties, I'd have them all sold.  Now let's get the acreage I have in Fertile sold.  Some of the hunters have backed away from it because it's located right in the town limits of Fertile, but I think I'm going to check to see if bow hunting is allowed.  That 5+ acres of grove is certainly a haven for wildlife–especially deer.  If Mason City allows bow hunting, one would think a small town like Fertile would allow it as well.
Someone asked me about a particular acreage today which took me back a number of years ago when I was asked to do a walk-thru inspection on it.  Thinking about it sent me racing back to the memories/feelings I had while there.  I'm sure all of you have had those feelings at one point in time or another of somebody or something watching you–right? Well, for sure I had those creepy feelings when I was in that house as well as walking around the dooryard.  There's no question in my mind that if that site could speak, it would have some hair-raising stories to tell.
Talking about that acreage just now reminded me of a really creepy acreage I visited about eight years ago.  The owners who've since moved had a number of first-hand experiences to where I think they were actually driven off the site because of the many unexpected, unexplainable, and most noticeable happenings.  To tell the truth, while I was there giving it a look over, I didn't have the slightest warm and fuzzy feeling about it the whole time I was there.  When people start telling me about their children having imaginary friends they interact with, that's when I'm looking for the nearest exit.
It may be a little early for the return of our snowbirds, but I thought it best to have a public open house tomorrow on 2031 Springview Drive which I've scheduled for 1:00 – 3:00 PM.  Since the seller reduced the price to $109,500, I believe it's quite the value considering it offers 3 bedrooms, 2 baths, a lovely sunroom, attached garage, and all appliances included.  You certainly can't beat its popular west-side location too!  The above photo is an exterior shot, but be sure to click on the following link to view all the  other snapshots.  2031 Springview Drive is at the top of my list for being value-priced.