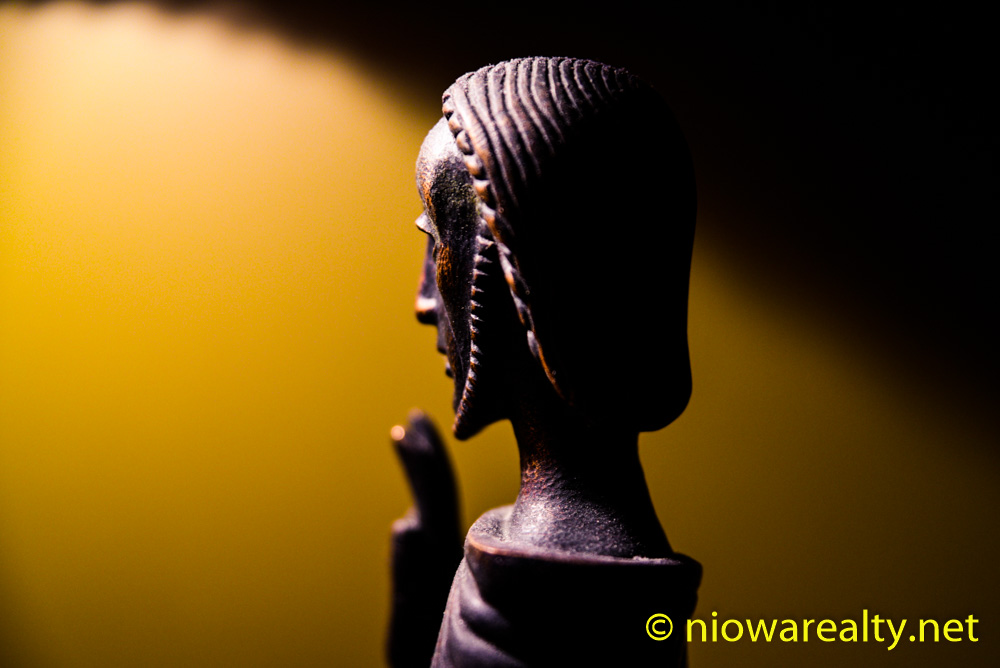 I was expecting sunshine today.  What happened?  At least it's continuing to warm up to where I don't have to wear my winter coat every time I go outside.  As the sun marches higher on the globe, the more I'm finding evidence of Spring.  I happened to notice a lilac bush starting to bud as well as what appeared to be hostas pushing their heads out of the soil.  I only hope we don't have a killing frost, or there'll be some not so healthy perennials, trees, and bushes in our City next month.  I've seen it happen before, and it isn't pretty.
Believe it or not, I'm still in the midst of negotiation on one of my listings.  I've stopped counting the number of times the buyers and sellers have countered.  I'll not be the least bit surprised if it sells within spitting distance of what I believed it would from the get go.  Seems nearly everyone likes to dicker.  The grand dame of all dickering was a client/customer I worked with a number of years ago who was beyond annoying when it came to buying and selling.  One time when she had a little giggle water in her she said, "You probably haven't noticed it, but I absolutely love dickering."  In a gentleman-like fashion I acknowledged my suspicion, but what I really wanted to say, "What was your first clue? After I ran out of lines to insert your counter-offer amounts?"
Having a little free time late this morning, I stopped to see how my friend/client is doing on the restoration of the home he's working at getting back to its original beauty.  He was in the middle of stripping paint off of the crown mouldings that are in the living and dining rooms.  What a dauntingly dirty and smelly job!  I did all I could to praise his work along with a good helping of encouragement.  He's really quite the industrious chap and I wish I was able to clone so to spread him amongst the crowd of lazies that reside in North Iowa.  As far as I'm concerned, there's too much stress placed on being able to do nothing on weekends other than watch TV or play around on smart phones or the internet.  And we're supposed to be making America great again?  I think there has to be some crash courses given on the subject of Incentive before that happens.
My public open house which is located at 15 N. Ohio was a great success today.  I couldn't believe there were people arriving fifteen minutes early.  I'm glad I was there early enough so to have all the lights on and doors unlocked.  It'll surprise the heck out of me if that's not sold before the week ends.  I think the buying public are finally waking up to the fact it's a great home and at more than fair price.
I ran into a dear client late this afternoon, and while beaming with excitement, she began to tell me about an experience she recently had while visiting a far away church.  At first, I thought she must've been touched by an angel when saying there was this great and wonderful feeling that came over her that lasted about ten minutes and during that time, there was an overwhelming understanding of being connected with the "whole".  The more she tried to explain her feeling, the more I was convinced she had experienced that rare but highly sought after feeling called gemutlichkeit.  It's a German word that doesn't translate into a single English word.
I'm thanking Wikipedia for helping me with explaining the translation which goes, "It describes a space or state of warmth, friendliness, and good cheer. Other qualities include coziness, peace of mind, belonging, well being, and social acceptance."  While she was explaining her feelings, I began remembering those few times I'd considered myself having an attack of gemutlichkeit. The first time it happens is the best because it's an experience that raises the bar of one's "feelings".  I'm glad to find it's still happening within our society considering all the stress nearly everyone is under.