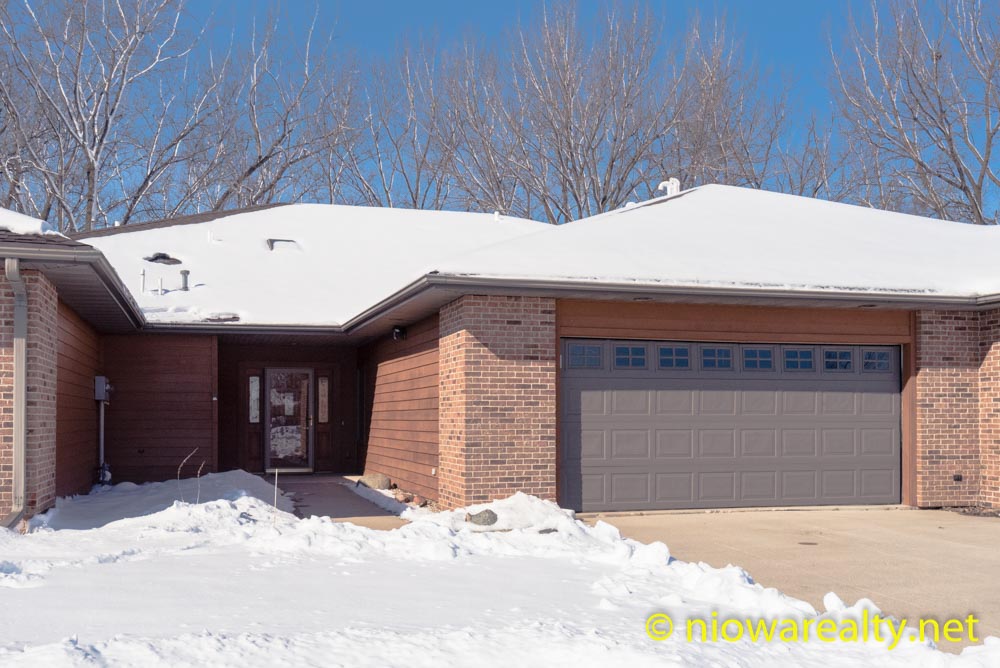 Believe it or not, I actually viewed six robins perched on barren branches of a Hackberry tree late this afternoon.  Now if they're not arriving far too earlier than normal, then my memories of the times I've normally first seen them has been distorted. In actuality, I could have sworn I saw a small group of them flying across the highway while I was driving down to show a Thornton acreage on Saturday.  But for sure, they were robins I saw in those branches this afternoon.
I spoke with one of my dear clients who lives in California today and it sounds like the rains out there just keep on coming.  I'm glad for them since it's been a long multi-year dry spell and hopefully the reservoirs and dry lake beds will finally start filling.  Most people don't realize how important California is in providing the bulk of the US with fresh vegetables during our winter months.  Even though they don't taste as good as our naturally Iowa grown veggies, at least they're fresh—well maybe.  I do encourage all my dear readers to at least try your hand at vegetable gardening this year.  You never know, there may be a master gardener or two lurking within the group.
One of my free-spirit friends stopped by while I was working on a file just for a catch-up chat.  Since she works a job that puts her in the midst of the crosscut of our society, she never mentions names, but certainly has some anecdotal stories to share on occasion.  Today she talked about a person she's recently crossed paths with whom she believes to be a modern day witch.  I looked at her and asked, "What in the world is your definition of a modern day witch?" Boy did I get the full visual as she voiced her definition of one.  It seems with her, a modern day witch is someone who holes up in a heavily shuttered and dimly lit rickety old house that's filled to the brim with piles of the past and treats its neighbors with disdain while weaving dark webs filled with conspiracy theories.
The witch also doesn't open personal mail for fear the truth may be exposed as well only reading and listening to ideas which are considered like-minded.  The one thing my friend said which seemed the most puzzling, was that a modern day witch considers money its god and does anything and everything to accumulate all the more in whatever fashion in believing it will be life-extending and affording it all the more time to expand its power over humans.  I shook my head and finally said, "Wow! You've re-defined what I always thought to be a harmless hoarder." Her somber answer was, "Don't be so quick to consider someone a hoarder until you've studied the subject more closely."  After that conversation, it looks like I'll never again be able to judge a book by its cover.
The highlight of my day was listing of one of the best west-side townhouses Mason City has to offer.  It has everything anyone would want and more.  I can't imagine a buyer finding one thing un-appealing about it.  It has a great design, abundant square footage, many recent updates, and above all, it's in the middle of a highly sought after neighborhood.  Click on the link below and see for yourself.  2040 Hunters Ridge Drive is the beauty you've been waiting for all along.