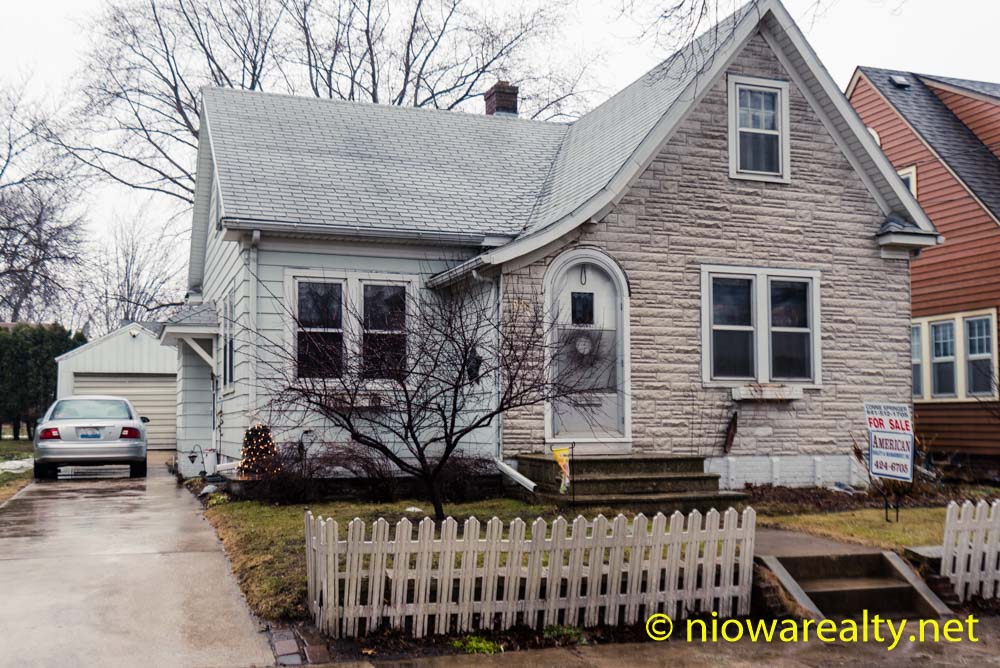 As far as I'm concerned, this weather we've been having of late has moved from being strange to downright creepy.  The blueish pink sky created by the high fog around dusk was something I've never seen in this area before.  When I pulled up to a corner Downtown this afternoon, I noticed movement in one of the parking lots and to my surprise I could see steam coming up from one the unmelted piles of snow.  I only hope this isn't some sort of omen of what we're going to have in store for us when the normal time our Spring and Summer does arrive.  We had a quirky winter last year, but this one has been the more unusual.  Let's hope for the best these coming months.  OK?
Late this morning I went out and listed a home located at 928 N. Monroe which is really quite the home for the money.  It's a 3 bedroom that offers a master suite on the second floor which also includes a half bath, there are 2 bedrooms on the main floor with a full bath, and ¾ bath in the basement.  Since I'd been in the home a number of years ago,  it was a delightful surprise to see all the improvements the current owner has made.  The main floor family room which has french doors is where I'd be parked most of the time.  It truly offers a window to the world of the backyard.  What most don't realize about this home is that it also has a large 2 car tandem garage which gives one the ability to drive in from North Monroe and drive out onto North Monroe Place.  Just think, no more backing out—just drive in at night, and then drive out the back side the next morning.
The owner has already found another home she's planning on purchasing, so there's no waiting for a response should you decide to make an offer on it.  Anyone with an older child or two would absolutely love the upstairs bedroom suite.  As we all know, as children grow older, they start insisting on having their own "space" away from their parents and younger siblings.  There's been countless times I've seen homes for sale where the owners have created makeshift basement bedrooms for their teenage children.  Personally, I'd rather be upstairs instead in a basement where oft times you have to endure listening to a washer and dryer running, as well a furnace cycling.  Click on the following link to view this absolutely charming home.
I had an unscheduled meeting with one of our City's great minds today just so I could get a little more clarity on a problem I'm having with a file.   Sometimes I have to remind myself how fortunate I am to have very intelligent people who will take time to give their opinions on something I've become far too immersed in to where it has turned muddy.  Fortunately he clarified much by simply looking at it from his own direction.  While walking out I couldn't help but change the subject and mention a group of people I've done a great deal of pro-bono work for, and yet they still continue with their demands for more.  I was expecting him to make some sort of profound comment about it, but rather, he turned and looked me in the eye and said, "Mr. Chodur.  When will you ever come to the understanding that there are people out there who believe no matter how much you've freely helped to lift them up, it'll NEVER be enough."  I'm now sadly believing it to be one of those hard-learned truths the sociologists talk about.