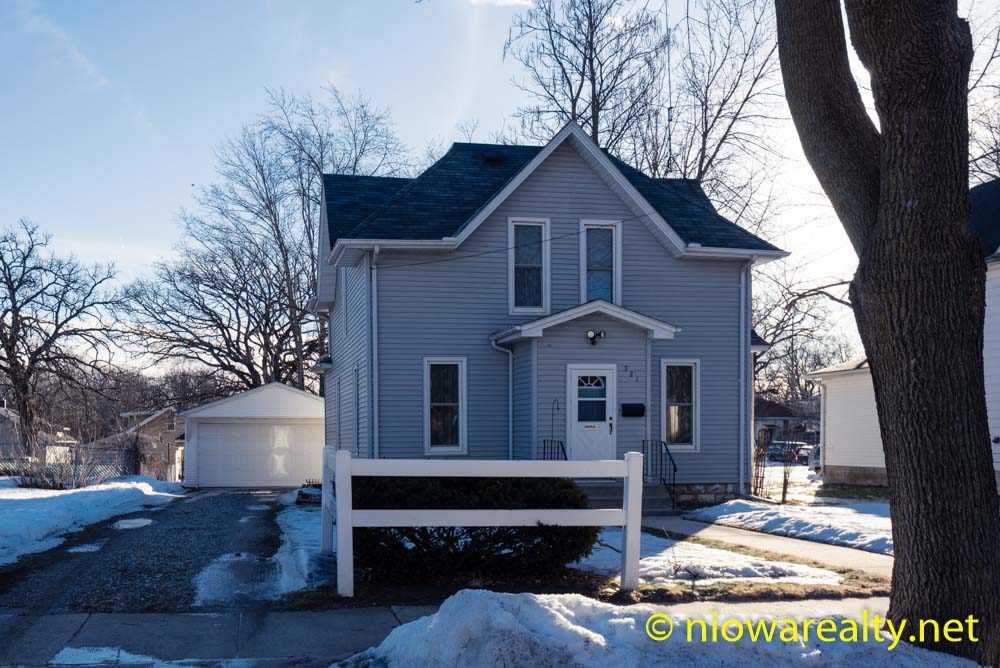 Since I've been in the mode of sorting, organizing, and discarding materials at my office, I discovered this morning that I've had files that were long past their hold dates.  With a few free hours available, I managed to get the bulk of them shredded and taken to the landfill.  If any of you've been out to the dump these recent years, I'm sure you've noticed the acreage that's just across the gravel road.  That particular owner must have a real affinity for rocks and boulders.  What few times I've recently visited the landfill, I'd say those big rocks are starting to multiply to where no matter where you look, they're everywhere. I've always been a fan of field stones, but doubt I'll ever be that much "in like" with them to where they're at the center of one's visual landscape.
After receiving a phone call from a past client today, I was relieved to hear he's decided to take another avenue in marketing his home.  That's all I could do was wish him the best in hopes he'll get it sold.  Unfortunately, that home is one of those which should have returned to the earth many years ago, but the string of previous owners must've thought there were a few breaths of life left in it was worth saving.  It's a classic example of the old saying, "You can't turn a sow's ear into a silk purse."  When walking thru it for the first time, I couldn't find even one redeeming quality.  It's just a tired old house offering layers of flimsy updates.  Whomever does purchase it will be in for a roller-coaster ride when they start peeling back those layers of time.  But as we all know, every house is someone's home.
After finding myself several times today in conversation with two people from the general public, I've come to the conclusion that our society is beginning to polarize all the more with their political views.  I'm just glad I listen instead of attempting to enter into debate simply because of the hard core beliefs many have on both sides of the fence. I'm convinced there are a few world leaders with diabolical minds who are exceptionally pleased to see our country becoming all the more divided.  It's always been true, "A house divided never stands."  I believe those with any sensibilities left, should really work at bringing our Federal, State, and Local leaders back to the table of compromise.  I'm not so sure the media is entirely to blame for fanning the fires of discord.
I basically "re-listed" a home today I've had on the market for quite some time.  Now that the owners have purchased their new home and moved out, I went over and took all new photos today and they look GREAT!  Now tell me, where can you buy a three bedroom home in Mason City that offers newer thermal windows, newer furnace and air, updated wiring, newer permanent siding, a double garage, and all appliances included for $65,000?  Well you can look all you want, but you can't.  If you have any concept of value, you WILL be the one for 721 N. Delaware.  Click on the following link and see for yourselves.