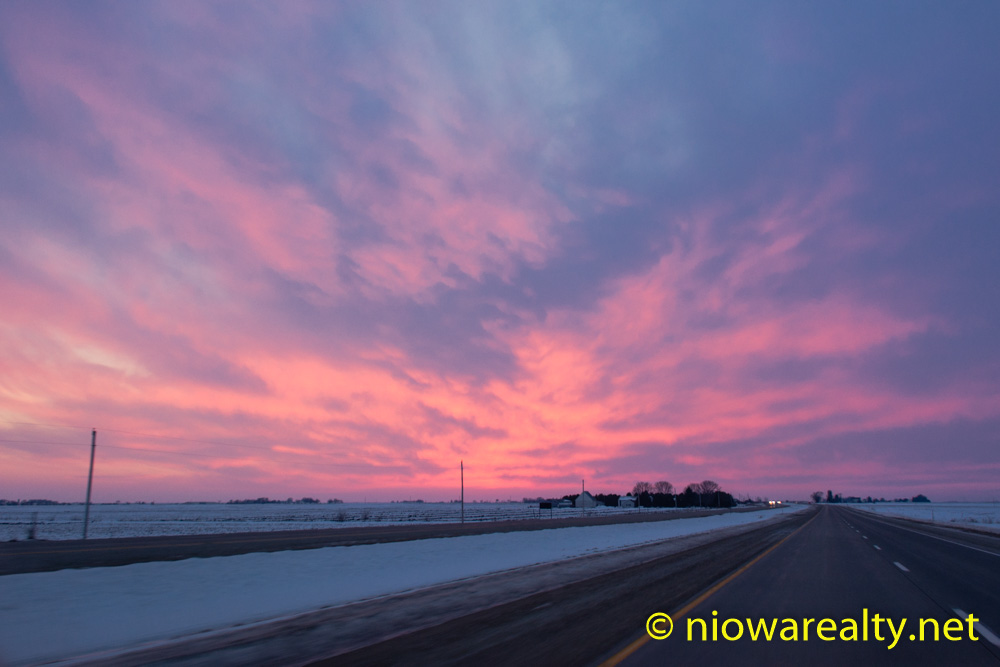 Having scheduled early showings this morning, I had to get my open house signs out all the sooner so to make my first appointment on time.  One of the homes I was showing seemed colder than normal when I walked in.  I said to the buyers, "It almost feels near freezing in here."  I walked over to the thermostat and sure enough, the inside temperature was hovering around 34 degrees.  I immediately called the agent from my cell phone so to get the furnace back in operating condition ASAP so there'd be no frozen pipes.  I'm glad I caught it in time because I've seen what frozen pipes do when it warms up again—there's hundreds of gallons of water filling basements. It's very scary.  The agent was appreciative enough to text me back saying, "Thanks for catching it!"
Not long ago I showed a property that had tenants living in it.  Both the buyer and myself were in shock when seeing the condition of those living quarters.  What deeply angered me was my finding evidence of small children living in the house.  How is it possible children who're supposed to be learning from their parents, can grow up and go out into the general public and consider themselves properly reared?  I remember going to a very distant relative's home once and being appalled by the condition of their house.  It was as though I'd walked into a zoo of wild animals without a zoo keeper on staff.  I've come to believe parenting should be a required course which must be passed with flying colors before biological parents are allowed to keep the babies they've created. Far too often we find children growing up in those zoo-like conditions facing slippery slopes that are insurmountable over their lifetimes.  It's so very sad because nearly always it becomes a generationally learned behavior.
My public open house at 507 – 4th St. SE was an absolute success this afternoon.  To my delight, there were people in attendance nearly the entire time.  I was actually a half hour on overtime because of late-comers.  The home really showed itself off in all its splendor today with the sun shining in and setting off the beauty of its golden oak woodwork and floors.  I was sure to explain the shared garage situation and the possibilities there are for fixing it, as well as building a new garage off the paved rear alley.  Of all the districts containing vintage 1900ish homes, I would say by far that the River Heights area, in which this home is located, is my absolute favorite.  My grandmother lived in that district for over 30 years and she absolutely loved it.
Already having earlier planned my late afternoon, I decided to head out of town and visit another North Iowa church.  I almost didn't make it on time because of the delays at my open house.  The minister was young and reminded me a bit of Robin Williams with his funny, yet dry sense of humor.  Several things he mentioned while giving his sermon really stuck with me.  One of them was how he compared spiritual darkness to the evils that are being spread on our social medias.  I couldn't have agreed more.  As the service was ending, he reminded his congregation that the picture-taking time had arrived again and was encouraging everyone to sign up to have their photos taken.  With a straight face he said, "And then too, there may be some of you dying soon and this would be a great time to already have a professional photo you can have used for your obituaries. And just remember it's a freebie because you know how everyone has their fingers in your checkbooks after you're dead."  Oh Mercy!  Don't think he didn't get a full-house laugh out of that one—including one out of yours truly.  I guess it's not a such a bad thing to have a little fun when speaking about death.