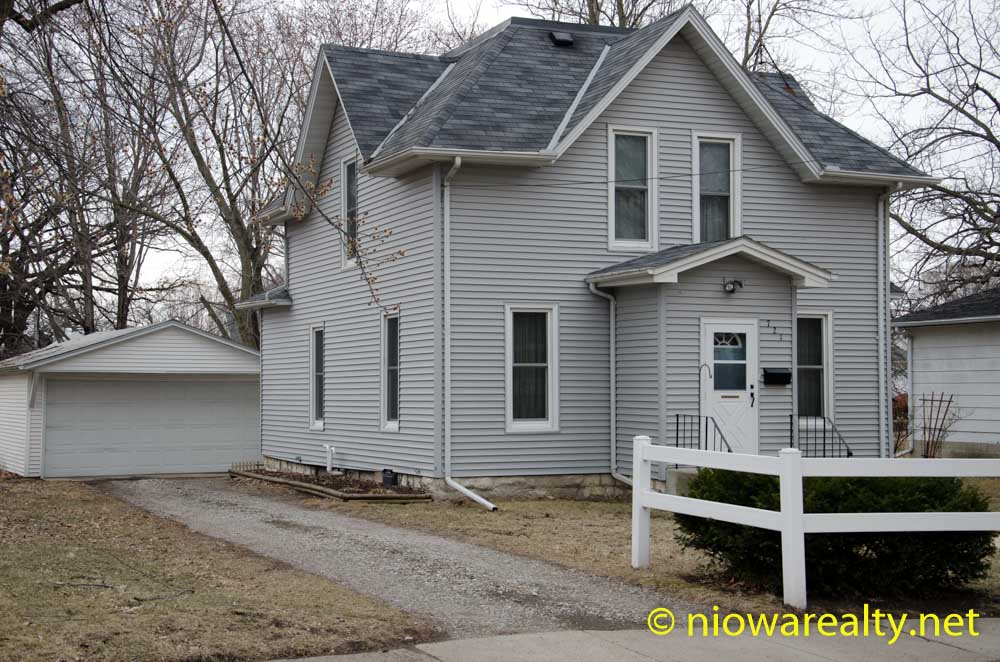 Ouch!  The cold today was exceptionally biting.  It's no wonder with it being minus 4 degrees when I pulled out of the garage this morning.  I know there are some possessed people for whatever reason who like winter.  Perhaps they created a different mindset in their younger years.  Having grown up on a farm, it was the time of year I despised because there was no heat in the barns. Carrying pales of feed and water over snowbanks to outlying sheds was not fun. Yes, perhaps playing outside in the winter while being able to go inside whenever you'd feel the need to warm up, could possibly be why some enjoy winter.
I had to laugh to myself today when being called out to show two houses on the spur of the moment.  I've often said, "Sometimes there are buyers who think nothing of the cold weather when out looking for a home."  I'll certainly have to dress even warmer tomorrow than I did today.  Thank goodness I have several very warm wool sweaters that'll help to keep the chill from working its way through my clothes.
The first showing took place this afternoon at my new listing located at 2026 S. Wilson Ave.  I was quick to mention how no matter the amount of updating the home needs, it's in a very much sought after district.  I've always considered it to be its own little village on the edge of our City. Believe it or not, there's never been a home in that "village" that I wasn't able to get sold.  There was one about six years ago that I thought would be my first "fail to sell", but in the end, the awaited buyer arrived.
I absolutely must take some time out of these days to get Christmas gifts purchased for a few dear ones.  I'll be visiting Market 124 again to pick up an additional number locally created Christmas cards.  As I've said before, if we don't patronize our local retailers, we'll all be held prisoners by the corporate big box stores.  And of course the fewer local businesses we have, the more empty storefronts there'll be dotting our charming Historic Downtown.  I may sound a bit selfish, but I want our Downtown to be bustling with commerce.  The group who'll likely tip the scales in favor of my expectations are the millennials.  Their wants are different to where they're more earth friendly and community minded. They're also very much into purchasing items that are not mass produced by the millions that've been imported to America from far away countries.
It's time now to speak of a home that's been under the radar far too long.  The home is located at 721 N. Delaware here in Mason City.  It offers 3 big bedrooms, all appliances included, newer furnace, central air, wiring, permanent siding, newer thermal windows, a huge living room, a newer double garage, and a big yard. The owners are spotlessly clean to the point of being near immaculate.  Where in Mason City can you find such a great value?  The owners are now ready to sell it, and whomever buys it will be ever thankful that I shined my spotlight on 721 N. Delaware this evening.  Click on the link below and take a real close look at its offerings.  I assure all of you, it's gonna get sold.