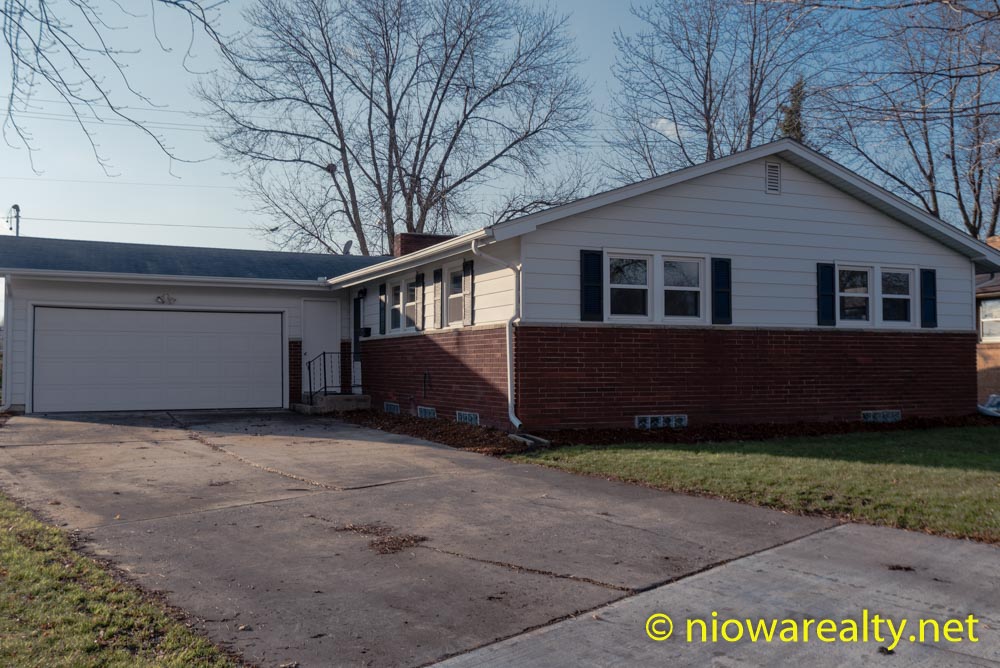 It was amazing to find the temperature outside this morning up over 50 degrees.  The southerly wind we had blowing all night last night must've brought a great deal of warm air to North Iowa.  I told a customer this afternoon that I hope it stays this way until New Year's, and then starts warming up.  We certainly didn't have the really cold snap this November as we did last.  I wonder if there'll be a repeat of last Winter with the ground not freezing solid again.
I had another exceptionally "soft landing" of a closing this morning on one of my listings.  The buyers are the most delightful people and I'm glad everything worked out for them and the sellers.  Because the home is so well built as well as maintained, I'm confident it will serve them efficiently for a very long time.  One of my long time customers stopped by today to talk about houses, but the subject somehow veered off to family issues she's having.  She went on to say how her daughter is caught up in a tumultuous relationship with a man who is using her for his own personal gain.  Since her daughter is in her late twenties, out of the house, and has a good job, she feels nearly helpless in pressuring her to boot the bum.  What's been worrying her the most is seeing her daughter's personality changing to a point where she's suffering from bouts of depression.  She also shared other things that's been going on with them.  I couldn't help but give my honest opinion of what's happening because I've seen it enough times before.  I looked at her and said, "You're daughter is likely in a relationship with a psychological vampire."  She looked a bit puzzled when I said it, but soon heard from me a number of tell-tale signs to look for.  She recognized each and every one I mentioned.  I told her to get online and look for some books regarding her daughter's problem along with some possible ways to counteract his control over her.  I finished by saying, "Unaddressed it won't get better—only worse."
A listing I've been waiting for the sellers to call and say, "Let's get it listed.", finally called this morning asking when I'd be available.  Believe me, I didn't waste any time getting it listed because it is one of the most comfortable ranch homes I've seen in its price range for a very long time.  There's absolutely nothing to do other than move into it because the sellers have done it all.  It offers a spanking new upscale kitchen, three bathrooms that have all been re-modeled, new floor coverings, new windows, new paint, gorgeous hardwood floors, and a floor plan that can't be beat. The real plus is the main floor laundry closet for people who don't want to be climbing basement stairs. There's a brand new cedar deck off the dining room for summertime enjoyment, a two car attached garage, steel siding, new concrete, as well as the basement having been prepped for someone to finish it it out and create a giant man cave.  It's conveniently located on the popular west side of Mason City where shopping and health services are only blocks away.  Because I know the quality of the owner's work, whomever purchases it will not ever have to worry about poor workmanship. A much awaited curtain rising on 50 Winnebago Court this afternoon was worth it.  Click on the link below to have a look.