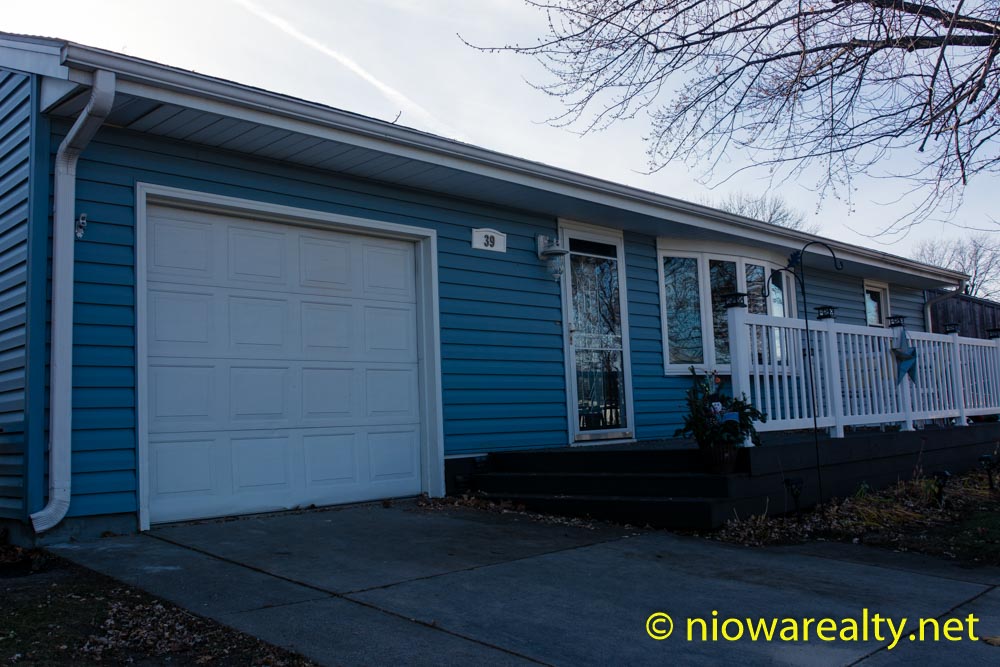 Uff da!  What a change in weather we're having.  Not only is the wind back, but now the rain.  I re-discovered being extra careful walking when it started spitting sleet later this morning.  Of course the maniacal drivers had to be out driving while thinking it's the middle of Summer with blue skies and dry pavements.  It'll never make sense to me how many think their eyesights are all-seeing, and their vehicles are all-terrain tanks that can withstand any and all weather conditions.
I did manage to get one of my new listings posted today that's located at 39 Mission Drive here in Mason City.  It's a 3+ bedroom ranch that's had a ton of recent updates. The most impressive is the custom high-end kitchen which was designed for ease of meal preparation, as well as entertaining.  The white cabinets are complimented by the dark granite countertops and marble subway tiling.  I was very impressed by it and actually considered it on the par of kitchens in homes priced $100K higher.  The lower level has the "feel" of being far more than a basement, but rather a private retreat where one can relax after a hard day's work, or catch up on some home office work.  The laundry/bath in the lower level is top-notch as well.  There's another room in the basement that could be used as a den or converted into a 4th bedroom.  When you look at the combined square-footage of the basement and main floor, you're looking at a real value considering the amount of living area this home has to offer.  It's also located in one of Mason City's popular southwest side subdivisions.  I'm having a public open house on it this Saturday in hopes it will sell more sooner than later.  The asking price on it is $147,500.  The above photo is the street shot that I took, but please look at all the other photos by clicking on the following link.
One of my favorite customers stopped by my office this afternoon for a nice chat as well as bring me up to speed with his own home projects.  It's always a delight to hear about the happenings in the lives of others who're likely be the future pillars of our community.  I couldn't help but remind him that in light of all the craziness that's been happening of late in our country as well as around the world, it's times like these when community mindedness is put to the test.  We'll all stop thinking of our own selfish wants and needs, and start working together as a group for the common good.  I'm moving in the direction where I can only read so much National news in the morning. The information over-load can pull one's spirits down quickly.
As I do every year, I've been asking just about everyone what their plans are for Thanksgiving.  Thus far, everyone I've spoken with have plans made, and it sounds like there'll be larger gatherings than what I've normally heard.  Just these past several days I've heard of people attending get togethers of upwards of 20 and 30 people.  I feel sorry for the ones that are responsible for providing the meat and potatoes.
A dear friend of mine who's been feeling a bit down of late,  got a little uplift today when I stopped and purchased a sweet.  Upon delivery I said, "I thought I'd drop off one of your favorites to help pull you out of your puddle. Little gifts do help with the pull.