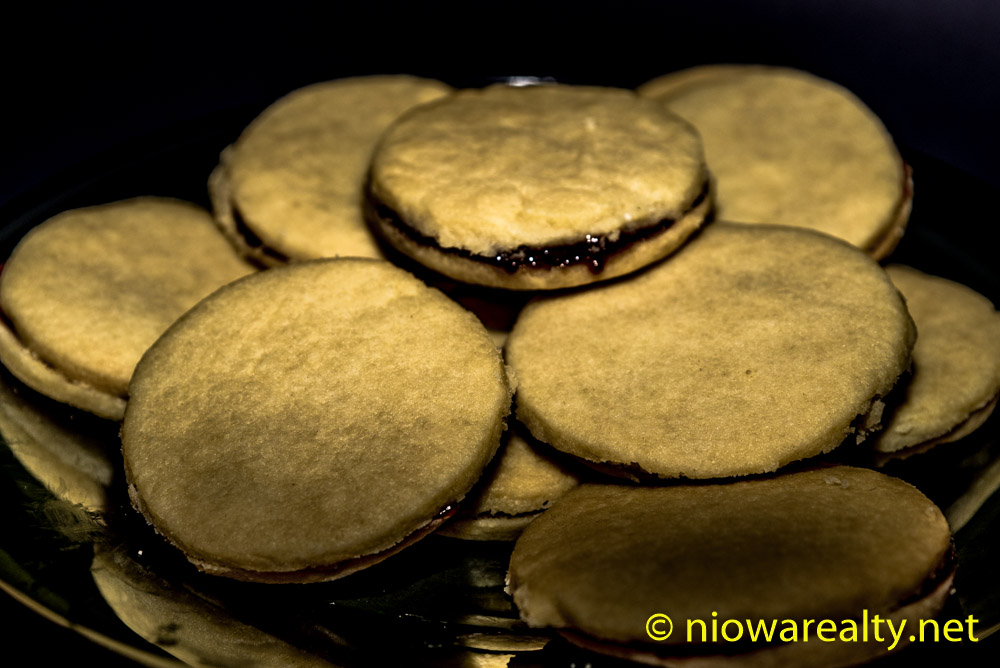 The howling of the wind outside certainly tells us Winter is well on its way.  I had several homes to show out of town late this afternoon and I can say it wasn't fun bucking the strong winds along with evidently being on the road when the factories were changing shifts.  I do wish some of the farmers would plan their time on the blacktops around those busy times when factory workers are on the road.  There were a string of cars following a monster tractor pulling one of those new age discs.  I'm glad it finally turned off onto a gravel road.  It amazes me sometimes the structures people build on their town lots in villages around North Iowa.  I nearly had a jaw-drop when seeing an attached garage that was long and tall enough to hold a very large truck or two.  The size of it actually dwarfed the home.  I do hope this wind will quiet down by the time my open house starts tomorrow, or I'll likely be there alone unless there's a die-hard buyer willing to endure these gusts.
The four geraniums that have been continually blooming behind my office had to get dug up this evening and taken to the basement of my building.  This is the first time I'm going to try saving them over for Spring planting by hanging them upside-down from the ceiling.  I've heard others say that as long as they're in a cool dark place, they'll keep until Spring.  I just hope they'll survive because they've really been quite the bloomers.  One of my neighbors down the block mentioned how much she enjoyed seeing their vivid colors.  I was actually surprised they grew as well as they did since I was late getting them in the ground.  It was well into May when I planted them.
I received several calls today from people who are now only days away from listing their homes.  They'll both be in the "shortage" price ranges, so I'm hopeful they'll sell right out of the gates.  With our interest rates starting to creep up, they'll be buyers that've been sitting on the fence wanting to get their home mortgage rates locked in before they go up any higher.  I'll likely never forget the mortgage interest rates being at 10% for a very long time.  I still remember the factor per $1,000 for a 30 year mortgage.  It was 9.66.  So if today you have say a $75,000 mortgage, that principal and interest only payment would be a whopping $724.50 per month, and that's not including taxes and insurance.  Let's just hope we're not faced with those rates again because that would certainly create a slow-down in our housing markets.
I had a good laugh today when a customer was telling me about her upcoming Thanksgiving gathering she's planned for her extended family.  It sounded like it's going to be quite the affair.  She went on to tell that there's one particular relative who usually does something that embarrasses her and others to the point she's almost ready to say something.  I was shocked when she told me that the particular guest randomly goes around to whomever is snacking on something and saying, "Gimme a little bit.", and if they resist, the pestering continues until the "little bit" is given."  I couldn't help but start laughing and said, "Is your guest part of some wild carnivorous herd of primitives?  It sounds something like what dominant members of meat eating animals do to re-affirm their standing, or superiority within their group.  And remember, it's just one more thing most mothers never told us"  She looked at me with surprise and said, "You're right, so the next time I hear "gimme a bit", I'll consider my guest to have belonged to a pack of meat-eating animals in a previous life, and I'll have to share that with whomever found themselves badgered into allowing a bite."