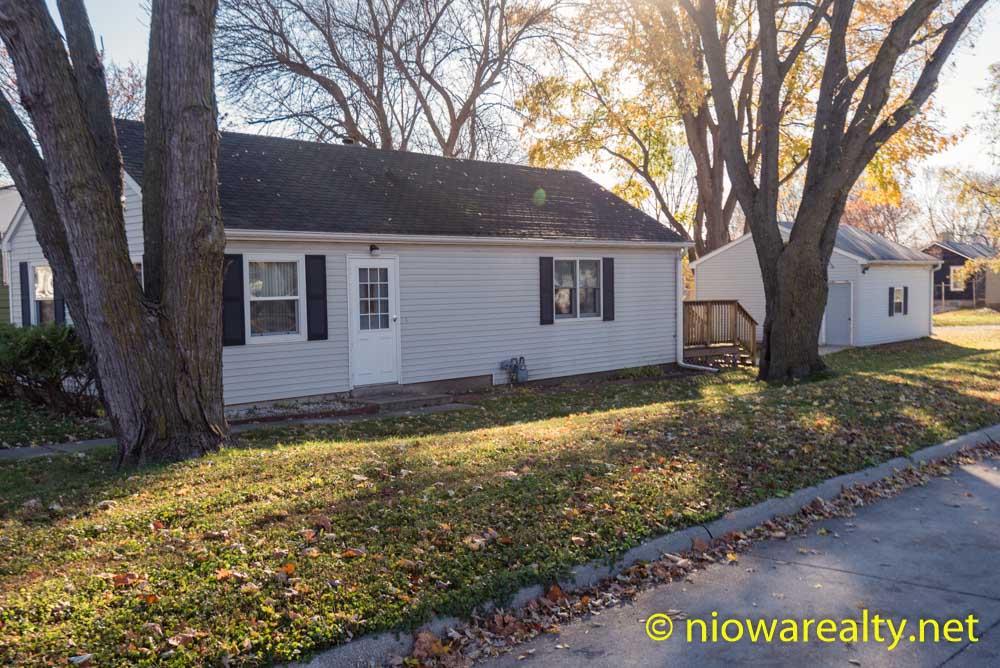 One of my listings had a soft-landing closing today, and so much so, I wish they all would be as seamless and issue-free as this one was from the time of offer to the time of closing.  One of the bankers asked me today if the market is still active and I told her it is still chugging along.  These pleasant days of weather we've been having have certainly helped to keep the buyers out looking.
I listed a home today located at 677 – 15th St. SE which certainly should sell in a relatively short period of time due to the pricing of it along with its condition.  It's much larger on the inside than it appears from the street.  First and foremost, it's in a popular southeast location, along with many recent updates that've been made including a newer kitchen and bath, permanent siding, newer furnace and air, and a nearly new double garage.  Even though it has only one bedroom, the square footage is far larger than what you'd normally find in one bedroom homes in Mason City.  I already received a call on it today and the person on the other end seemed interested in it.   I made sure to tell him I'm going to have a public open house on it this coming Saturday from 1 – 3 pm.  Any single person or young couple who are now renting, should jump at the chance of having their own home with payments considerably less than what they're paying in rent.  I'm hoping for delightful weather on Saturday. The above photo is the exterior shot of it, and if you'd like to see more, click on the link below.
While out this afternoon, I placed a sold sign on 941 – 11th St. NE. With that one sold, I now have only one listing left on the market in East Park Place Addition.  I started out with four of them this Summer and now I'm down to the last and best one to be sold, and it's located at 703 – 11th St. NE.  Every time I pull up to the curb of this home, it speaks of a diminished elegance which for me is timeless and never tiring.  It seems everyone wants turn-key condition, and this one more than has it.  The kitchen was designed for the savvy cooks who understand placement of appliances, light, and utility.  The living and dining rooms beam from all the natural light coming in from the high-end thermal windows the owner had installed in the entire home.  With all the energy efficient features it offers, I may be stretching it a bit, but homes like these you'd swear can be heated with a candle.  The oversized master bedroom is truly a sanctuary for those who relish the comforts of a spacious bedroom.  I've found more younger people preferring to have large bedrooms where they can escape the rat race of the corporate world.  An exceptionally comfortable bedroom offers a better night's sleep, and that's very important for those who're grinding away at their 9 to 5 jobs all week.  The new oversized double garage is even top drawer quality.  It may be my last listing to sell in that area, but oft times the best is saved for last.
I hope everyone's got their Thanksgiving plans made for next week and will have a safe and memorable day of it.  I still can't believe how fortunate we are to have it still so warm outside for this time of year.  Keep em coming Mother Nature!