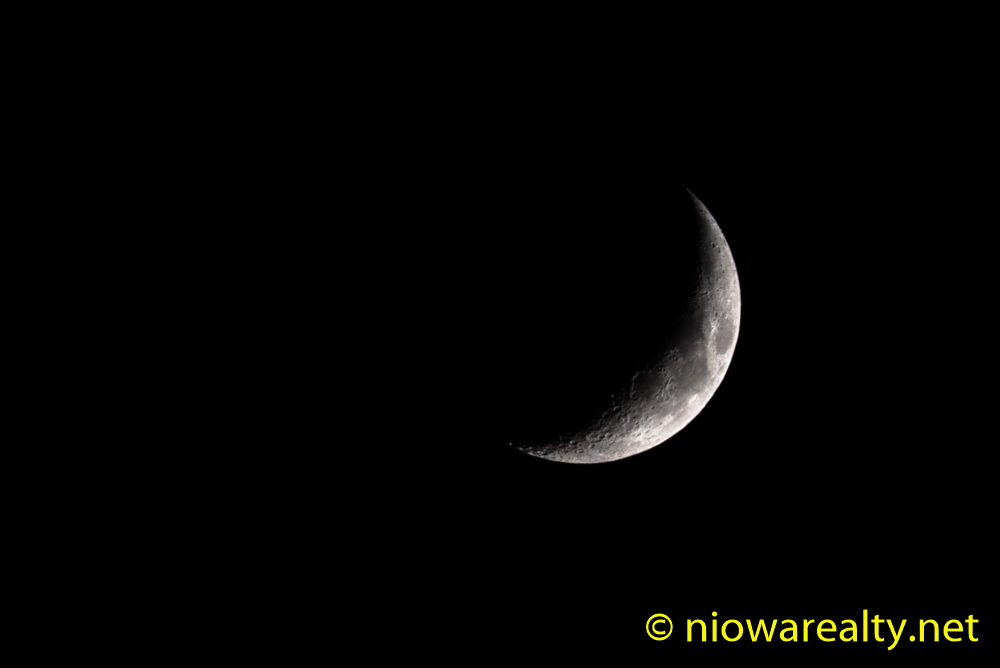 Oh what a beautiful day we had again today! Unfortunately I wasn't outdoors as much as I would've liked due to appointments, but I did make up for it late this afternoon by spending about 45 minutes walking in and around the old-growth timber that's part of the 8 acre acreage I have listed at 305 N. 1st St. in Fertile. I always tell people that are looking at acreages to be sure and walk the property because of the sometimes skewed perceptions of size. This acreage definitely has that issue. One really doesn't get the full impact of the size of the grove and bare land until it's been walked. I scared about four deer out of the grove while walking. It's really funny how some animals know you're looking at them. They were lying down and just as I was walking past them, I noticed something out of place in the underbrush—it was a deer lying on the ground. I back stepped a few paces to make sure it was one, and whoosh it was up and hopping off in the opposite direction. Yup, they've got to be related to cottontail rabbits. They hop like a rabbit and their white tails bob like a rabbit's while in transit. When you think about it, their dung even looks like giant rabbit droppings. And like rabbits, they love visiting flower and vegetable gardens for what they believe are their salad bars.
Speaking of salad bars. I must interject an observation I had this morning at Fareway. Two "overly drop-crotched" past their teenage years young men were helping themselves to the grapes in the produce section. They reminded me of our problem deer—if it's there, it's to be taken and eaten. The reason I was at the acreage late this afternoon was for a showing I had scheduled. The more times I'm there, the more I notice and remember all the extras it has to offer. Whomever purchases it, in time will have an absolutely stunning homesite. I'm exceptionally glad the owner's family never painted the woodwork. With the sun shining on it thru the windows, it appeared almost like new. I'm hoping it will sell to a buyer who'll appreciate the character and quality the home offers. Every time I see someone building a $300+K home out in the middle of a barren field I think, "So you have this McMansion out in the middle of a corn field. I hope you're willing to wait 20+ years to have greenery tall enough you can call trees."  We all have our various priorities don't we?
One of my dear friends called this morning to see how life has been on my side of the fence. I shared with her some of the highlights of these past several months. She was telling me some of the nonsensical things one of her relatives has been doing, so I interjected and laughingly said, "Do you remember the children's story, The Princess and the Pea?" "Yes!" she exclaimed. "It was one of my favorites, so why are you asking?" I chuckled and said, "I think the "pea" under the princess's mattress is the brain belonging to your relative." She got a good light-hearted laugh out of that one. Yes, we must try find humor in some of the nasty things people do to others to help keep our sanity in the midst of some of the craziness we hear about.
There's an offer on one of my listings which is causing some anxiety with my sellers. They can't seem to make up their minds if they want to move forward and sell it or stay.  Far too often we find people vacillating over choices that should've been made way back when they listed their homes. When this happens, there's usually a relative or friend who's the "expert" on everything. We all have them in our midst, and sometimes they intentionally give poor advice just to stir things up and create failure for those they purport to care about. Go figure!
How do you like the above photo I took of last night's crescent moon rising? For me it was almost worth framing. The skies of North Iowa exhibit a great deal of beauty as long as we look for it.