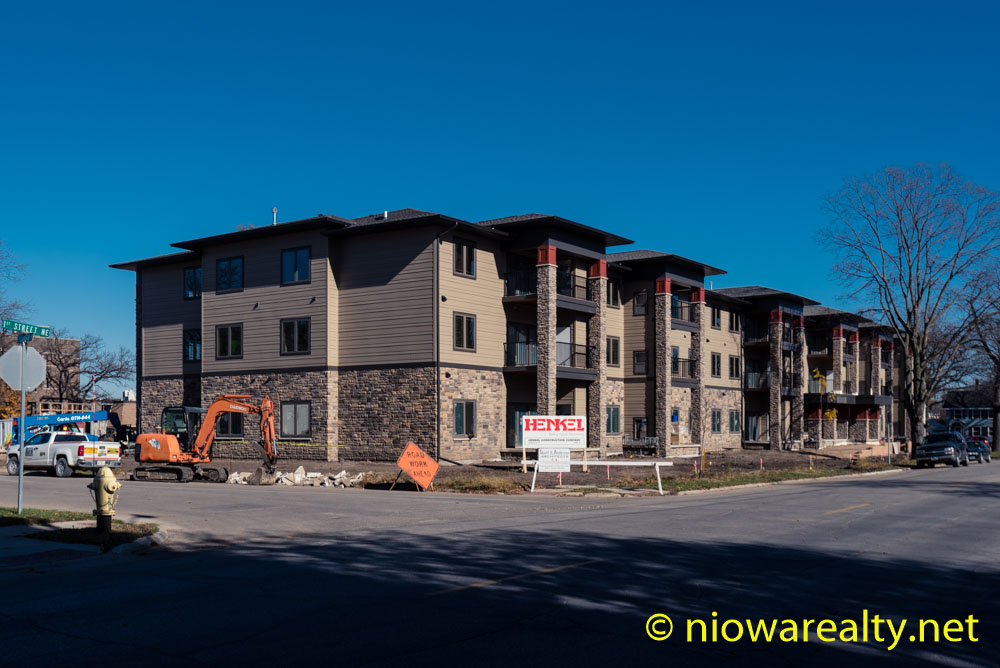 Every day that passes where the temperature has risen above 70 degrees, will transform a normally dark and cold November into a memorable experience. I was surprised when driving past the Downtown office of First Citizen's Bank when seeing their marquis reading 75 degrees. I should have suspected so after seeing earlier several young men walking the streets shirtless. Let's just hope this weather continues on into the weekend so we'll all have something delightful to talk about come Monday.
I scheduled a public open house tomorrow for the home I have listed at 507 – 4th St. SE here in Mason City which is located in the ever-popular area called River Heights. I may sound like a broken record to some by saying again how much I've always liked it. It's within walking distance to the Historic Downtown yet has the "feeling" of being a tucked-away neighborhood where neighbors become friends for life. My grandmother who's been long gone, used to live there and oft times mentioned how she liked her neighborhood. It's not uncommon to find many of its residents out walking in the mornings or early evenings. A number of years ago I rented a home in River Heights to a clinical psychologist which was owned by one of my clients. She lived there for at least five years before taking another job in a metropolitan area. I would sometimes get a glimpse of her out walking her Labrador around the area. When she gave her written notice to move, she added at the bottom of the letter, "Thank you Joe for finding me the home I truly enjoyed while living here in Mason City. While living in the River Heights area, I felt more safe than anywhere else I've lived." I considered her words a genuine testimonial, along with being a feather in that neighborhood's hat. I believe it's the same way now as it was back then. Be sure to stop by tomorrow and have a good look. By the way, its kitchen is a cook's paradise. Click on the link below for details.
It seems everyone is becoming all the more politically polarized with the election being only five days away. There were a handful of people today pulling me into their discussions regarding all the wicked recent press. In each conversation I said, "I've followed our elections for a great many years and this one has a texture I never would have believed if I hadn't seen or heard it for myself." I went on to say, "I'm afraid what's going on with the presidential election process is a sign of how our society has evolved, and I don't like it." Just this past week I've come to the conclusion it's turned into a full-blown circus. I've actually had at least a half dozen people nearly demanding I vote for this or that one. I teasingly said to one, "I'm going to draw a caricature of Micky Mouse along with a box and an "X" inserted out in the margin." That person didn't find it at all funny. It'll soon be over and we'll all be glad for it. Please continue to hope this type of election process doesn't create a standard for our future.
While driving to an afternoon appointment, I had an inspiration to stop at the new Downtown condominiums that are being built by The Good Shepherd. The above photo of it, is another example how a resolute vision for our Historic Downtown is now becoming a reality. Keep up the good work!