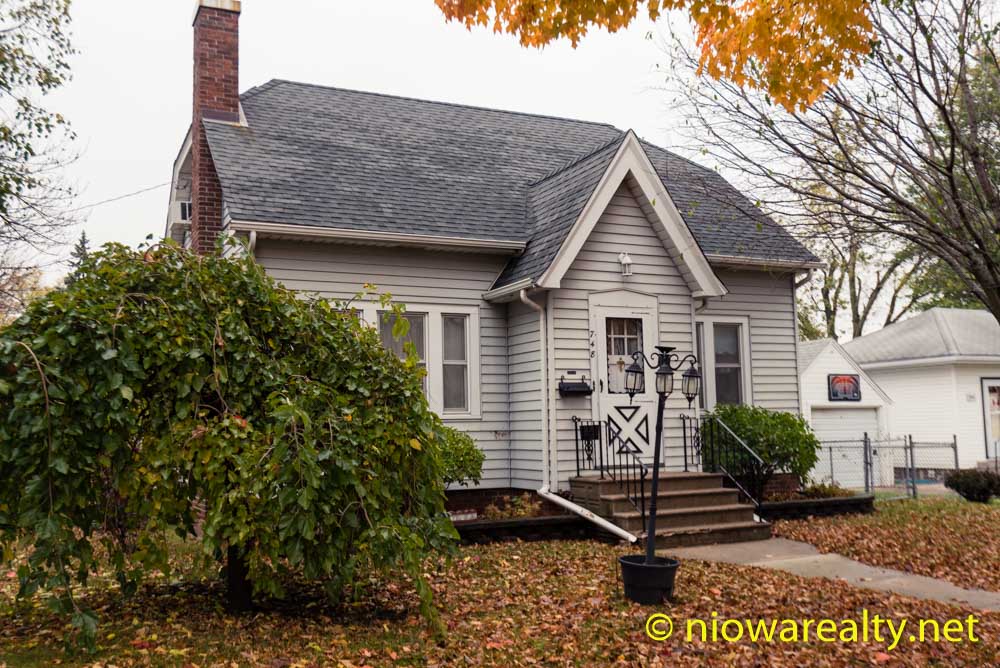 The rainstorm we had last night was another creepy one by the way in which the wind was blowing so hard. I wasn't expecting to see all the puddles while driving to work. It's a good thing the farmers have nearly all their crops out before last night's storm. I'm thinking this winter is going to be a repeat of last year's. We'll see if the soil doesn't freeze again like it did for the first time last year. I got a call early this morning about a roof leaking on a property I manage, so I was out looking at it as well as making calls to get it fixed before 8:00 am even arrived. Water leaks of any kind send me nearly into orbit. I've seen far too many homes and buildings that've been heavily damaged by roof leaks and plumbing breaks. We all must remain diligent in making sure our homes and buildings are protected as well as being prepared for the unexpected.
I've been getting more calls from potential buyers looking for prospective homes this week which is telling me the market isn't slowing down as of yet. I already have appointments set for showings these next several days. I've also been thinking the upcoming elections are a driving force with buyers wanting to have a low rate locked in before our next president is inaugurated. Presidential election years always seem to shake things up a bit. Most have already forgotten it was just eight years ago when the financial crisis hit, and we're still not completely over it. Nearly every foreclosure I see posted was purchased not but a few years before everything tanked. I'm currently working with a buyer who's very conservative about how much she spends on a home, and she was almost embarrassed when telling me such. I said to her, "There's absolutely nothing wrong with being financially conservative. Everyone knows where their comfort levels are and too many times they compromise themselves by purchasing too close to their limits." I just wish there'd be a few more younger buyers who're financially conservative. It made me think of a young couple who purchased a very expensive home and then created a multi-thousand dollar fire pit arena in it's back yard.
Believe me, whenever I see such people with that "look at what I have" mentality, I consider it bordering on ridiculous. Can you imagine what their children will be like when they leave the "nest"? They'll certainly believe themselves to have been from the manor born and expect the world to treat them as such. Poor babies!
The home I spoke about yesterday is now listed and it's located at 748 – 3rd St. SW here in Mason City. As I went around measuring and taking photos, I continued to be reminded how much this home possesses a rare compact unity. I actually showed it this afternoon and the buyer said as we were walking out, "I can't believe how much more room it has than it appears from the outside." I repeated myself by saying, "Yes, and I think it's because of the floor plan layout." I absolutely love the European staircase leading up to the second floor. I scheduled a public open house for it this Sunday from 1:00 – 3:00 pm. I'm really not looking for it to be on the market very long due to it's location, price, and condition. It's a hop, skip, and a jump from Mercy Medical Center.  If you have the least bit of interest, please don't wait for 748 – 3rd St. SW. The above photo is an exterior shot. Click on the link below to view my new listing.