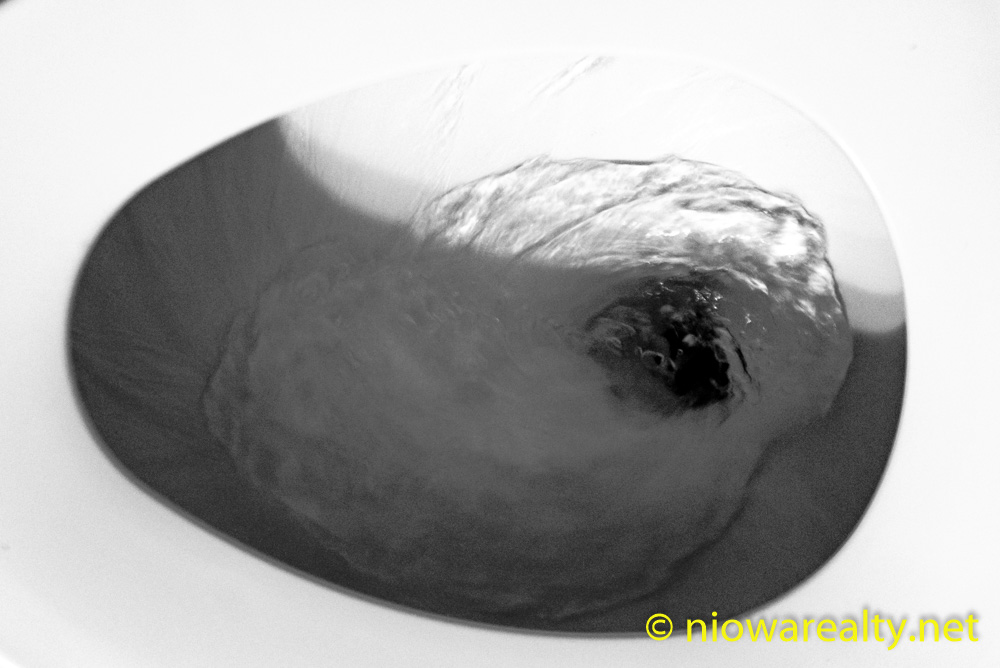 Today's early morning hours was something akin to a Dracula movie with all the misty fog about.  Many office windows in the Downtown were blurred by it.  There must have been some sort of humidity/temperature inversion going on overnight.  The birds were even acting kooky.  While I was walking over to the Post Office around 8:00 AM, I noticed a little finch sitting near one of the buildings in the back alley.  As I walked closer, it wouldn't move.  I stood there looking at it for a moment and while reaching down to stroke its back, I said, "Come on little birdie, you'd better wake up and get back above where you belong or you're going to find yourself in big trouble."  After the second stroke across its back, it suddenly snapped out of whatever was going on with it, walked a few steps, and flew off.  Around noontime, I came back from an appointment and discovered a nasty starling in my front office window.  I can't imagine how it got in other than my having had the back door open earlier a few minutes longer than normal.  So I was left getting that dirdie birdie back outside.  Seeing it up close with its piercing eyes and sharp beak made me think that if I were small enough, it would eat me.  And yet one more strange happening of nature, was seeing all the grasshoppers on the sidewalk as I was walking over to City Hall.  And believe me, they were big ones.
My listing at 1029 – 12th St. NE is certainly getting a great deal of interest this past week to where I'm hoping it's going to get sold before the weekend arrives.  I think many are finally realizing how well the home is built and the endless options of making it a very nice home to where some industrious person with vision could certainly make some money on it in a very short period of time if it had all the sought after improvements made.  Yes, it would be a top candidate for a "flip".  A new kitchen and bath make-over along with removing the 3 season's room out back, would likely be the only three big ticket improvements—all the rest would be many hours of manual labor.  One of the buyers I showed it to today is a seasoned investor and knows exactly what to look for.  I was surprised he found no issues with the main structure other than some modernizing and decorating.  I can see that home finished in my "mind's eye", and what I see is a lasting beauty.  I'm looking for it to be a head-turner when finished.
I had to meet a gentleman at a home this afternoon who's a professional drain cleaner.  While watching him work, we spoke about all the nasty things he's pulled out of sewers. I told him how many times I've found where a sewer had been plugged with tampons by inconsiderate tenants.  He said, "You'll not believe how many times I've pulled those out of a plugged sewer."  I had a real jaw drop when told there being one time not only tampons were pulled out, but also condoms along with them.  I think many believe if something will flush down a toilet, it'll end up out in the waste water treatment plant.  Oh Mercy!  I was given a tour of our City's waste water treatment plant a number of years ago and was branded for life in seeing what ends up out there.  I think everyone in our City should have a tour of it so to make them think before flushing anything un-natural down their toilets and memorably walk away with a "heady" education.