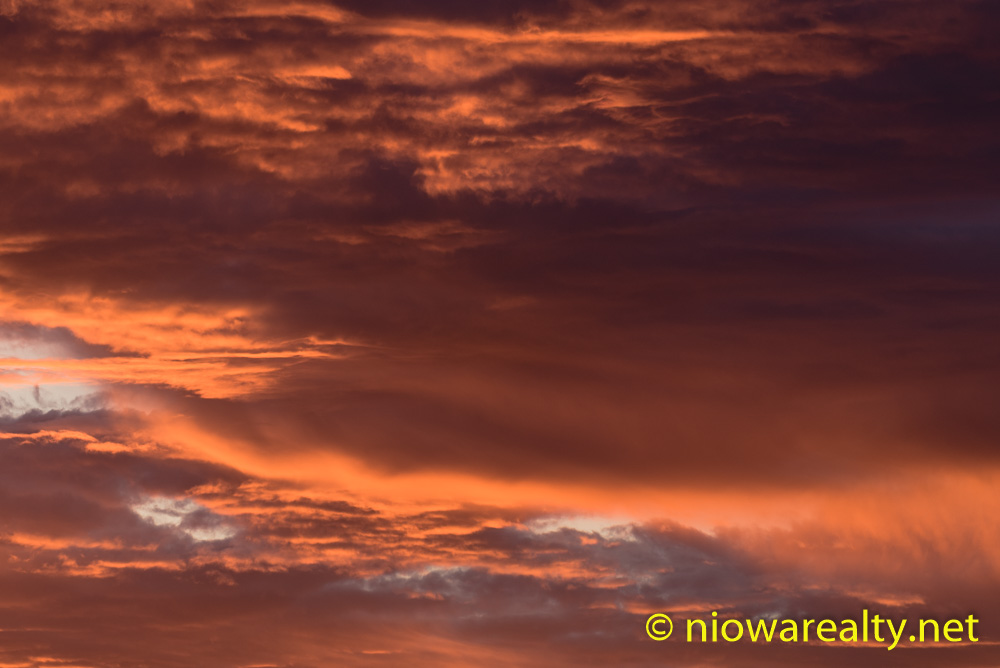 Today was one of those days where having arrived at the office earlier than normal and then suddenly 1:00 pm arrived. I began thinking back what could've eaten up so much of my time today. Yes, we have those days when too many duties and appointments create a bit of a time warp—especially when you have to sit as a spectator for nearly 1 ½ hours while others are busy doing something. I've been reminded how quickly time can go by when you have to sit somewhere and be nothing but a spectator. Maybe that's why some of the retirees enjoy sitting outside during the summer and watching people coming and going for hours on end. I guess I won't be so empathetic towards the "watchers" knowing they're busy killing a great deal of time and enjoying it while they're at it. I'd much rather keep myself busy with something productive where at least I'd have something to show for the time spent.
Another one of my office listings sold today and hopefully the loan process will move alone without any hitches. There were a few weeks where it was slower than normal for this time of year, but I think we can partially blame the weather on it. I've been noticing the market starting to pick up again since the weekend and I'm in great hopes all of my listings will be sold before the first snowfall. I can then go out and get fresh ones to market over the wintertime. There are several listings that I'll have coming on the market this next week or two. I'm going to stay confident the sellers will allow me to price them right so they'll sell quickly at a fair market price. In speaking about market price,
1029 – 12th St. NE is a heck of a good buy in considering all the good things it has going for it. Being just recently reduced to $79,000, it's more than just a little below what comparable homes are selling for in the area. Another one is 941 – 11th St. NE with its 3+ bedrooms and monster double garage. As I've been saying these past years, "Everyone wants to move into something that's turn-key perfect along with not being afraid to pay top dollar for it." I guess I'm a different breed because I'd rather start out with a blank canvas and create my own original masterpiece instead of buying someone else's print.
The sun was desperately trying to peek out from behind the clouds this afternoon. Instead of cloudbursts, we were experiencing sunbursts. Nearly every day I check to see if my green tomatoes are turning, and still there's no change. I guess I'll be the proud owner of a half bushel of handsome green tomatoes before the first frost arrives and not yet sure what do with them. I said to the plant today, "Do I have to say something to you to make you blush so your fruit'll turn red?" Don't worry, talking to plants is good for them.
Yesterday I did a first walk-thru on a home that I'd never been in due to it having been owned longer than I've been a Realtor. While walking thru it I was reminded, "You can't judge a book by its cover." I was mortified by it's lack of updates and general cleanliness. I know the person who lived there was old thus forgivable, but to have children living in the area and not willing to make at least an attempt to create a better living environment for the oldster. I guess I come from a different generation where when a parent can no longer do the day to day upkeep, a child or two will pick up the slack. Unfortunately, I'm seeing more of this type of abandonment happening when inspecting homes that were occupied by the aged. I know once the home has been cleaned up along with general repairs and updates made, it'll be a very nice home for a new homeowner, yet I couldn't seem to get past a great sadness I felt while walking thru it. It was as though the walls of the home were quietly crying over the neglect they witnessed with not only the home, but the homeowner as well. Sometimes you can't help but want to shed a tear or two for someone you never even knew.