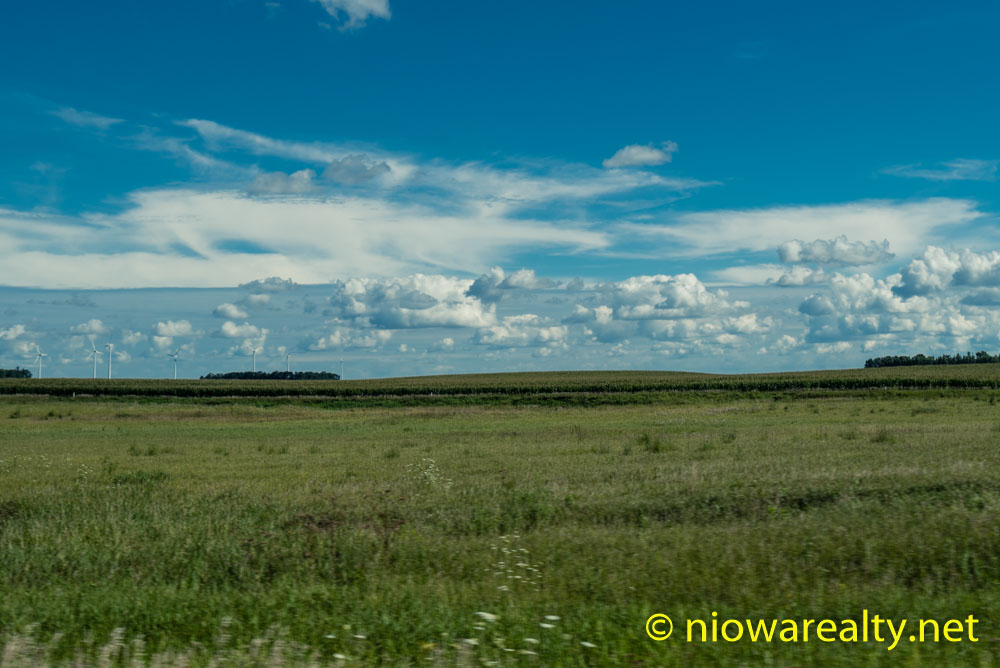 When I looked at the temperature marquis on the Downtown office of First Citizen's Bank this afternoon with it reading 97 degrees, I finally realized why I was so hot today.  Of course the high humidity made it all the worse. It amazes me how the demeanor of the humans change when out in weather like this. They're definitely more crabby and oft times say and do things they later regret.  These high temps with humidity is definitely not normal for this time of year.  When I left early this morning I could tell it hadn't cooled down much overnight.  And to think, as of tomorrow, we're already one week into the month of September.  Just about everyone I've talked to who works outside have said how this has been a beast of a summer with the rain and the high temperatures.  I still can't get over how much more the wind and subsequent storms enter our area from the west.  It seems everything in our world is upside down from what we've known.  There seems to be nothing we can really count on in a standard sort of way.  When I was at the grocery store yesterday I decided to buy some green grapes.  When I saw the size of them I was in near shock.  They were at least double the size or more compared to what I've purchased in the past.  I guess we can thank genetic engineering and natural selection for the arrival of monster fruits and vegetables.  They tasted fine, but had a more mellow flavor than the more tart smaller ones.
I hope there'll be a few homes getting listed in Mason City under 70K this week because  I'll be working with several buyers in that range next week and I can say there's slim pickings for homes in that price range.  Of course there's the foreclosures which are like buying a pigs in pokes when buying what you seen and have to deal with what you didn't after closing.  Our Federal government really doesn't "get it" when marketing government owned properties.  They have a zillion forms to be signed along with a cumbersome process of bidding as well as being at the mercy of the listing agents who are supposed to be on top of the whole process without bias.  Their procedures may sound good on paper out in Washington D.C., but in the real world, there's much to be desired.  If any of you know someone who's thinking about listing their home in the under 70K range, please have them give me a call and we may have a quick sale happening.
It took me a while to finally get myself to remember today wasn't Monday.  The phone calls and e-mails kept me busy most of the day in between several showings I had.  It appears there will be more people moving here from out of State before Winter arrives. I continue to wish the best for out community in spite of some of the chronic problems we have to deal with on a daily basis.  We all must work at making our City all the better in spite of the naysayers who're living in the past, or attempting to stay in control of their little fiefdoms of real estate holdings or enterprise.  Competition makes good business, and good business makes for better business.  Like the oligarchs in Russia, when there becomes too few men with too much power, the general population suffers in all facets of life.  I believe the key to democracy is maintaining a level playing field for all.  It delights me whenever I see good competition entering our City to keep the field's level.