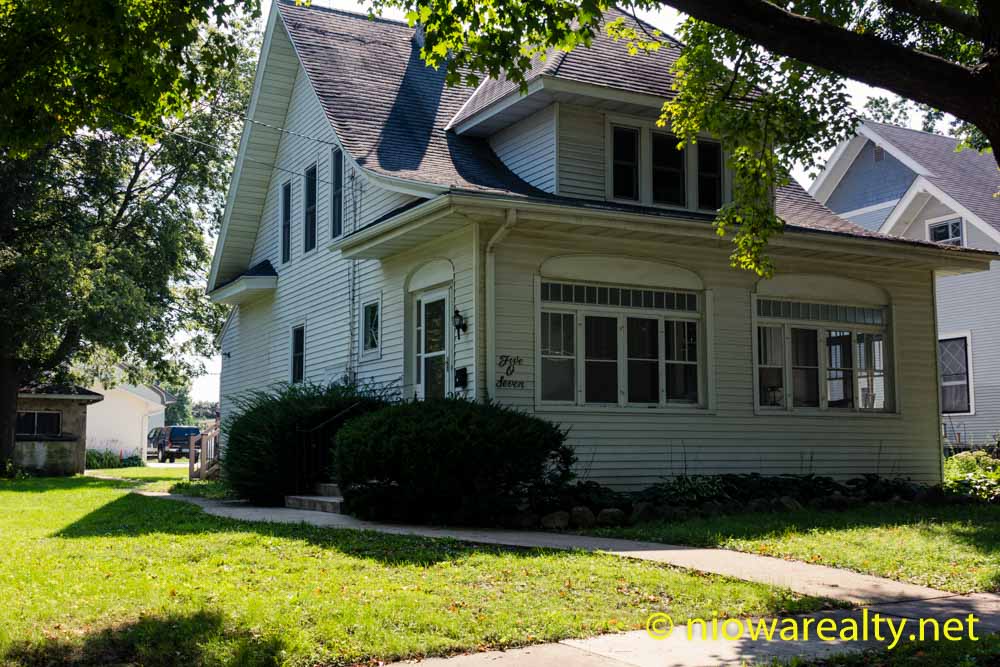 The sudden thunderstorm around 8:00 am was quite the surprise when I was out installing commercial  "for sale" signs at Patrick's which is located at 1707 S. Federal Ave. here in Mason City.  We just received a price reduction on it to where it's now $213K.  If there's anyone looking for a turn-key operation, a loyal customer base, and stellar highway visibility, this bar/restaurant is the one that should fit the bill. The added bonus is the lot size which offers room for expansion.  The location alone is what adds value to this business.  I can still envision the Sears Shopping Center located across Hwy. 65 being purchased by Lowe's or Home Depot giving them a footprint in North Iowa.  The so called "Golden Lane" out on the west side of our City is much over-rated as far as I'm concerned.  Fighting the traffic and waiting for street lights makes it not the most pleasant place to be driving when the lanes are full.  I teasingly tell people I don't go out on the west side to shop unless I absolutely have to—especially when the traffic is heavy.  If I know a day ahead of time, my travels out there are as early as possible.
After installing my commercial signs, I rushed at getting to my 10:00 am out-of-town acreage showing. As luck would have it, the thunderstorm was following me.  While driving I saw two major lightening strikes in the distance.  One of them looked like a really big one that struck straight down.  I don't even want to think what damage that bolt did.  After showing the interior of the acreage and walking out to inspect the grounds, the rain decided to stop.  The lay of the land, the buildings, and above all, the Shell Rock River being only steps away, made for a charming setting for anyone who's into nature.  While out at the riverbank, I spied an eagle flying gracefully overhead.  I believe I enjoyed the showing as much as my buyer did which gave us much to talk about on our way back to the City.  I'm convinced everyone should undergo life in the country at least once while here on earth.  The hands-on experience offers an opportunity to more fully understand the subtleties of our natural world.
There was an unexpected call this afternoon from a gentleman whom I'd not heard from in at least 12 years.  I was glad to find all's been well with him and his career, but was surprised to hear he's thinking about moving back to our area.  Since he's got specific preferred locations, there likely won't be that many homes to show him.  I was reminded again how the internet offers a great resource for local news since he's pretty much up to speed with how much our City has changed for the better since he left in 2004.  I do hope he decides to move here because he'll be a great asset to our community.
The tenant at 507 – 4th St. SE just finished moving out.  I've had it listed for about three months and when tenants are living in a home that's on the market, it creates more difficulties when scheduling showings.  It's a beautiful home, in a great location, and as far as I'm concerned, should've been sold months ago.  I went over there today and took some new photos to share with you which I refer to as the "second curtain call" of presentation to the general public.  Click on the link below to view this fabulous home.