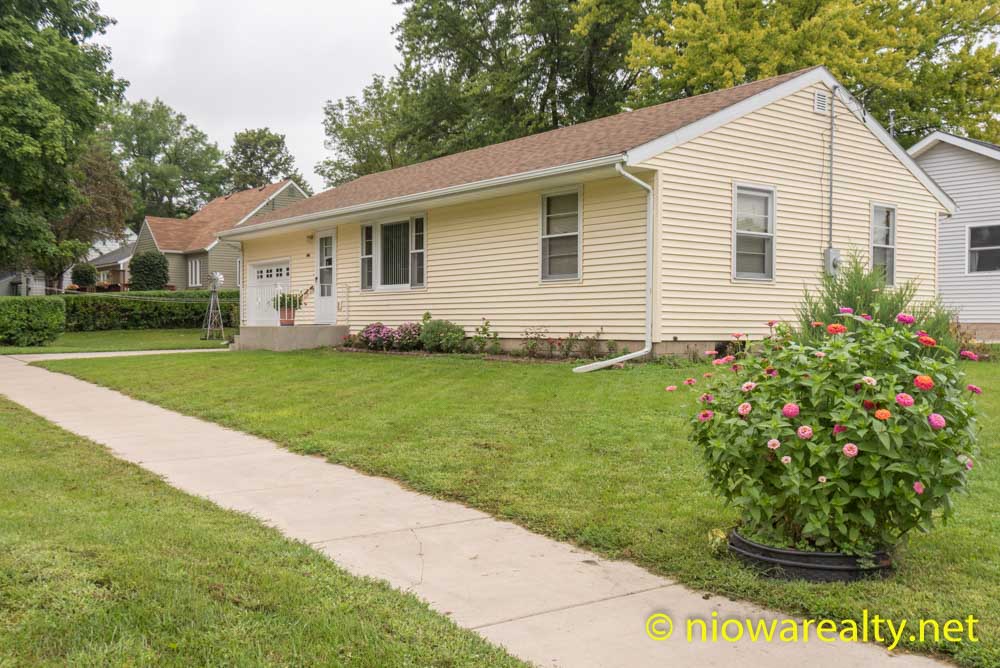 My morning started even more early than early in knowing I had to get a few things done before the office phone started ringing.  I was surprised to see so many deer out wandering about as I was driving through the residential districts.  The days are certainly growing shorter with the sun not coming up so early anymore.  The humidity from all the rain we've had will be creating ground fog as the temperatures drop.  Since I was very young, I've always considered ground fog to be creepy and especially off-worldly when there's a full moon.  There've been times when I've seen it weaving back and forth across streets in a serpentine fashion to where it seemed alive.  I've been told by a handful of people the times they've seen the silhouettes of "nightwalkers" appearing and disappearing in it.  There's been far too many accidents caused by it as well because when driving on hilly roads, you don't know it's there until you're already in it on the downward slope.  I read once that Howard County had the most fatal accidents per capita in the State, and it doesn't surprise me knowing how hilly some of the areas are along with the dogleg curves that are treacherous even during daylight hours.  Driving un-familiar blacktops and gravel roads out in Eastern Iowa requires both hands on the wheel and all eyes on the road ahead.  Please don't think me bashing that area because I actually think it's beautiful and wish our area had the scenic landscapes they do.  As far as I'm concerned, Howard, Allamakee, Clayton, and Winneshiek Counties are a landscape photographer's paradise.  One of the most stunning views of the Mississippi is from the lookout at Effigy Mounds.  It's certainly worth a day trip to experience.
I stopped at one of my dear friend's house this afternoon for my "fix" chat.  A fix chat is when two people come together and tell it like it is and walk away feeling "fixed" for the next wave of craziness in the world.  There are those who back away from people who tell it as they see it.  For me, I find it refreshing when not having to speak in a politically correct manner for fear someone's feelings are going to get hurt and find I have another one grinding a proverbial axe for something I said in a matter-of-fact manner.  There's a huge difference between being mean spirited and blunt.  Just yesterday I teasing said to a colleague, "Oh, how you've been delightfully wicked today."  It wasn't anything mean that was said, but rather words that went to the quick.
The highlight of my day was listing my deceased mother's home located at 666 – 9th St. NE here in Mason City.  I can't think of anything else that could be done with it to make it more marketable.  It's certainly in a great neighborhood with the pool, park and walking paths nearby.  When some of my relatives would come to visit her, they would find time for walks in and around East Park.  When I sold her the home a number of years ago, she had mixed emotions about moving off the farm, but after moving there, when asked how she liked her home she'd always say, "I love it, and each day all the more!"  Having recently spent a great deal of time there during my off hours, I came into a more full understanding why she liked it so much.  The views from the front window offer fantastic views of its delightful neighborhood.  I hope whomever buys it will love it as much as she did. And don't forget, it's only about a block away from the City splash.
Click on the link below to view this listing.