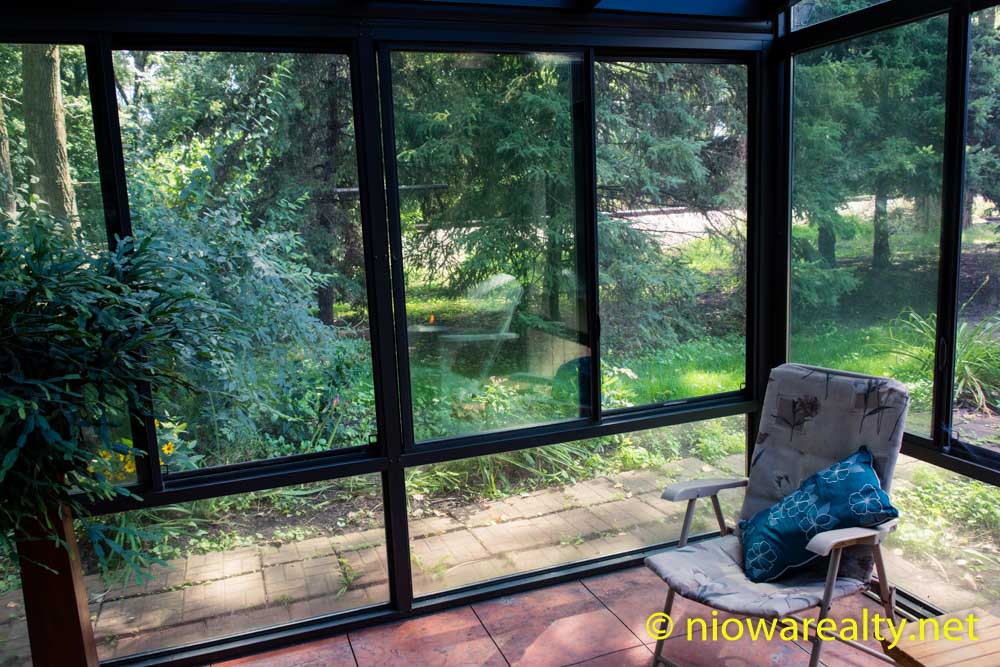 It looks like the heat and humidity has arrived again for hopefully no more than a day or two.  I usually like driving with my windows slightly rolled down, but today the humidity made me feel like I was in the middle of a windy sauna.  I mentioned my liking of windows partly down when driving through areas just to get another sense of where I'm at to someone I was chatting with today.  I told of my travels to Des Moines about two months ago but taking a bit of a zig-zag getting there in going to Clarion first.  I spoke of the fiefdoms of hog confinements I drove past and the smell that would stop once I got far enough past, but starting all over again coming up towards another one.  He laughed and said, "That's only the half of it. People don't build or restore country homes anywhere near those facilities because of the flies."  I couldn't believe I didn't think of that while driving.  I know fully well how the fly populations explode when near a large number of hogs or cattle.  When we were on the big farm, it was an every day battle to keep the flies out of the house.  Rolls of flypaper were pinned on the ceilings of several rooms—especially the kitchen.  It's funny how I'd almost forgotten about flypaper until about a year ago I happened to see an unopened roll on a basement shelf in an estate house.  I don't even know if they sell those anymore.  I guess the puzzlement of not seeing any homesites for miles while driving down Highway 69 South of Clarion was clarified today.  It's not just the smell, but also the annoying flies.  Who wants to be outside on an acreage and be tormented by an excessive number of pesky flies?   Some have wondered why barns and animals sheds were built so far away from the houses.  The distancing helped to keep the home furthered from the smells and flies as much as possible.  The really clever farmers built their animal buildings either directly west of their homes, or to the northeast so there wouldn't be wind blowing the smells and flies in the direction of their homes.  More planning was done than most would imagine when creating a working farm back over 100 years ago.  The next time you smell something wrong in the Historic Downtown, check to see which direction the wind is coming from, and then you'll have an idea what factory is creating the smell.
My first listing of the week is a townhouse located at 2031 Springview Drive here in Mason City.  Since I priced it to sell quickly, I'm sure it'll be short-lived on the market. It offers 3 bedrooms, 2 full baths, a screened patio off the dining room, and an absolutely gorgeous solarium/sun room off the 3rd bedroom.  There's main floor laundry, a snack bar, and a larger than normal single attached garage.  The owner has greatly enjoyed living there and I can see why.  It's in an exceptionally private area, and with the solarium/sun room at the rear, all of natures beauties are just beyond the glass.  I can imagine what it must be like experiencing the change of seasons while seated out there.
What a great place to relax and enjoy after a long day's work.  I think just about anyone would prefer being in that sun room instead of nosed up to a television or computer.  I only hope whomever purchases it, will appreciate the outdoors as much as the current owner has.  This townhouse has no monthly association dues—only a once a year payment of $20.00 to the Briarstone Homeowner's Association.  Now that's a real plus when wanting to have control of monthly expenses.  The above photo is of the solarium of which I speak.  On Springview Drive, 2031 is for sure the one you'd better make haste to view.  Click on the link below to see all the details of today's new listing.