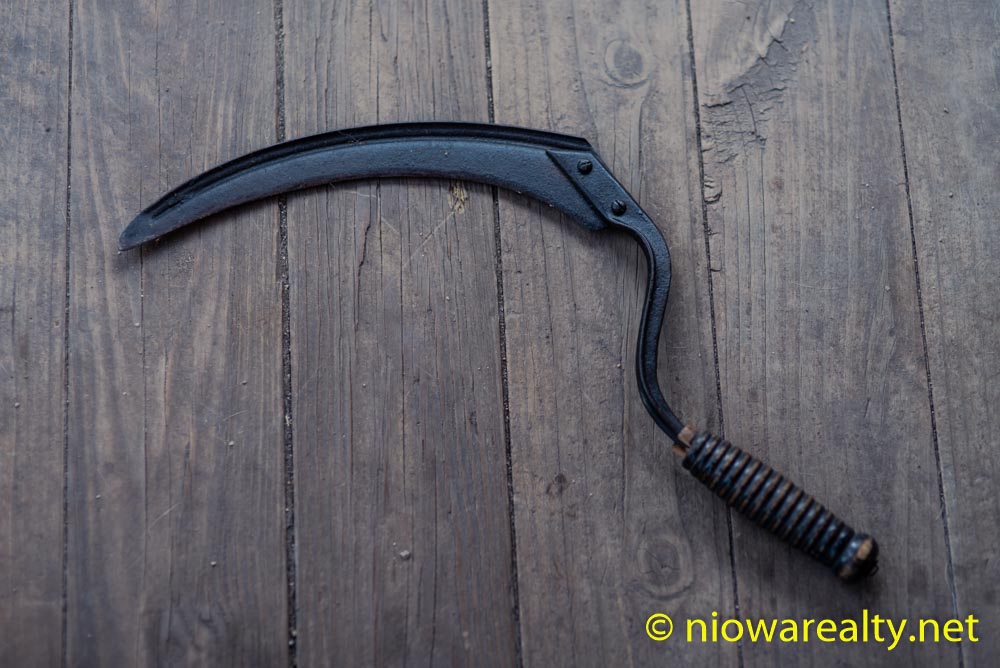 I was delighted to find so many people in attendance at my open house today and a number of them showing interest.  I said to more than one, "This well built home has been under the radar long enough and has come to the time for 1029 – 12th NE to be sold."  I shared with several of them a few ideas I have about changing some things on the interior which would make it all the more appealing as well as sale-able in the future.
I didn't hesitate to also mention the number of field stones piled up out back that could be put to great use when landscaping.  People have no idea how expensive field stones are when you go to purchase them.  I told one of the buyers that if I were his age, I would purchase it without a bat of my eye because of how well built it is and there never having been water in the basement—even during the flood of 2008.  Now that's saying something for that basement and the contractor who built it.  So many people go crazy about the main floors of homes along with their monster garages, but if they only knew how much more a well built basement is in the long term.  I've shown some homes this year that have very questionable basements, and believe me both the buyers and myself just kept on walking. It's all part of the learning curve as far as I'm concerned.
I was over to Ventura later this afternoon and happened to notice all the flowers and a cross next to an electric pole at the corner of Hwy. 18 and the Ventura blacktop.  If there was ever a corner where so many people were killed, I'd say that would be the one. It would be interesting to find out how many people not only died in car accidents at that corner, but also those who died not long after due to severe injuries sustained by an accident they were in a that crossing.  I hope with the added caution lights there won't be any more fatal accidents there.
Since I didn't have any early morning appointments, I decided to get the grass mowed and weeds cut at the back of my office.  I found it a bit curious how many people I knew who were making their way down that alley to where I even had a good visit with several.  After mowing, I was out cutting weeds with my hand scythe, and wouldn't you know it, one of my elderly favorites appeared on his bicycle.  He was teasing me about my reel mower and my hand scythe.  Before he left I couldn't help but tell him a funny story about my scythe.  I said, "Several years ago I was out back and dressed like a field hand cutting weeds with it and suddenly hearing someone saying something behind me at a distance.  I usually pay no attention to chatter since there are nearly always those cosmetology students from around the corner loitering about.  The voice became closer so I turned to look and realized one of those students was speaking to me.  I questioned and she repeated, "Looks like you've go a pretty long blade there mister." I nodded and continued on.  Watching her in the corner of my eye I noticed her walking closer.  She then said, "Looks like you're blade is pretty strong and sharp too."  I knew it was time to make a casual exit.  I nodded her off and went inside."  My friend laughed and said, "I think that was one of the wisest things you could've done with your sharp blade."  He shook his head smiling and went riding off.  I'm glad he got a good and early laugh.