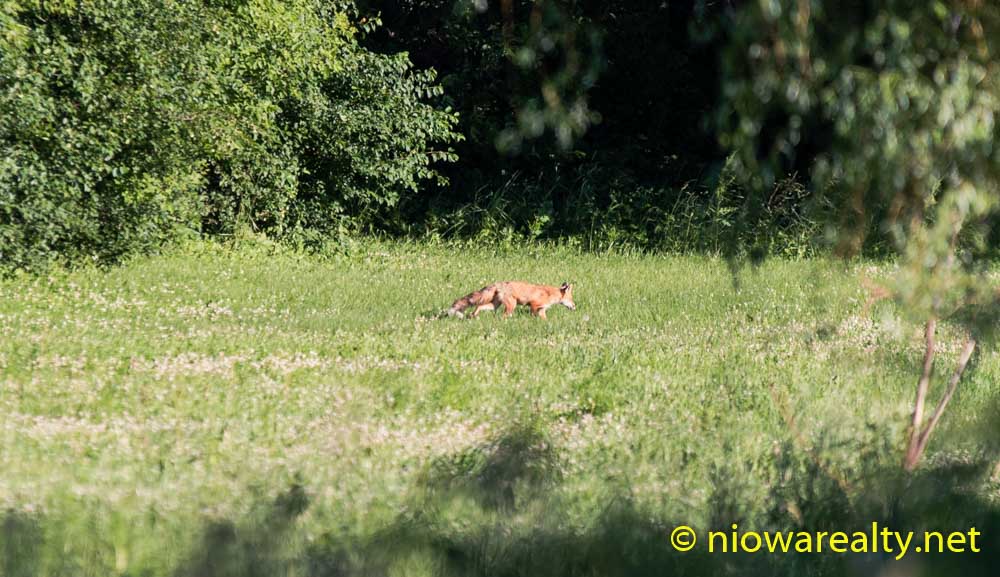 Without question, this has been the week where I've put a lot of miles on my vehicle, but it looks like the end result will show it was worth it.  Sometimes you just gotta do what you gotta do to make things happen without getting pulled into any more dramas than absolutely necessary.  For example, I was internally bristling today while on the phone with an unidentified person inquiring on one of my listings who seemed bent on trying to get me to cross the line of my fiduciary duties to the seller.  What was the most irritating was his interjecting more than once saying, "Hey guy…" and continuing to question me on something I couldn't give the answer.  He finally realized he wasn't going to get anywhere with me and hung up.  It's unfortunate the general public doesn't realize how much we as Realtors are bound by rules that were put in place many years ago.  I'm sure that caller isn't thinking very highly of me right now, but I have my obligations to my seller first and foremost.
I made a trip over to Clear Lake this morning to deliver some documents and after dropping them off, I took the long way round to get back to Mason City.  I was impressed by how much work they're doing on the streets over near the Surf.  When finished, it'll be quite an attractive improvement.  I'm glad to see Clear Lake continuing to make upgrades just as Mason City's been doing.  Sometimes people from both communities think it's all about the needs and wants in their community, but it really is all about the prosperity of both Mason City and Clear Lake due to our being so closely located as well as one or the other being the bedroom community of workers.  I know people living in Clear Lake that work here as well as people living in Mason City who work there.  We must continue reaching towards everything being decided upon between our two communities to be first and foremost a win/win situation for all.  Yes, there will always be those "us against them" diehards who'll be looking down on anything meant for the benefit of both, but as long as our majorities continue to push forward with progressive mindsets, their voices will no longer be flies in the ointment.
I spent about an hour or so this afternoon on the phone with sellers and prospective sellers giving them updates on what our market is doing.  I also had to give a few pep talks about keeping homes more presentable when buyers are viewing them.  I recently had a price reduction on 1029 – 12th St. NE, and decided to host a public open house on it this coming Saturday.  The seller is motivated as well as myself in getting that classic mid-century sold.  Yes, it needs some cosmetics, but the location and floor plan, and now the reduced price should bring out more prospective buyers.  The one thing I like about it is how much farther back it sets off the street than most homes here in Mason City do.  Having deeper front yards offer more privacy for residents.  Every time I drive past a home that appears to be hugging the curb makes me think of brownstones out East where nearly no privacy is offered out front.
I considered myself exceptionally fortunate to have been able to get a snapshot late this afternoon of a fox living right here in North Iowa.  I'm glad I had my camera with me so to be able to share the above photo. I had to be pretty foxy myself in getting it.