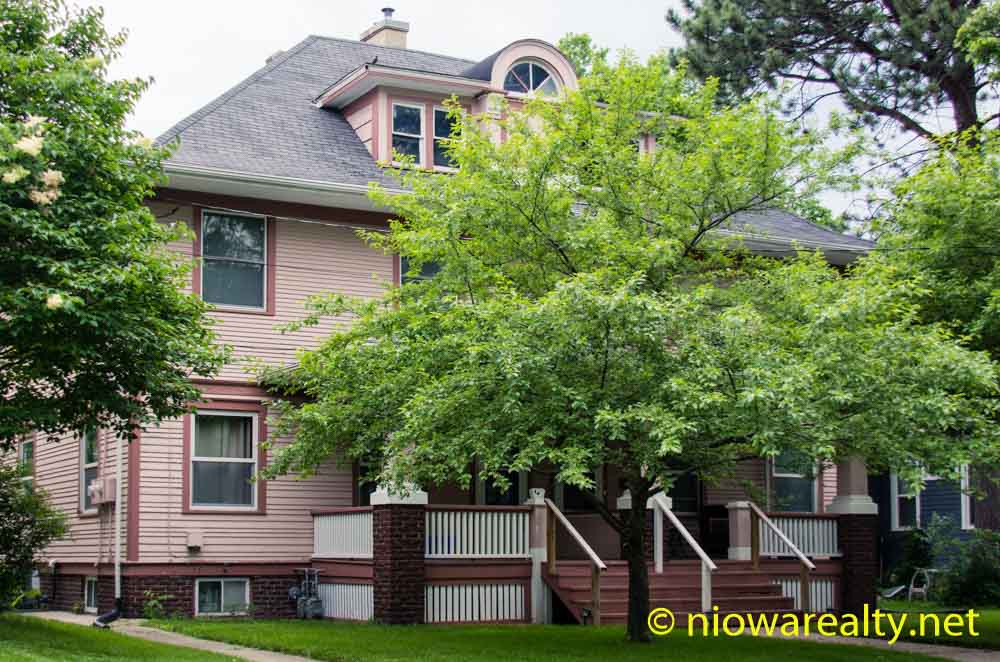 We certainly got pounded again with rain today.   The flowers I watered yesterday got an extra few gulps to where I won't have to worry about them for a few days.  The people with lawn mowing businesses are certainly glad for the rain.  I'm just thankful we're moving forward with a relatively pleasant summer.
I listed a side-by-side duplex over the weekend which I just got posted online.  It's located at 914-916 N. Washington Ave. here in Mason City.  It really is a cut above the rest of the duplexes we have here in the City.  The north unit is exceptionally well cared for and has a beautiful new kitchen and bath along with re-finished hardwood floors and gorgeous oak woodwork. All of the mechanicals are up to date, and there are even newer thermal windows.  I could tell there's been thousands up thousands of dollars recently spent on it.  Both units are 3 bedroom each and all the utilities are separate including the water.  I'm confident the target buyer will be someone who'll want to make the north unit their residence and continue renting the south.  When in the units, you don't even think of being in a duplex. They both have the feeling of stand alone homes.  Most people don't realize it was once owned by a now retired Realtor who I believed also lived there for some time before moving on to a more expensive home.  I believe all the owners over the years have taken good care of it since it shows no real signs of extended wear and tear.  I've helped the current owner find tenants for it and I can say nearly every prospective tenant that looked at one or the other unit were "wowed" by it.  The above photo is of the exterior, but if you want to see the others, click on the following link:
914-916 N. Washington Ave Mason City
Since I had time today to get some peripheral duties accomplished, I made the choice to deliver a box of things that were part of a certain family's history.  Since one of the closest relatives lives about a half hour drive from here, I figured it was time to get it delivered since they'd not returned several of my phone calls and I thought if they weren't around, I would just leave the box at their doorstep.  I pulled up the drive and noticed there to be someone home so I got out and walked to where there were several people outside and asked to speak to so and so.  He sauntered out and asked if he could help me.  I identified myself and told him I had a box of things for his family in my car.  He seemed not very interested to where I felt uncomfortable being around him.  I handed him the box and bid my farewell.  While driving back to the City I thought to myself, "How inconsiderate of him to act as though I'd taken a few minutes of his precious time."  I know many would've just thrown the stuff in the garbage or burned it—especially knowing their barbaric ways.  Oh well, perhaps someday a child or grandchild who's possibly inherited a few brains from another will appreciate those items.  Being in the know of some of that family's secrets, I'm sure there'll be a comeuppance for them should Divine Justice start reviewing their score cards. When driving out of that driveway I never looked back—not even in the rearview mirror.