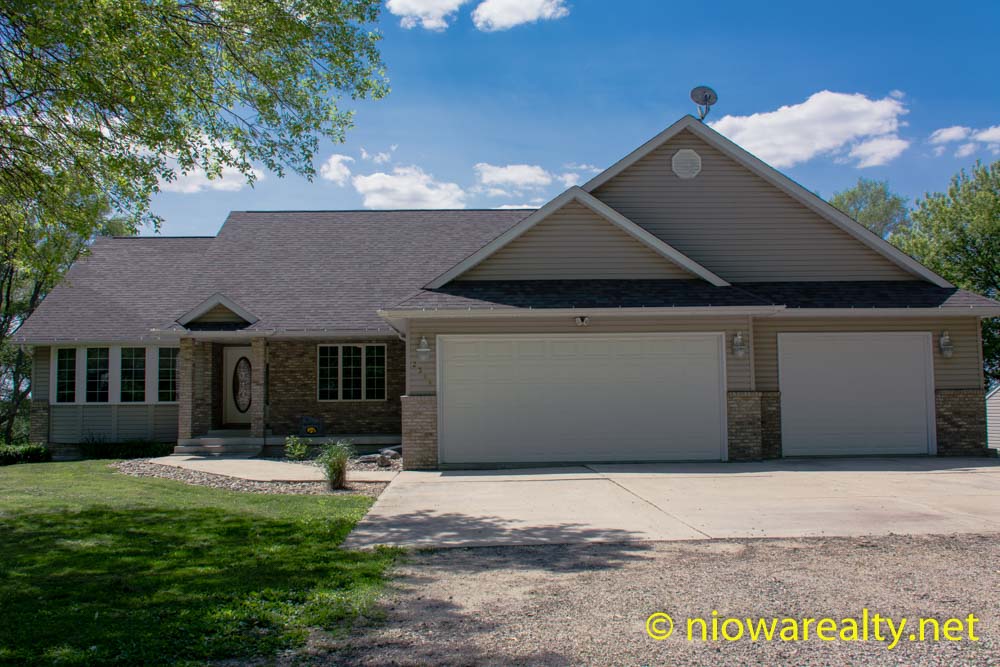 From nearly sun up to almost sundown I've been on a burn with appointments and I'm happy to say I made all of them without a hitch.  The first of three key happenings of my day was getting an overdue sale to close which relieved my sellers and me from any more undue anxiety.  My experience with online banks has not been good thus far and I'm still waiting for buyers to stop and ask themselves what real good they're doing for themselves and their community when making one of the largest purchases of their lives online and not supporting the many local lenders in our area.  Some day they may wake up and come to an understanding.
The second key happening was getting a three bedroom 2 bath ranch home located at 111 S. Indiana Ave. here in Mason City.  It's about as clean and ready to move into as you could ever expect.  The location is great, all the appliances including washer/dryer stay, there's a main floor laundry room, newer furnace, windows, siding, and a very large two stall garage.  What's even more delightful, is the included hot tub and a custom built exterior grill along with a fully fenced yard to contain small children and  family dogs.  Click on the link below to view all the details of this home.
111 S. Indiana Ave. Mason City
The third and most exciting happening was the opportunity to list one of the more beautiful country homes I've seen in a very long time.  It's located at 2366 Lake Circle in Britt.  Most consider Britt far from Mason City, but being a straight shot over on Hwy 122, makes it an easy drive.  The home was custom built and it shows all the way from ground level on up.  There's 3+ bedrooms, 2 ½ baths, a master bedroom with a private bath where you can pamper yourself after a long day's work,  2 fireplaces, an open design concept of kitchen/dining/living area on the main floor, a family room with walk-out on the lower level along with 2+ bedrooms and a full bath.  There's a three stall attached garage, and last but not least, a gentle stream located at the rear of the property which the seller told me is the west branch of the Iowa River which is another spillover/drain-off from nearby Crystal Lake. How fun! This is a home where city luxuries meet the quiet country life everyone seeks. It's quite the beauty and most certainly won't last.  Click on the following link to view this magnificent country home. And by the way, the photo above is the front photo of this listing which I felt most appropriate for tonight's article.
So there you have it, my three key and very positive happenings for today the 18th of May.  On my way back from Britt I thought to myself, "Well if one fine listing in a day is good, then two should be better."