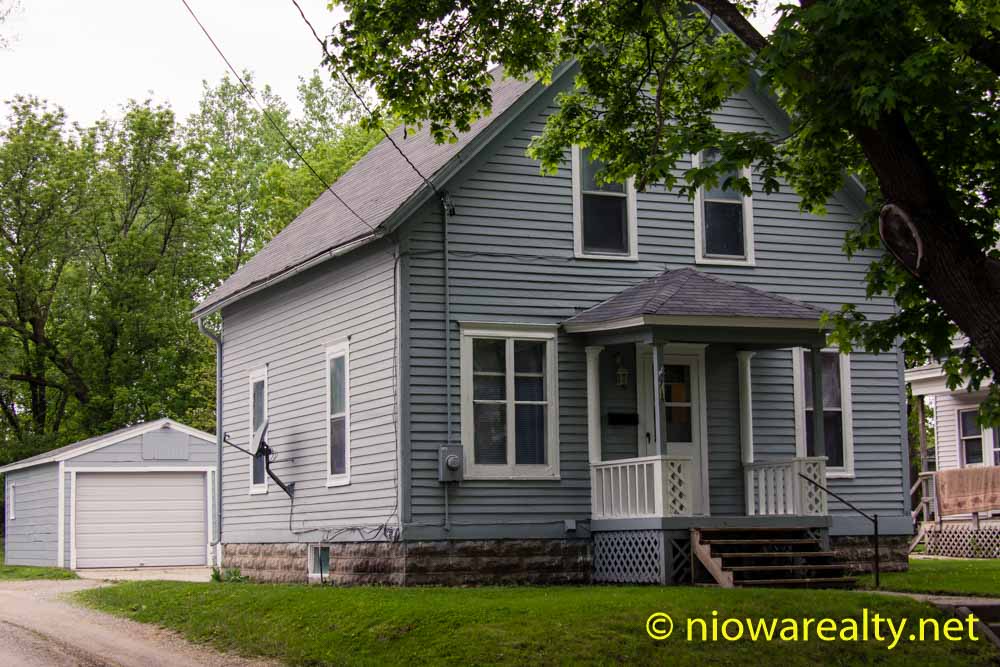 After spending about five hours performing desk work today, I'd say I'm getting closer to being back on track with my daily routine.  As long as it stays that way without any prolonged intervening circumstances, all will be well.  Later this morning I had another soft landing on a closing with two of the most charming buyers.  I'm looking for more highly educated professionals to move here as our City becomes more attractive to people looking to re-locate to our upwardly moving Mason City and the North Iowa area.  "Onward and upward" should remain our cry for good change.
I listed a charming older home today which I believe will also sell relatively quickly due to great features that cannot be overlooked.  Yes it's older, but the home is sitting on a very good poured foundation.  There's an open floor plan on the main floor with a big kitchen/dining area, living room, a smaller bedroom, and a laundry/bath combination. Having that ¾ bath with laundry on the main is highly sought after and rarely found in older 2 story homes.  The second floor offers a full bath and two bedrooms.  One of the bedrooms is quite large with a walk-in closet.  There's a high efficiency furnace with central air, circuit breaker wiring, and the basement is tall enough to create a he/she cave.  There's a 1 ½ stall garage, a big deck, and yard large enough for a flower or vegetable garden.  This home offers much considering what the seller is asking.  We listed it at $58,500.00 and the address is 716 N. Monroe Ave. here in Mason City.   The above photo is the street shot and if you want to view other photos and read the particulars, click on the following link.
I mentioned the above home to a client tonight and said, "It'll not surprise me if a young single male purchases it."  My client was quite surprised by my comment so I went on to say, "Well, I think what would be attractive to this type of buyer is that it's not a big house.  He'd likely use the bedroom on the main floor as his office/den.  He'll use the main floor ¾ bath more since he's likely a hard working blue collar worker who cleans up right after getting home from work.   On the second floor he'd use the big bedroom as his own and have the smaller as a guest.  As we all know, nearly everyone gets up in the night to use the water closet, so having the full bath on the second floor would be perfect for getting up in the night as well as shaving and preparing for work in the early morning.  Make sense?"  I think my client finally understood the reasons for my target buyer profile.
I was reminiscing a bit today when looking at some of my mother's articles and being carried back to different times and places.  When growing up I believe we all take for granted the sacrifices our parents make for us.  There are those who keep throwing material things at their children to keep them happy, while the real caring ones spend more time in teaching and directing the lives of their little ones to help them more easily transition into adulthood.  In spite of some of the most tumultuous times, there's almost always that quiet strength I've thought to be their inner light burning bright.