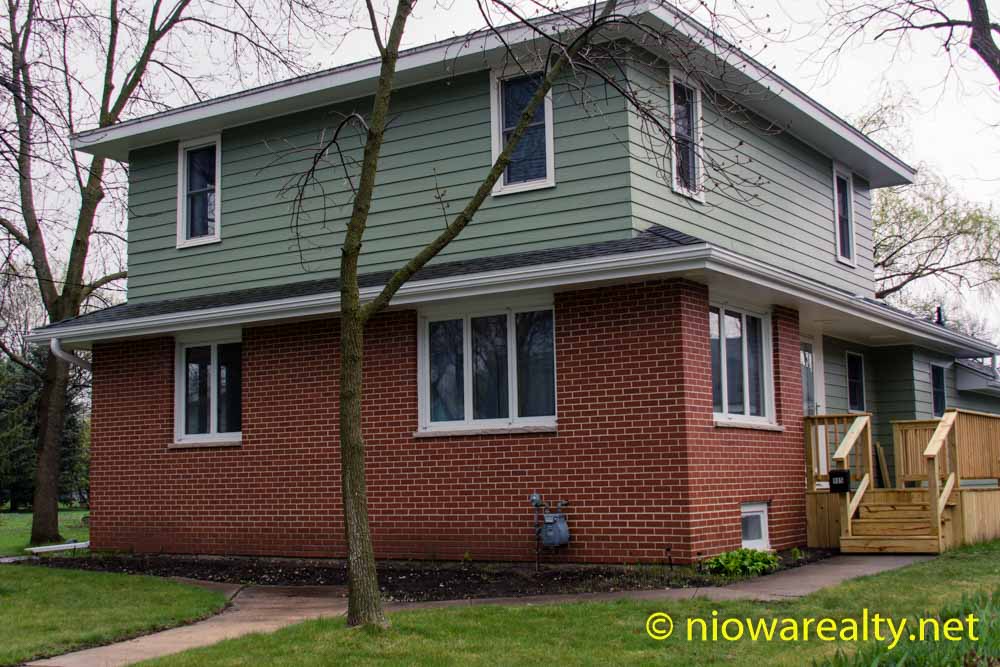 It was quite the shock for me today in noticing how quickly the grass is growing all around town.  It looks like it's going to be one of those Summers that suddenly "happens". I'm not quite so sure where the day went with all the little errands needing to be run as well as moving a few things around in my office.  When we have beautiful days like today, it's good to either fully relax and enjoy them, or make time to get some necessary jobs that've been pushed to the back burner completed.  Today was my day for putting myself on over-drive with those necessary tasks.
One of my dear friends noticed me at a home today and stopped for a chat.  She's one who always has a way of seeing the whole picture of happenings in the world around us.  She'll never allow the grass to grow under her feet and will always be on the move to improve her home, her mind, and the world around her.  She's never been one to glorify her abilities and certainly if one passed her on the street, they'd likely think her to be just a run of the mill person living a shallow life.  I think sometimes she enjoys her low gliding under the radar so not to be bothered with tedious and time consuming people who load everyone up with those boring happenings of their lives.  She's yet another example of what interesting people we become when reading becomes a part of our daily lives.  Some day I'll likely get back to reading more when more free time is available.  I find it hard to understand why more people don't take the time to settle themselves down from a busy day and read something that's of interest to them.  I'm convinced there's too much time being spent by most with the social medias being thrown at them from all directions. Passive entertainment is very much not good for our minds.  We have to exercise them like we do our bodies.
I listed a fabulous home yesterday that was a jaw-dropper for me.  Whomever built it back in 1947 must have been far ahead of their time because it's not only functional, but unique in design to where there's likely no other home in our area like it.  While walking through it, everywhere I looked I saw functionality.  It has a central flow about it to where everything comes together on all three levels.  It's loaded up with all the improvements everyone is looking for in today's market.  There's 3 bedrooms on the 2nd floor with a ¾ bath.  There are 2 bedrooms on the main floor with a full bath, and an easily finishable basement with another ¾ bath.  There's an attached 1 ½ stall garage and a very private rear yard that has the most charming limestone wall.  What nearly all young families will like the most about its location is that it's situated just across the street from the campgrounds, East Park, and the swimming pool.  Anyone who enjoys walking will surely loving being so close to all the foot paths in and around East Park.  I assured the owner that it'll likely sell quickly because of all the features it offers along with its highly sought after location.  If you should happen to be the fortunate buyer of this home, I'm quite sure you'll come alive living at 905 – 8th St. NE here in Mason City.
The above photo is the home of which I speak, and if you want to view this home's details, please click on the link below.