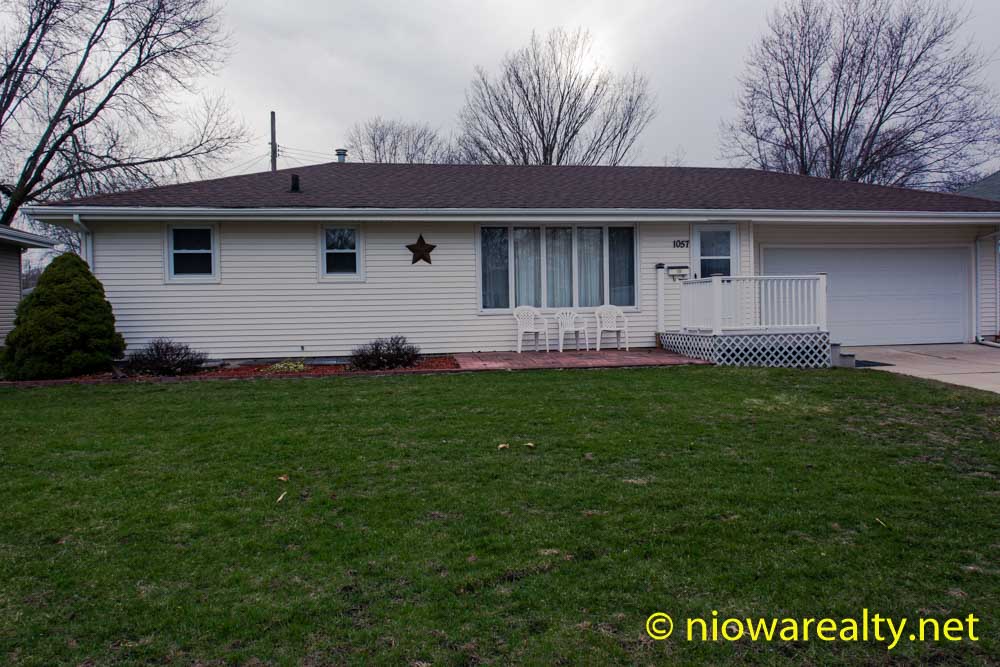 I'm getting a little concerned we may have sleet before the snow arrives tonight and that certainly won't be a good thing.  When the temperatures are hovering around freezing, that's usually when we get it.  I fully understand how the people living in the Northeast must feel when a NorEasterly moves in.  The wind gusts with the rain this afternoon was not the least bit pleasant—especially since I was showing homes along with running a few necessary errands.
I heard there's going to be a Thai restaurant opening soon in the Historic Downtown. I've never had Thai cuisine, so it'll likely be something everyone will want to try at least once. I'm sure it will be similar to Chinese cooking but have a few more hot spices along with a little Siamese curry thrown into the mix. Without a doubt, there'll be rice served in one fashion or another.  I'm glad to see more variety in the types of meals being offered in restaurants here.  It would be great to find nearly every one of the genuine international cuisines being offered here in Mason City.  With the increase of tourists, a wider variety of foods being offered at our local restaurants would certainly cause their visits to our City to be all the more memorable.
I have my own personal thoughts on a few other types of restaurants I'd like to see located here.  I'll never forget the different outside food vendors lined up and down Federal Ave. during Ragbrai.  Just by the length of the lines waiting to be served, I'd say they did exceptionally well that day.  It would be great if we could have some sort of yearly summer festival Downtown that would draw similar crowds.  They really did have a positive and lasting effect on our City—I'll never forget "Hump Day"!
In spite of my day being filled with phone calls and appointments, I managed to get a new listing posted on-line.  It's located at 1057 Park Lane here in Mason City.  The street this home is located on has always been very popular because it's not heavily traveled as well as being on the "east side" where shopping and public schools are located.  The home was built in 1966 and has had some pricey updates done since it was built.  It has pretty much of a standard floor plan for its time, with the exceptions of the owner removing a bedroom wall and creating a very large dining room, the addition of a more useable 3 season's enclosed porch located just off the kitchen/dining area, and finally, there being an egress window installed in the basement where there's a large bedroom area.  The owner went all out in making sure the basement remained dry by installing a Beaver System along with a top-of-the-line sump pump with battery back-up.   I'm fully aware of the cost of installing that quality of sump pumps because one of my customers inquired about one several years ago.  I think he was quoted $2,000+ for just the sump pump and installation.  I know I may be sounding like I'm creating too much hoopla over that Beaver System and that expensive sump pump, but here in Mason City, basement water problems are always a concern when looking to have a finished basement remiss of water worries.  One could certainly make the lower level a mirror image of the upper to where the home's living area becomes doubled at far less the price of buying new.  Fully functional finished basements are coming back into vogue, so think about parking yourself on Park Lane.  I'll be hosting a public open house on it this Saturday, so feel free to stop by and have a real good look.
Click on the following link to view this listing.