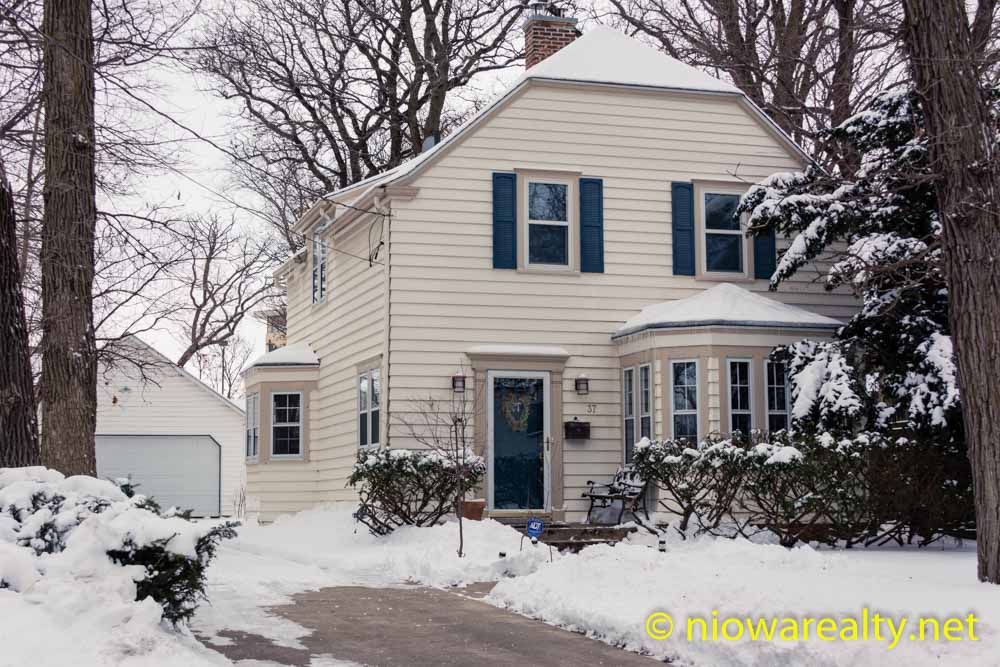 This week certainly went flying by to where I'm still not convinced it's Friday.  In looking back, I can say there was a great deal of work completed to where I now feel as though I'm caught up to the point where I'm not confronted with unfinished tasks when walking into my office in the morning.  Since the real estate market is growing stronger as Spring approaches, I find myself now fully prepared for more listings and showings.  There could have been several more homes declared sold for this week at my office, but when having too many people involved, the odds were tipped towards failure, and that's exactly what happened.  I came to the point long ago to where I don't argue with skewed opinions of other agents who sometimes want to appear heroic with either their buyers or sellers.  I was reminded of that yesterday when an agent was glorifying all the extras a home offered but failed to see the whole picture in why my buyers made the offer they did.  We can extoll all we want about pluses of a property, but when we don't factor into the price equation the negatives, the buyers will continue to keep walking due to bloated prices.  It's almost like someone trying to get another to like the taste of pickled herring.  You can sing all the praises of fish, but if there are those who just don't like the pickled taste, there's nothing you can do but walk away from the argument.  My seasoned buyers have done far more homework on the pricing of homes than most, and I'll bet when that home does sell it'll have sold far closer to their original offer than what the sellers and their agent believe it's worth in this time.
I'm having two public open houses this weekend.  The one being hosted tomorrow is located in Forest Park with the address being 37 Oak Drive.  The home is a very large 2 bedroom with an up to date kitchen and bath along with all the extra features one doesn't find in newer homes.  The living room offers hardwood floors, a grand open staircase, and a woodburning fireplace.  Both bedrooms have double closets which is also a rarity.  There's a french door leading from the dining room to a rear patio which is larger than most.  The basement ceiling is taller to where one could finish it off and have another bath and bedroom.  Most people in these times have large bedroom sets.  The master bedroom is exceptionally large to where one could have a king size bed and still have more than enough room for furniture placement.  The garage is double along with a 12 x 12 attached utility garage.  Whomever designed it did very good job by keeping functionality in mind.   Anyone working at Mercy Hospital would be delighted in not having to drive to work.  A two block walk will likely get you anywhere on the hospital's campus.  It's quite the package and I'm hoping for it to be sold before the snow melts.  Click on the link following to view this home.
The highlight of my day was having an opportunity to exchange thoughts with another work horse of our Downtown.  We talked about vision, hidden agendas, pompous people who're blind to the needs of others, and our ever-growing crowd of takers.  It seems living in the "now" world, some people want everything given to them now without working for it by making threats and accusations that take time and money to defend against.  It's no wonder why many who's work places them under the scrutinizing eyes of the public live in homes they've created as their own private sanctuaries.  Every time we cave to the screamers and fist pounders who're only doing it to get something for nothing,  we create incentives for others to follow suit.  Many years ago I mentioned with a smile to an elderly lady about someone being a bit of pest by saying, "Well you know, the wheel that squeaks the most gets the grease."  She quickly retorted by saying, "Oh but remember, if the wheel squeaks too much it gets changed."  I believe her remarks were forward thinking to where we all must consider the alternatives of those situations by simply changing overly squeaking wheels.  I still have a wheel iron or two if anyone is in need.