North Iowa has been rapidly shedding its snow cover these past several days and likely more by the time our weekend is over.  I can't believe how many people I've spoken with this past month who didn't know that the ground didn't freeze solid this winter.  I guess if one doesn't have a reason to be trying to get something like a yard sign in the ground, then everyone must've assumed it froze solid like all years in the past.   It was absolutely wonderful to see the sun shining this afternoon.  I was beginning to forget what clear blue skies looked like.  It really isn't normal to have such extended overcast days for our area, but then again, what is normal any more?  Having posted those three rentals on my website yesterday, I can say the office phone was ringing a bit much with general inquiries about them.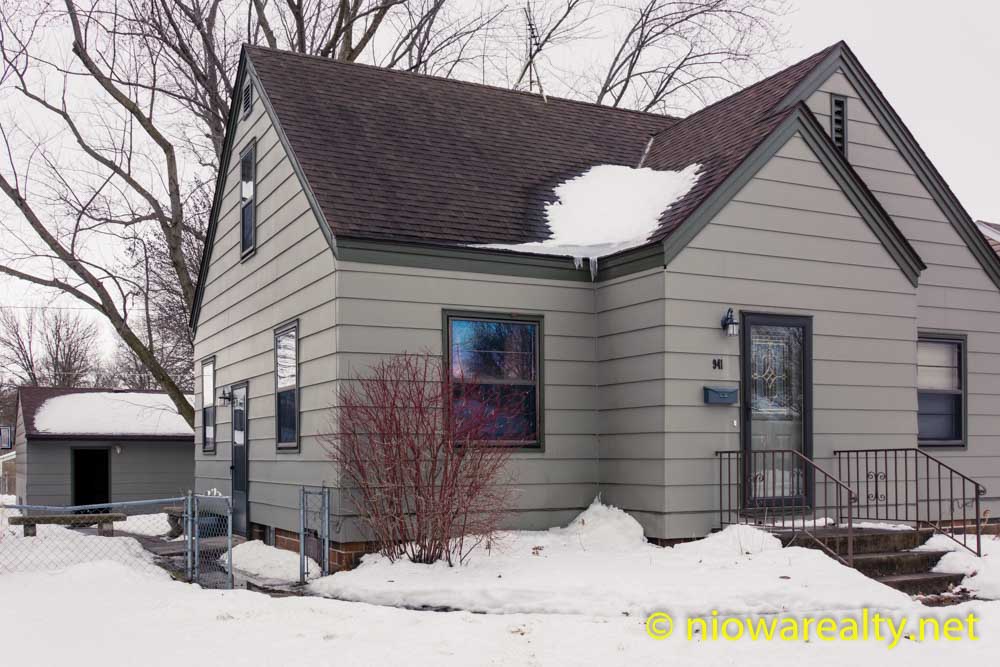 The bulk of my day was filled with getting two properties listed, photos taken, and then posted everywhere on the internet.  The first one I listed is located at 941 11th St. NE which hasn't been on the market since the early 1990's.  There've been a number of improvements made on this 3+ bedroom since it was purchased including having the stairway leading to the 2nd floor opened to where it gives the living room more of an open feel, as well as there not being such a separation of the upstairs from the main floor.  They added a new furnace and central air, made the basement rec room more pleasant, and above all, they built a new 26 x 30 detached garage which can easily fit three cars or afford room for a nice work area.  As far as I'm concerned,  it's a perfect size for a double garage to where there's not that tight fit which causes problems with storage and work areas.  They also installed a very large patio out back which will give anyone who's into backyard entertaining more than enough room to spread out and enjoy.  What I think most buyers would also like is the room at the top of the stairs of the 2nd floor.  It would make a great office, computer room, or even an upper den.  When showing a home to a prospective buyer today, I mentioned how many times with growing families there becomes a need for separate spaces.  With all three floors finished, there's more than enough room for everyone to have their quiet little corners.  Click on the following link to view this home located in a great family neighborhood. 941 11th St. NE Mason City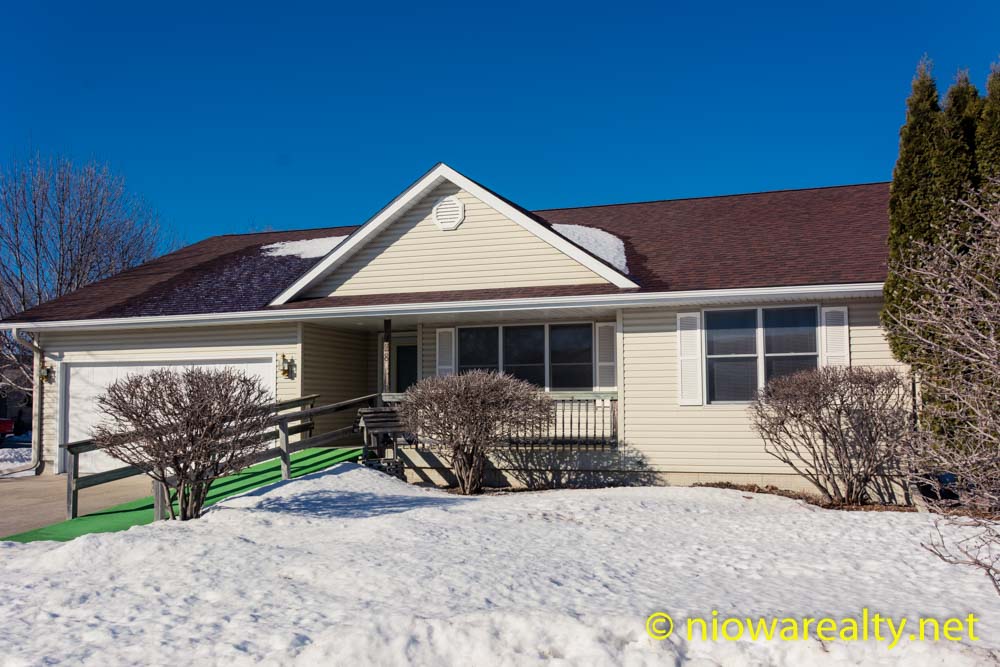 The second home I listed has never been on the market since it was custom built back in 1999 by the now deceased owners. It's located at 728 S. Monroe Court which is a smaller, but very popular subdivision on the southwest side of our City.  If anyone's fearful about buying into a declining neighborhood, or growing older and concerned about steps, this home will fit the bill.  It's an extra large three bedroom ranch that has everything on the main floor—including the washer and dryer. The open floor plan offers more opportunities for furniture placement and large family gatherings. There are a number of handicap features that one could leave existing and utilize.  I really like the main floor family room with all the windows and sliding doors to its rear deck.  There's a full basement that's ready to be turned into a custom man cave. It's priced to sell and likely won't last long on the market due to a shortage we seem to have for newer and larger three bedroom ranches.  Click on the following link to view the details of this beauty.  728 S. Monroe Court Mason City
Presenting you these two new-to-the-market listings has certainly been the highlight of my day. Be sure to call me if you'd like to take a gander at either one of them.