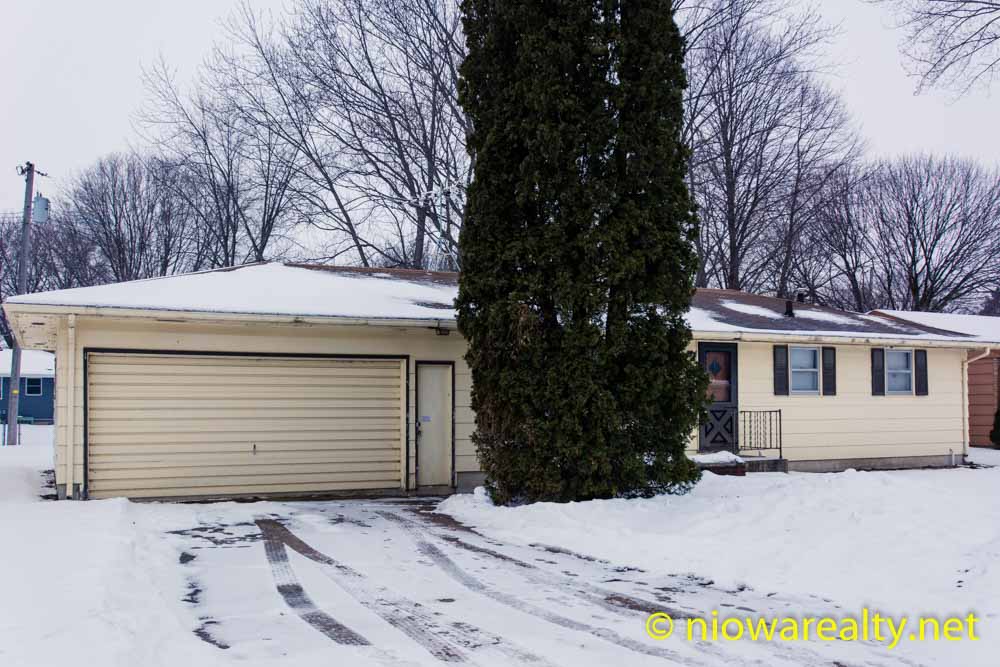 There couldn't have been a day these past weeks in which I felt all the more as though I were racing against the clock.  It was one of those to where all the value added extras people sometimes expect from me for some reason arrived all at once.  Not to worry, I managed to get everything accomplished and make it to my last appointment exactly one minute before I was supposed to be there.
The highlight of my day was having the opportunity to list a 3 bedroom ranch home with a double attached garage located at 1045 Park Lane here in Mason City.  When I walked through it, I felt as though I'd just stepped back 30 years in time when I sold it to the owner and her sister.  Buyers and sellers come and go, but there are always those special ones that are unforgettable of which they certainly were.  I worked for a different real estate office at the time and when one of the sisters called she said, "My sister and I are retiring and want to buy a house."  When I met them, they were a little bit apprehensive about having me show them homes because I think they must have thought I'd try to sell them just about anything which they quickly learned was not the case. After a number of outings, I'd noticed a new listing having come on the market so I called them to see it.  They fell in love with it because it offered everything they were looking for and more.
What I remember most about the two of them was how happy and jovial they were through the whole process.  I ran into them on rare occasions and they'd continue to tell me how much they loved their home.  Having somehow lost track of them, I hadn't realized one of the sisters had passed a number of years ago and left the other living all alone in her home.  She recently passed away, so now it's back on the market again after 30+ years.  As I said, it felt like I was stepping back in time walking thru that home today.  I was a bit sad for her knowing she'd spent a number of years alone, but at least she was able to live in her own home with the help of a neighbor who cared.
The house is pretty much as I remembered with the exception of their having been some recent updates including a high-end furnace with air purifier.  What I'm sure many will not like are the floor covering which all need replacing due to age and wear.  The walls and ceilings are all in good shape, both the tile bath and kitchen will need some sprucing up, but all in all, this home is a blank canvas for anyone who's wanting to live on one of the lesser traveled streets in the Bel Air Addition.  Yes, someone could install thermal windows, more modern kitchen countertops, and perhaps some concrete work out front, but when you look at the bones of the home, it's in great shape.  I did some extensive research on pricing and found that if someone would pay a fair price for this home and make all their updates, they'll likely still be under the amounts that comparable homes have recently sold for these past months.  Any buyer who's looking for great rear yard space, this one definitely has it.  I'm really not looking for this home to be on the market very long due to the shortage of ranches in sought after neighborhoods that are reasonably priced.  I decided to have a public open house on it this Sunday from 1:00 – 3:00 p.m.  Be sure to stop by and view a rare Park Lane open.  Click on the link below to view it.