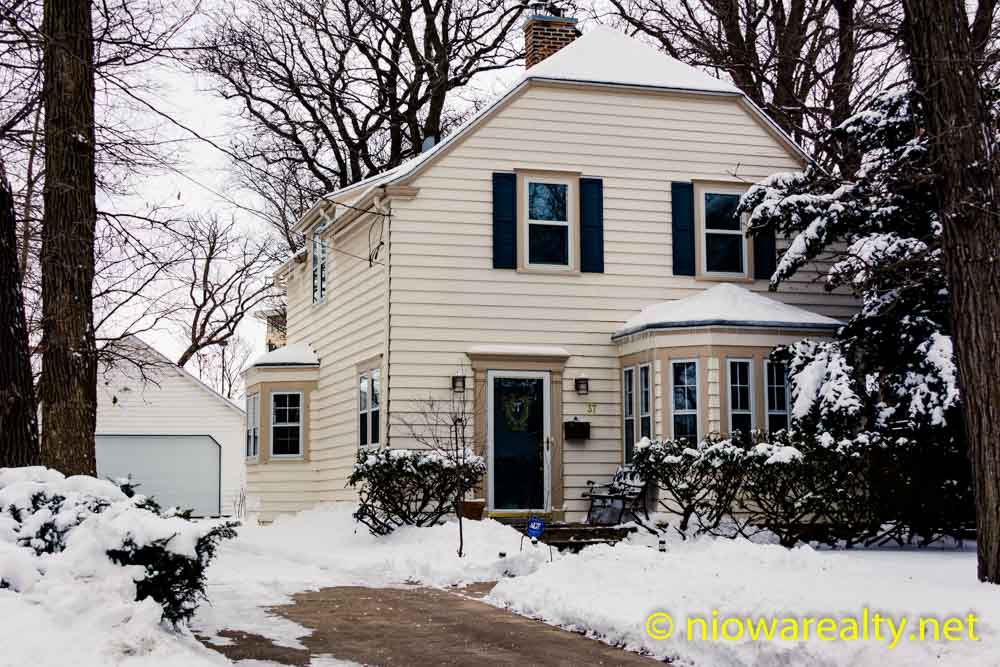 From the moment I arrived at the office today I was in a nearly non-stop state of over-drive due to my having to get a number of documents signed by a client and delivered to appropriate places—including driving nearly half way to Clear Lake and back on greasy snow covered streets.  I was exceptionally happy to have had yet another nearly "soft landing" of a closing today to where again the buyers and sellers are happy.   In coming back from the east side, I was driving to the Downtown on East State Street and noticed that the selling agent of 718 E. State Street placed a sign in the front yard without placing a sold rider on it.  Hmmm…I wonder if he just forgot or someone while walking past, took it off since he placed the sign so very close to the public sidewalk. I'm sure he'll be getting calls from a few people wondering what's going on now with that house.
I spent a great deal of time this week doing research on three very nice properties I'll soon be listing.  I believe they'll all sell quickly due to their locations and quality of construction.  One of the three is an exceptionally well built two story which appears much smaller from the exterior than it actually is due to the way it is situated on its lot.   Being in it for the first time, I was "wowed" by all the built-ins and attention to detail the builder had while constructing it back in the 1920's.  Most homes built in those years usually have numerous boxy rooms, but this one's floor plan is far more open.  I'm certain it was custom built for the original owners who'd likely remembered one similar in having remembered a familiar in Northern Europe.  The placement and size of the windows tell the story of someone wanting an abundant amount of natural light.  Saying this has just reminded me of the number of homes I've recently seen that have plastique covering the outside of their windows.  One of the homes I'm quite familiar with, and it contains higher end thermal units.  I'll never understand why people go to such a bother by adding another layer of what they believe to be an insulating covering for their windows.  Either they're exceptionally energy conscious or they're not in the realization that even thermal windows radiate cold.  As long as one doesn't feel a draft, there's no reason to be bothering over their windows radiating a bit of chill.
I hope the weather is pleasant tomorrow for my public open house located at 37 Oak Drive.  It's really quite charming.  If there's any professional or semi-professional single person or couple looking for a great place to get started, this home is the best bet as far as I'm concerned.  The location alone should have this home sold and closed before the Spring thaw.  I spoke with the previous owner and she said her and her husband truly enjoyed its private back patio and rear yard during the pleasant months.  Of course offering a double garage with a 12 x 12 attached utility unit is yet another bonus.
Of all the hundreds of homes I've viewed, I don't ever remember finding one with an original bay so large to where I've now considered it my very first sighting of an eight-windowed bay!  Now that's for certain a great place to enjoy reading with all the light pouring into that area of the home.  I've found all the recent improvements made to this residence to be mostly top of the line.  Be sure to make a stop at 37 Oak Drive and view this beauty whilst it lasts. Click on the link below to view more details.