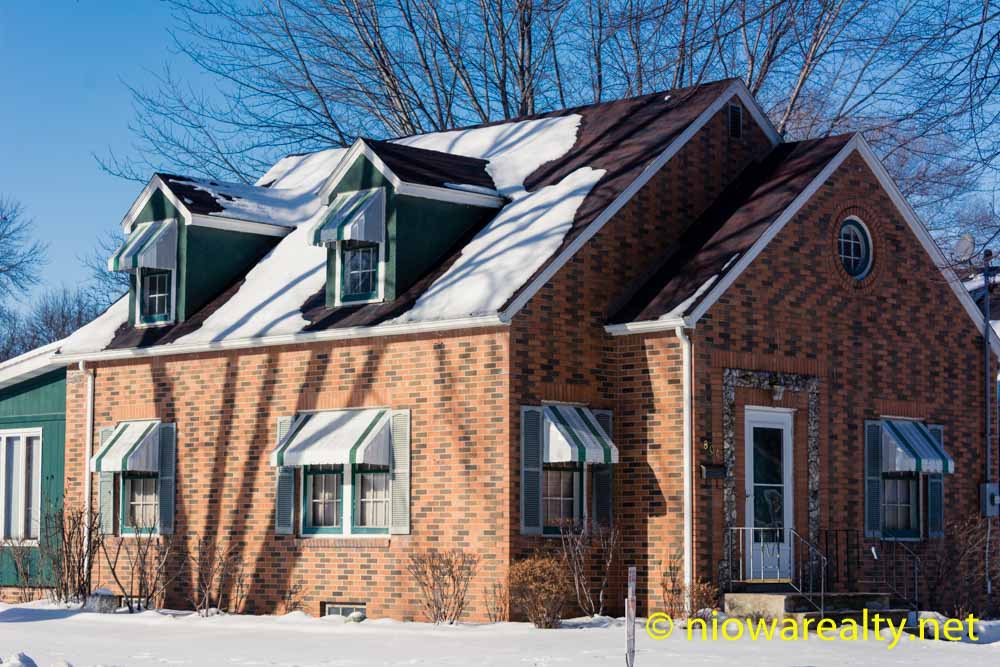 When we have these great sweeping changes in outdoor temperatures, it certainly places stress on all living things including us humans.  It's times like these when people are more likely to catch a cold or the flu.  Our bodies adjust to temperatures just like everything else, but when they change so quickly is when we have to be all the more careful.  I was certainly feeling the effects of it later this afternoon.  I walked but a half block today over to an attorney's office, and when I arrived, I felt like I'd just eaten ice cream too fast and was having a brain freeze.  I'll have pull out my stocking cap before leaving the house tomorrow morning to keep from having another faux ice cream cranial experience.
I visited a few minutes today with a business associate in regards to how annoying it has become for us when people who are supposed to know the limits of their jobs,  to where they either they text or e-mail the most idiotic demands and/or requests.  I said, "We're finding more and more of these happenings with people crossing over professional borders and being rude as well as thoughtless.  I'm not sure if it's narcissism, or they're not taking the time to think things through before picking up their smart phones and sending mindless messages.
Later this afternoon I posted my second listing for this week.  It is a charming brick home located at 804 N. Madison Ave. here in Mason City.  Since it has so many extra features, I was careful to make note of them all.  The home was likely built back in the 1930's by one of our City's highest rated builders of the day by the name of Mikail Haaheim.  I'm quite confident it was he who built it since his personal residence was only about a block from this home.  A number of the brick homes in the general vicinity of this one were also built by him.   Many of them as well as this one have all the built-ins as well his great use of space in design.  I can still remember as a youngster, this home being owned by the Vic family.  It was so well cared for by them both inside and out, you'd dare not find even a straw or stick lying crossways in their yard.  After the home was built, the Vic's later added a family room with a fireplace for more main floor living area.  This rock solid home offers gorgeous oak floors, an open living/dining room, a main floor bedroom and full bath, the kitchen and baths have had recent updates along with the lower level laundry room which also features a ¾ bath.
There are two big bedrooms upstairs as well as a half bath.  The high efficiency boiler was recently added by the current owners.  Unless one has lived in a home with hot water heat, you'll never understand how wonderful it is.  To never have to listen to annoying furnace fans kicking on and off along with the dust they create is sublime. There's a two stall detached garage with opener, a paved rear alley, and a yard large enough to re-create the flower beds and garden areas the Vic family nurtured for years.  There's no doubt in my mind that if one would remove the metal awnings over the windows and paint the trim a more complimenting color, this home would certainly become a head-turner.  The owners want it sold so I listed it to sell at $89,500.00– it's worth every penny.  It's yet another one of our classic examples of a solidly constructed home of a Northern European Design.  Click on the link below to view this beauty.