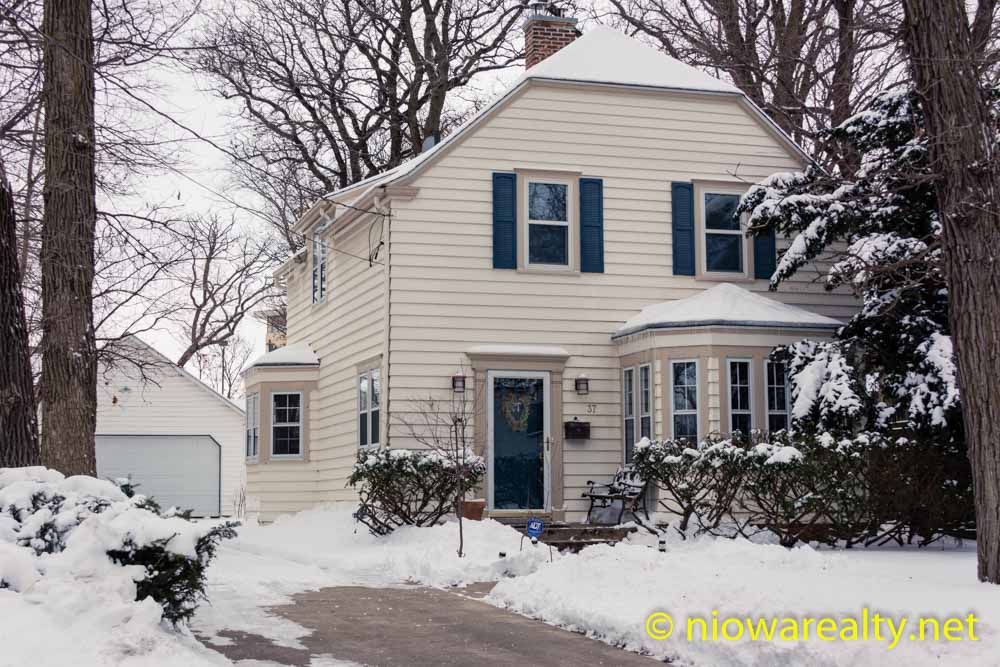 Tomorrow's public open house will be held at my new listing located at 37 Oak Drive and I'm going to remain hopeful the weather will not be so unpleasant to where the active home buyers will be dissuaded from attending due to the possible bitter cold.
I've already noticed how much the temperature has dropped this last hour.  That nasty north wind along with the jet stream are the culprits.  I really shouldn't be complaining at all due to the mildness of our winter thus far.  I just don't like the "greasy" streets and sidewalks being covered with the slushy snow.  One of my dear clients fell and sprained his wrist due to a quick slip on a driveway several days ago.  I've as well caught myself several times from a near fall.
I'm staying very hopeful the home at 37 Oak Drive is going to sell soon since it is exceptionally well built and close to the hospital.  The kitchen and bath offer high-end updates, the living room is much larger than normal as well as offering a wood burning fireplace, there are oak floors thru out the home, the basement has taller ceilings, there's a brick patio off the dining room, and the double garage with an attached storage garage which is also something one normally doesn't find in this price range.  I'm pretty confident the buyer will be a professional who likely works in the healthcare field.  Click on the link below to view this absolutely charming home.
I was over near East Park just after sunset tonight and as I was turning on a side street, there before me was a herd of female deer casually walking across the street as though they were sauntering along out in the woodlands.  I took a moment to count them and I wasn't very happy in seeing that many together.  There were nine of them!  I can only imagine the damage they will be doing to the evergreens and shrubs in that area.  Most people don't think deer will eat evergreens.  I know for a fact they absolutely love munching on arborvitaes as well as our native red cedars.  Several years ago one of my clients during Springtime told me she was giving up on her attempts to create an arborvitae hedge because every winter the deer continued to munch away at them to where about half of them died and the rest were limping along from likely the pains of being eaten on by the deer during the prior winter.  Since the deer have no natural predators in our City, they're numbers are now becoming exponentially large.  I keep telling people they're nothing more than giant rabbits with longer legs and bigger appetites.  Maybe we should gather up a posse and round up a great herd of them and ship them off to the north woods of our neighboring State to the north.  I'd be willing to help pay for the gas in their one-way trip.
I showed a home early this afternoon to a nephew of a family I did some work for last year and after spending some time with him I said, "I can see you are very much like your uncle and I mean it in an admirable way because both your aunt and uncle are two of the nicest people I worked with last year."  He smiled and said, "Yeah, they are pretty good people."  Sometimes when stepping back and comparing people within family's in a generational sense, the old saying does hold true to where the "apples" don't seem fall very far from their trees.  As I mentioned before, I think there's some sort of invisible generational blueprint that people in some families seem to instinctively follow.  I drove away thinking, "That's one more young person who whether he believes it or not, is another anchoring link that helps to keep our community alive and growing.