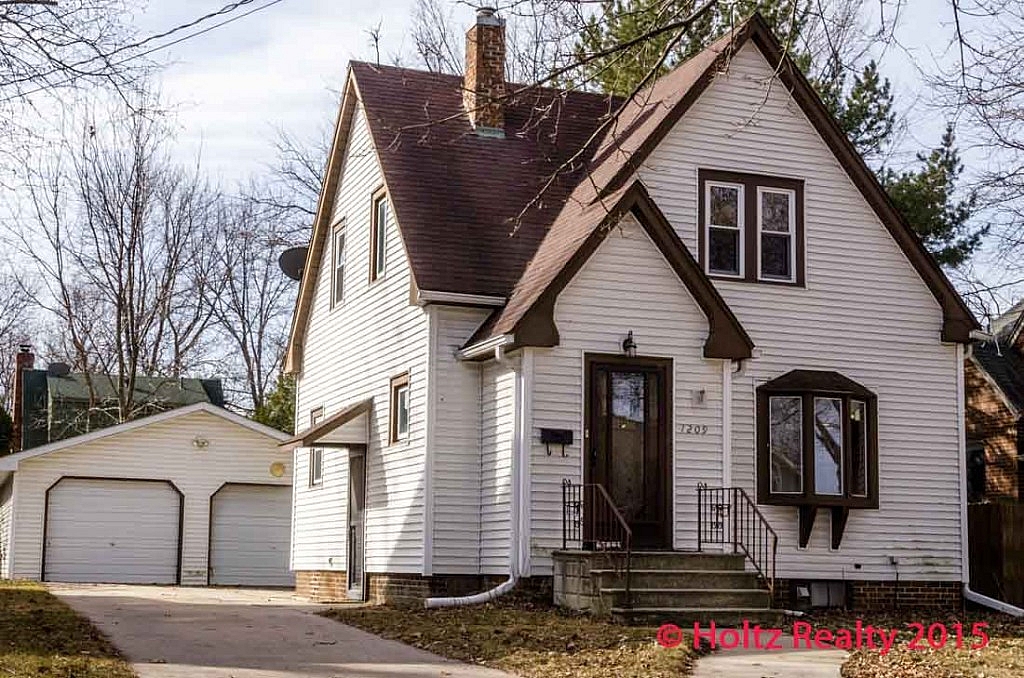 Already we are at mid-week and looking towards another weekend.  I decided to have another public open house on 1209 West State Street here in Mason City.  Of all the homes that I've had listed these past several years, I would say this home is nearing the top of the list of ones that were in a sort of "under the radar" stasis until finally more value oriented buyers opened their eyes enough to see the intrinsic value of those homes.
It's had several price reductions to where it is now down to a bargain basement price of $79,900.00.  Calculating an estimated payment on it would be less than a similar home's rent would be on a monthly basis.  Every time I show it I ask myself while pulling up to the curb, "Is this buyer going to understand value?"  Unfortunately too many of the young buyers which this home should certainly be appealing to are jumping much higher in price range expecting bigger, newer, and more glitz.  Since I do understand enough about construction, I'm all the more impressed with the quality of the "bones".
It was likely built by Mikal Haaheim or R. P. Hansen who were considered the cream of the crop builders who were in demand during the time this home was built. They were both from immigrant families coming out of northern Europe.  They brought with them many of the styles found in their cities and villages.  Steep roofs, lots of hardwoods and built-ins, and above all exceptional detail in their finish work. I was told a story once about Mikal Haaheim and his non-stop demand for quality from the beginning to end of construction.  When the plasters and painters were called to use several coats of finish plaster as well as coats of paint, he'd find some of the most inconspicuous places to place pencil marks in a room or closet.  When he'd return to inspect the job, he'd go looking for the tiny pencil marks to see if they were covered just to make sure his workers were doing as they were told.  You can be assured, with those two competing builders, the level of quality assurance was exceptionally high.  It's too bad we don't have the same pride in workmanship which was a standard back in those years.
Those two builders must have continued with the mindset of those old world builders to where new homes were meant to last centuries.  If there's anyone out looking for a very well built home in a great neighborhood, the time for this home to be sold is now, and whomever buys it will be glad they opened their eyes a little more to see it's great value.
Click on the link below to view this listing.
As I've noticed these past decades, most people dismiss the elderly as simply those "old people" who're not with the times.  Since I've worked with many dozens of elderly sellers over these years, I've come to appreciate their honesty, their intelligence, their understanding, and their goodness.  Just yesterday I received a call from an 88 year old gentleman thanking me again for selling his home.  Yes, they can be a bit demanding at times like all of us, but they're genuine natures which are remiss of all the dramas and hidden agendas, far exceed any of their own weaknesses.  I stopped for a few minutes today to see a 90+ year old lady whom I've staying in contact with over the years.  She had company so I didn't stay but a few minutes.  After getting past the regular words of greeting, I looked at her and said, "You look like you've lost weight around your middle."  She smiled and looked at me with her bright blue eyes and said, "I had a baby boy."  I instantly had a knee jerk belly laugh.  After we both stopped laughing I asked, "Where is he now?"  With those smiling eyes she said in so much her matter of fact way, "He's in my dresser drawer."  Oh Mercy!  Did I ever get another laugh out of that last zinger as well.  I said to her visiting relative, "Yes, she certainly still has her wits about her."  After all these years I still appreciate her ability, in some of the most clever ways, to be able to have the last words.